10 Things To Do with Toddlers at the Jersey Shore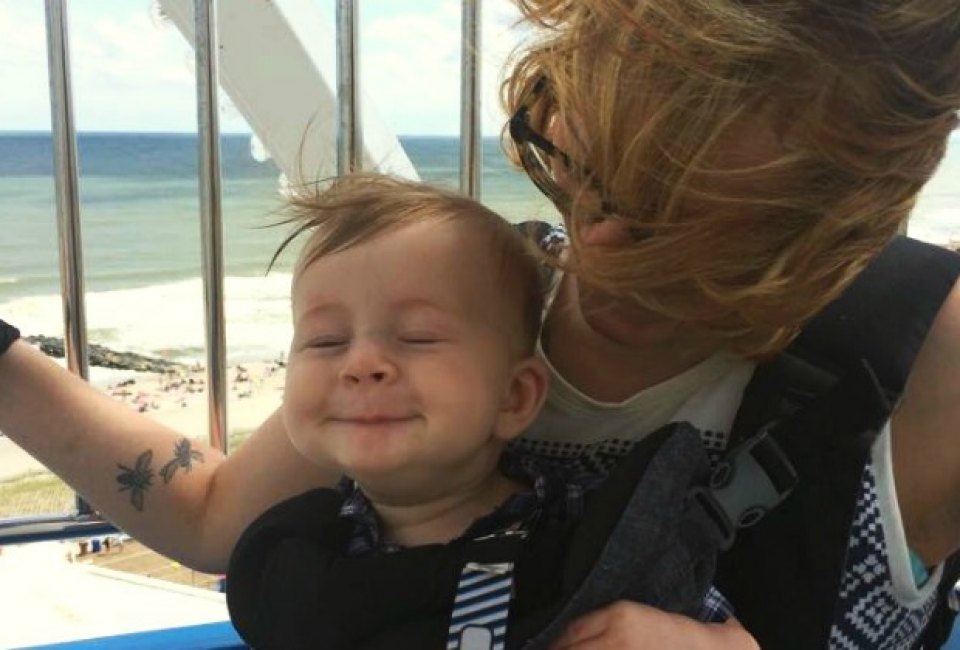 5/25/16
- By
Cait Sumner
The Jersey Shore is the quintessential summer getaway for Philly residents- especially families. It's not too far, it's got great beaches and fun amusements for the kids. But you may be wondering what to do with your younger kids on your family vacation. Toddlers can be tricky to entertain, but the Jersey Shore has plenty. We've rounded up some great activities that little tykes will love. Whether you're visiting for a weekend, or you're there for a whole week, you'll find plenty of kid-friendly fun on this list.
Popcorn Park Zoo - Forked River
Popcorn Park is not your typical zoo. It's part of the Associated Humane Society and is a sanctuary for abandoned, ill, injured, exploited, abused or edlerly wildlife, farm animals and birds. Kids under 3 are free and adults are just $5. You can also buy air-popped popcorn to feed some of the animals.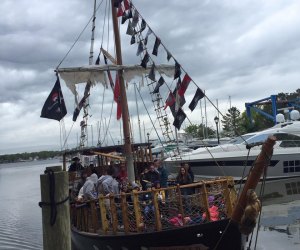 Photo via Facebook courtesy of Jersey Shore Pirates
Pirate Adventures Jersey Shore - Brick
What kid wouldn't love setting sail aboard a pirate ship? Kids can dress up, get their face painted and learn pirate lingo. Once on board the ship, they'll set out on a treasure hunt. They'll even get to take home a handful of loot. Participating in the treasure hunt might be a little difficult for little ones, so this adventure might be best taken with an older sibling who's willing to help out. Either way, kids will love the excitement of sailing on a pirate ship. Tickets are $12 for kids 2 and under and $20 for all other ages.
Cape May County Zoo - Cape May
The best part about Cape May County Zoo? It's totally free, including parking! Donations are encouraged to help keep the zoo up and running. In addition to all the great animals, the zoo also has a carousel, a train ride and a rock climbing wall.
Atlantic City Aquarium - Atlantic City
This aquarium has everything you'd expect. Reptiles, fish, jellyfish, a touch tank and more. It also offers feeding shows and an exotic animal show. It's located in Historic Gardner's Basin, so there are also plenty of nearby places to eat and shop. The aquarium is great for entertaining the little ones, but is also close to plenty of adult-friendly activities. Admission is free for kids under 3, $6 for ages 4-12 and $10 for adults.
Cape May Whale Watcher - Cape May
Kids and adults alike will love this one. Seeing dolphins and whales in their natural habitat is such a fun adventure. A variety of different cruise options are offered- dolphin watch, whale and dolphin watch or sunset dolphin watch. Adult tickets range from $30-$40 depending on which cruise option you choose, ages 7-12 range from $20-$25 and kids 6 and under are always free.
Jenkinson's Boardwalk and Aquarium - Point Pleasant
The boardwalk features all the classics, arcade games, mini golf, rides, batting cages and more. The aquarium has tons of fish, as well as seals, sharks and penguins- all with daily feeding times. Admission for the aquarium is free for kids 2 and under, $7 for kids 3-12 and $12 for adults. Jenkinson's also has a delicious sweet shop for a yummy treat afterwards.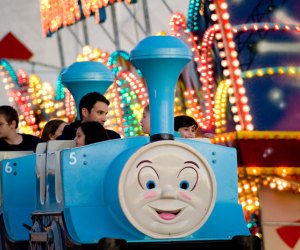 Photo courtesy of Gillian's Wonderland Pier
Gillian's Wonderland Pier - Ocean City
An Ocean City classic, Gillian's has lots of fun rides, several of which are the perfect size for toddlers. The carousel, wet boats and mono-rail are always a hit with the little ones, and the ferris wheel is fun for everyone. You can see the whole beach! Most of the toddler rides are indoors, so you can even go when the weather isn't so great.
Playland's Castaway Cove - Ocean City
Not too far from Gillian's is another great amusement park- Playland's Castaway Cove. Playland offers a train, a ferris wheel, a merry-go-round, beach buggies, magic ring and more. Some rides are even free for kids 1 and under.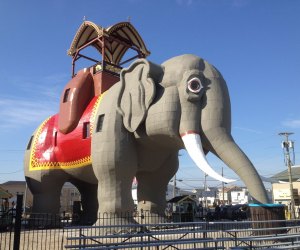 Photo via Facebook courtesy of Lucy the Elephant
Lucy the Elephant - Margate
This giant elephant is truly a sight to see. Lucy is 6-stories high providing a really wonderful view of the area. Picnic tables are also available nearby, so pack a lunch and make a day of it! To climb to the top and take a tour, admission is free for kids 2 and under, ages 3-12 are $4 and ages 13 and up are $8.
Storybook Land - Egg Harbor Township
Thanks to a reader comment, we've added this great place to our list! This park is themed just like all your favorite storybooks. Each one is interspersed somewhere in the park. Storybook Land also features great rides, most of which are perfectly sized for little ones.
Photos by the author except where noted
Click Here to Sign Up!
i