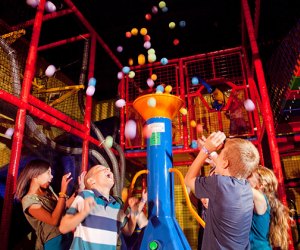 Indoor Play Spaces for Kids in South Jersey
With beaches, boardwalks, camping, hiking trails, and canoeing in easy reach, South Jersey often brings family fun to a whole new level. But during the chilly winter months—or when rain threatens your warm-weather plans—you can find plenty of fun inside at one of the region's many indoor playgrounds.
Read on for our list of a dozen fun spots in South Jersey. For indoor fun in other parts of the state, check out our guide to indoor play spaces in Central and Northern NJ.
Atlantic County Indoor Play Spaces
Brigantine Community Center – Brigantine
Tucked away in the Brigantine Community Center is an indoor playground for kids under 5. Open weekdays 10am – 2pm, the center has slides, a ball pit, toys, and more.
The Funplex – Mount Laurel
Imagine the Ocean City boardwalk around 9pm on a midsummer night and you'll have a good feel for the scene and the demographic at The Funplex. Between the blacklight bowling alley, laser tag arena, and the boardwalk-style arcade, it's a place for tweens to hang out free from your prying eye and act like kids again—within the socially acceptable standard. There's more of a family vibe at The Splashplex, open just outside during the summer months.
Kiddie Korner – Egg Harbor Township
This center offers preschool and wrap-around classes, as well as an open play gym. With weekday hours from noon to 6pm, the Kiddie Korner open gym offers a ball pit, slides, tunnels, swings, and other gym equipment.
The Smile Factory – Brigantine
This family fun center boasts "green-labeled" non-violent arcade games. Kids can have fun playing skeeball, pinball, air hockey, bubble hockey, and more. Open June through August.
We Rock the Spectrum Kid's Gym – Mount Laurel
No indoor play space is ever going to turn a little one away, but few are specifically designed to nurture everyone. We Rock the Spectrum is one of them. Here, you'll not only find an open gym comprised of 10 pieces of uniquely designed sensory equipment to aid kids with sensory processing disorders, but a warm, compassionate atmosphere, too, where kids are encouraged to play together, regardless of their needs, so that they can learn from each other and start dismissing stigmas before they know what they are.
Burlington County Indoor Play Spaces
Funplex – Mt. Laurel
Bowling, bumper cars, thrill rides, and arcade games will keep kids happy for hours. There's also laser tag and Foam Frenzy, an interactive, three-level area where kids can blast their friends with colorful foam balls.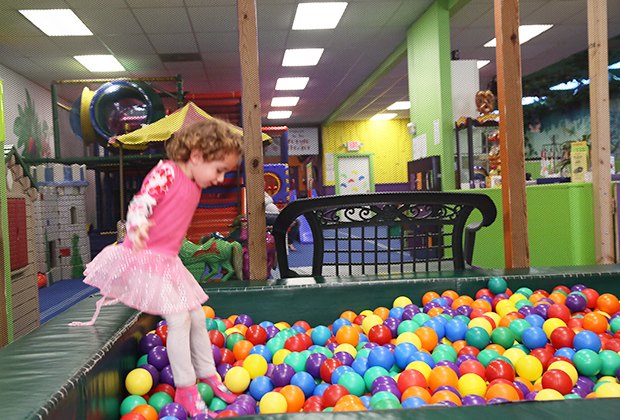 Jellybean Jungle offers indoor play geared toward kids 5 and under.
Jellybean Jungle – Marlton
A fun and safe option for little ones in a bright, stimulating environment, Jellybean Jungle is home to a variety of imaginative activity centers. Little ones will love the ball pit room, the climbing maze, the jungle theater, and the ocean center with a pirate ship. There's even a carnival center with a carousel.
Little Sports – Maple Shade
Kids' sports classes are the heart of this facility, but enjoy open play six days a week. There's a climbing structure, slides, a mini rock wall, and more.
My Little Adventures – Mt. Laurel
Popular for its parent & child classes, this learn-and-play cafe also offers slides, mats, crawl spaces, and more. During "pop-n-play" time, staff members pop in and organize kids in fun, short activities. The cafe serves snacks, sandwiches, and salads for when you've worked up an appetite.
Speed Raceway – Cinnaminson
Feed your need for speed at this cool indoor electric kart racing facility. Two sizes of karts are available for adults and juniors. Junior drivers and riders must be at least 6 years old and 48 inches tall.
We Rock the Spectrum – Mt. Laurel
This play gym is designed for kids of all needs and abilities, with a special focus on catering to special-needs kids. There is suspended equipment for balance and vestibular treatment, crash mats and crash pillows, a zip line, a trampoline, an indoor play structure, sensory-based toys, and a fine motor and arts-and-crafts area.
Camden County Indoor Play Spaces
ISC Sports Center – Cherry Hill
ISC offers a lot to do under one roof, including roller skating, an arcade, small inflatables, and Roo's FunZone, a 36-foot-tall indoor play gym. Kids ages 10 and under will love the slides, swings, obstacles, and more. Parents of little ones will appreciate the small toddler zone with slides, blocks, and climbing.
Tilt Studio – Voorhees
This 20,000-square-foot facility will keep your family occupied for hours with awesome activities. In addition to arcade games, there's a nine-hole mini-golf course, mini bowling, a laser maze, a foam ball "volcano" of sorts, a climbing area, gem mining, a few rides, and more.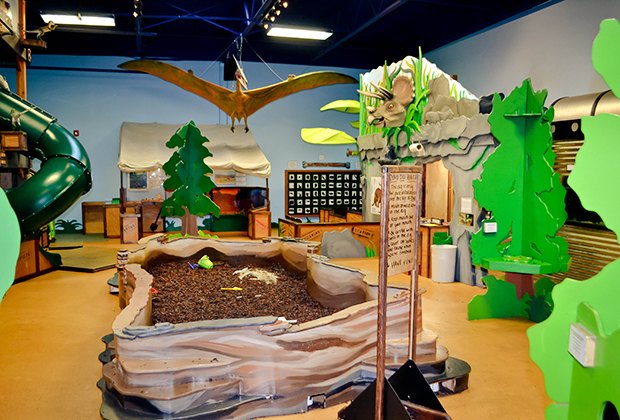 Explore the dino dig room at Garden State Discovery Museum.
Garden State Discovery Museum – Cherry Hill
Pack up the kids and get ready for a world of imaginary play at the Garden State Discovery Museum. Intended for kids ages 10 and under, the museum has several fun rooms geared toward hands-on exploration, including a dinosaur discovery area, a science zone, boat and dock, play supermarket, and play hospital. Kids under 4 will love Little Discoveries Baby Barnyard, where they can climb and slide to their hearts' content.
Gloucester County Indoor Play Spaces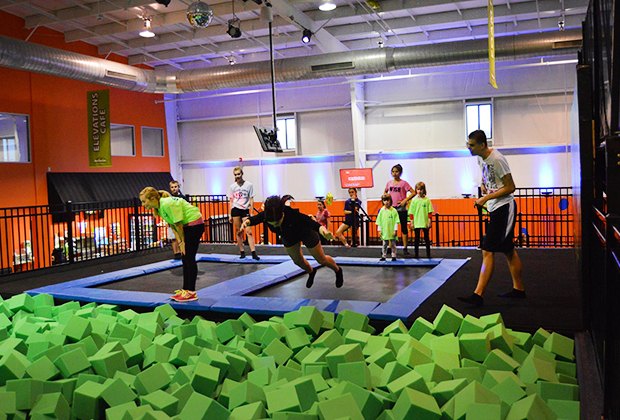 Kids can jump their jiggles out at High Elevations trampoline park.
High Elevations – Sewell
The kids will be on could nine at High Elevations, a trampoline facility with lots to do. With an open jump area, tramp sports like basketball and dodge ball, a foam pit, and more, boredom isn't a danger here. There's even a toddler zone for safe jumping fun for walkers through age 6. Parents looking for drop-off fun will appreciate tween night on Fridays, for children ages 11 and up.
RELATED: Top 12 Play Spaces Across New Jersey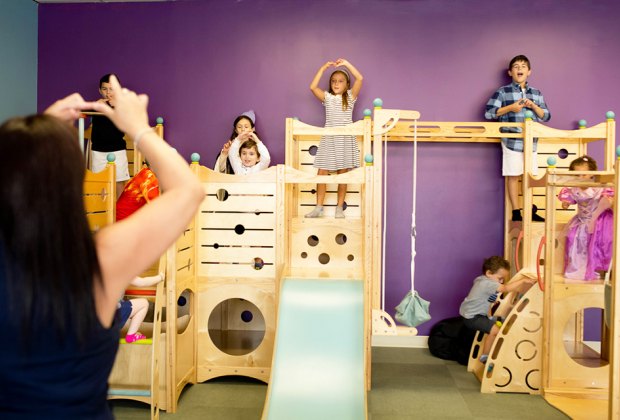 Sip a coffee while the kids have fun at Moozie's Play Cafe.

Moozie's Play Cafe – Turnersville
A collection of always-evolving play pods make the popular open play sessions at Moozie's safe for babies as young as 10 months and challenging for kids up to 10. There's a distinct emphasis on learning here, but they'll be having too much fun prodding thought-provoking, age-appropriate toys to notice the sly smile spread across your face. Keeping in that vein, Moozie's also offers a unique class roster, including drama for toddlers and yoga for the old souls.
Ocean County Indoor Play Spaces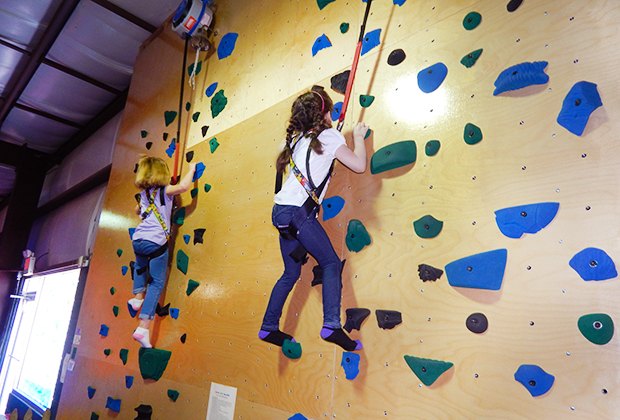 Tackle the rock wall at Play Day Place.
Play Day Place – Forked River
Play Day Place is a great spot for kids under 14 to bounce, climb, and slide the day away. Have a blast on the inflatables, a bouncy obstacle course, climb-ons, rock walls, and a three-tier play maze. There's also a dedicated toddler space where little ones can bounce. When the weather is nice, check out the small, outdoor NERF zone where kids and parents can have a good old-fashioned NERF ball fight.
Bounce About – Toms River
Three different inflatables. An 18-foot inflatable slide. An inflatable obstacle course. And a soft play area specifically designed for (and limited to) babies. You're already in the car, or at least packing your things, so we'll stop there. But, just so you know, there's also a two-story laser tag arena. And it's open to kids and adults.
Updated January 2018.
Top photo: A foam ball "volcano" is one of the attractions at Tilt Studio.