Stone Harbor Beach with Kids: What you Need to Know Before you Go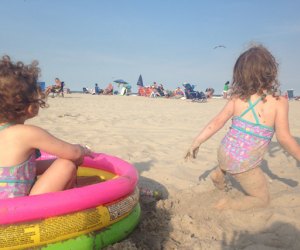 If your children love playing in the warm sand and cool waves, take the drive to Stone Harbor, one of the most beautiful and family friendly beaches on the Jersey Shore. Located in Cape May County, Stone Harbor has many wonderful qualities, but what some people like most about it is what it isn't. It isn't a beach town dominated by a boardwalk with loud music and flashy rides; it isn't casinos and all-you-can-eat buffets. This South Jersey shore is a quiet town where nature takes center stage. Grab the kids and the beach umbrella and take a great family trip down the shore.
The Logistics (beach tags and parking)
Beach tags are required for beach access for those 12 and over. Daily badges are $6 and can be purchased at the Beach Tag Office in the Stone Harbor Beach Patrol Building at 95th Street, at the Beach, or from inspectors on the beach. Parking close to the beach is available on 1st Avenue between 80th and 83rd Streets, in a lot on 1st Avenue between 94th and 96th Streets (close to the Stone Harbor Beach Patrol; $1 per hour, pay at the kiosk), and, at the tip of the island, on 2nd Avenue just past 122nd Street. Parking is metered in some places, but most street parking is free.
The Beach
The beaches are named for their streets. Expect wide sandy beaches, but not so wide that you need to cross a football stadium to get from the entry point to the ocean. Lifeguards are posted at designated beaches where swimming and rafting are permitted. By far the most crowded areas are those by the parking lots, but even in the height of summer, there's plenty of room and space to enjoy building castles without the worry of being on top of others. Once on the beach, visitors do not have easy access to snacks, lunch, and water, so pack your cooler with plenty of water bottles, sandwiches, snacks, and everything you'll need for a fun day in the sun.
Ice Cream and Miniature Golf
The Shore, ice cream, and miniature golf seem to be synonymous and here Stone Harbor doesn't disappoint. Tucked into a convenient shopping and entertainment area, between 95th Street and 97th Street from 3rd Avenue to 2nd Avenue is Stone Harbor's business district. Just off the main shopping area, you'll find Springer's Ice Cream. There will probably be a line, but it's worth the wait; Springer's is an institution with the best ice cream in the area. There are two great options for miniature golf in Stone Harbor. Tee Time Miniature Golf is an 18-hole rooftop course. There's not a lot of fancy landscaping or course obstacles (no windmills or water features) at this facility, but it's a flat open space which is good for keeping an eye on the kids who tend to wander. Club 18 Miniature Golf has several levels which can make it challenging to keep an eye on everyone, but it's a little more fun and features a dinosaur theme, including one big guy who's not too scary.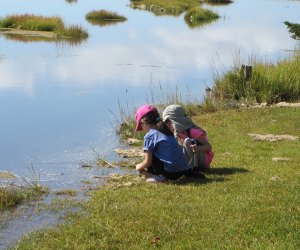 Exploring the Stone Harbor's wetlands. Photo courtesy of the Wetlands Institute.
The Wetlands Institute
For a little bit of educational entertainment with your beach day, stop at The Wetlands Institute and try one of their summer programs. The Salt Marsh Safari and Aquarium Feeding programs are popular among kids and parents alike. This is a chance to get up close to creatures who call the shore their home. Kids will be excited to see turtles, shrimp, crabs, fish, and everyone will learn a little something in the process.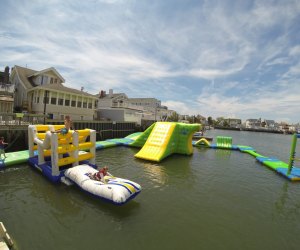 Kids jump and climb at the Aqua Park. Photo courtesy of Island Water Sports.
Island Water Sports
If you're looking for more adventure, check out Island Water Sports. Tubing, wakeboarding, kayaking, or paddleboarding make for some great fun on the water. The Aqua Park features a climbing wall, a launch pad, a trampoline, and more- all on the water! You can even try waterskiing or wakeboarding.
Lunch and Dinner
There are plenty of options for a casual meal. Bonnie's Toppings is a convenient place to stop for a breakfast bagel or a sandwich and frozen yogurt for lunch. For a quick and casual dinner, there are plenty of pizza places, but you can also go the seafood route and try Crab Cake Hotline which is conveniently located near the Beach Patrol Station and parking lot on 96th Street. Drop off your stuff at your car, then walk a few blocks to the restaurant. It has terrific crab cakes, shrimp, scallops, fish, and of course, chicken nuggets for the picky eaters (the kids). If a nice sit down meal sounds better, Quahog's Seafood Shack has great food and a nice outdoor seating area (no views, but casual beachy décor). If you think you may want to try it, call for a reservation, because it's packed like all restaurants at the beach in the summer. Quahogs has a sister site, The Taco Shop for take-out that's delicious too.
Header image courtesy of the author.