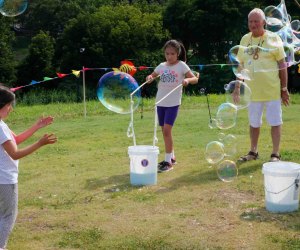 Fourth of July Weekend Fun for Connecticut Kids: Fireworks, Parades, and Festivals
Between fireworks, festivities, and pure, outdoor fun for kids and families, Fourth of July is definitely the peak of summer. Here's hoping you are one of the lucky ones to get a four-day weekend! The nation's annual birthday party began last weekend, and it continues to its explosive end this Saturday and Sunday. Fireworks shows are on the agenda all across the state, including Greenwich, New Milford, Darien, and Waterbury. If fireworks aren't something your family enjoys, there's a nice festival in Norwalk this weekend. Seriously, it's called The Nice Festival and it celebrates international culture and diversity. In Ansonia, the annual Midsummer Renaissance Faire is entering its final weekend, as is Cirque du Soleil's "Luzia" in Hartford.
Don't forget to bookmark Summer Fun Guide for even more ways to enjoy the season. We have the scoop on both swimming pools and spraygrounds across Connecticut: Spots to play and cool off are just a drive away.
We update our Events Calendar frequently so be sure to check back for even more great suggestions. To keep up with the latest family-friendly events and activities, sign up for our newsletters, and follow us on Facebook, and Instagram. Have a fantastic weekend!