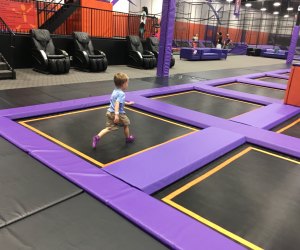 Bounce in to Altitude Trampoline Park in Katy
Whether it's a bad weather day or you're just in need of something different to do, every parent and caregiver can testify to the fact that having some good indoor play spaces up your sleeve is crucial. We get stir crazy pretty quickly in our house, so I'm always on the lookout for places where it's acceptable for my toddler to run around and be crazy with his friends. When Altitude Trampoline Park opened up in Katy, we knew we needed to check it out; after all, what better way to get rid of some excess energy than by bouncing it out? And here's a roundup with all of Houston's trampoline parks to find one near you.
My son has been to Altitude three different times now: once with a couple of his friends, once just him and dad, and once with myself and his baby sister (so, essentially by himself since I wasn't able to bounce with him), making each of his experiences completely different. And every time he's been it has been work trying to get him to leave. You can see where this is going, right? My little man loves it. But let's back up a bit and cover some of the basics.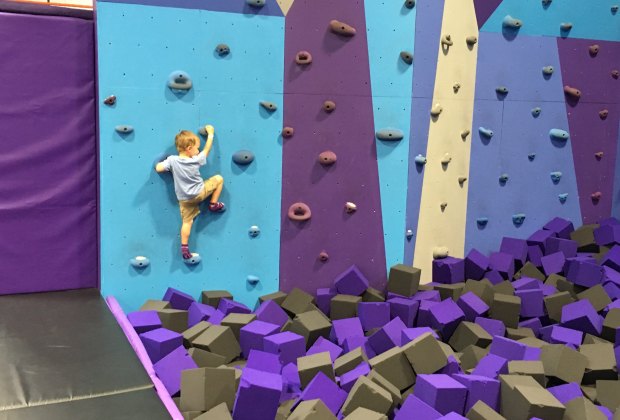 Altitude is an indoor trampoline park that has several different sections and features. It has an area that's made up of tons of connecting mini trampolines, a foam pit with a climbing wall, enclosed spaces where you can throw balls, basketball hoops, balance beams, long, narrow trampolines to race down, and more. There are also plenty of chairs, couches and benches for parents and caregivers to sit and observe as well as an open area below the trampolines with tables for having snacks or hosting birthday parties.
Before you can jump, you have to sign a waiver and purchase Altitude Safety grip socks (tip: you can also use grip socks from other trampoline facilities, and we like to keep these socks in our car to keep them from disappearing). Entry tickets can be bought in advance online or at the door, however, Altitude suggests pre-buying tickets to avoid potentially being turned away, as spots do fill up quickly. At all times there are several trained staff members monitoring the trampolines to ensure the safety of everyone jumping, and the staff has all undergone extensive safety training.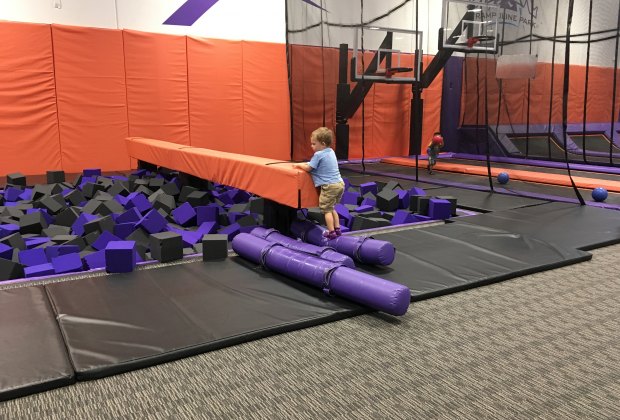 Throughout the week, the park hosts different events that cater to various age groups and they also have the occasional specialty event, like Family Movie Night. For those with toddlers, every weekday from 10 a.m.-1 p.m. is Toddler Time. Kids ages 6 and under get a discounted jump fee during this time, and children 2 and under jump free with the purchase of an adult ticket. For fit-minded folks, Altitude offers Gravity Fitness classes for adults at various times throughout the week, and kids jump for a flat $5 fee while parents and caregivers exercise. There are also special times for homeschoolers to come jump, Friday Night Friendzy, where kids eat pizza and jump with friends, and Teen Night on Saturdays.
We've now gone to jump during Toddler Time twice and both times it's been an awesome experience. The open layout of the trampoline park makes it easy to see your kids no matter where they're bouncing - which is nice if your kids are anything like mine and can't stay in one section for longer than five minutes (because with so many different places to play, who can stay in one spot?). My son ran/jumped laps around the place during Toddler Time when he was by himself. When he went with my husband on a Sunday they got there right when the trampoline park opened and enjoyed a solid hour and a half of jumping together before it started to fill up.
When I was perusing the website before our first trip to Altitude and reading about how well-trained the staff was in all matters safety, I figured it meant that there would be a couple of bored teenagers watching the kids half-heartedly while they jumped. I couldn't have been more wrong about that, though; every time we've been there have been several staff members actively walking the trampolines and watching the kids, and they've been quick to head over to any potentially hazardous situation. Another bonus for me as a parent is the facility's cleanliness. The trampolines are well-maintained, and all of the sitting areas have been in pristine condition each time we've come to jump.
All in all, Altitude gets a five out of five stars in my book for indoor play spaces to take the kids. Friendly staff members, clean facilities, plenty of space to jump, lots of different areas with different features to keep boredom at bay, reasonable entry fees - there's basically a check mark next to everything I look for in a place to take my kids. Now the only thing left to do is put on my own Altitude safety socks and try out one of those Gravity Fitness classes...
Quick Facts:
Altitude is open Monday-Thursday from 10AM-9PM, Friday from 10AM-11PM, Saturday from 9AM-11PM, and Sunday from 12PM-8PM.
Altitude Safety socks are required to jump.
Jumping is open for kids and adults alike.
You can pre-purchase tickets online. Pricing varies. All prices can be found here.
Everyone must sign a waiver before jumping.
All photos by Rachael Cherry