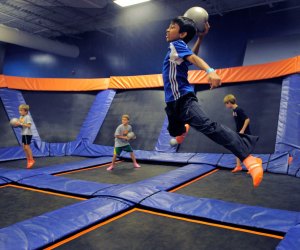 The Sky's the Limit at These Houston Trampoline Parks
Trampoline parks give parents the chance to release their inner child as the kids burn off some serious energy. It's also the safest way to practice front back flips and bouncing friends into the air without serious physical trauma. We all knew that one kid growing up who flew off the backyard trampoline and broke a bone or two. Houston has several trampoline parks to choose from that offer unique activities, weekly specials, and party packages.
In general, the facilities do not allow guests to wear denim, and most require grip socks that can be purchased upon admission (maybe they will let you by with those fashionable hospital socks you probably still have stashed away somewhere along with an unfinished baby book).
Sky Zone Trampoline Park
10207 S. Sam Houston Parkway W., Ste. 100 (Missouri City)
Sky Zone offers four different activities: Open jump, ultimate dodgeball, a foam zone, and sky slam (where guests get to try and dunk basketballs like a pro). There are also various programs for different age groups, so check the calendar before planning your visit. Everyone has to fill out a safety waiver, but they are available online to download and print at home. Pricing starts at $10 for a 30-minute jump session, and you have to wear the facility's special socks - but don't worry, they are $2 a pair and washable/reusable. The facility recommends jumpers be at least 5-years-old, but it will accommodate toddlers if it isn't packed and only on weekdays. You can also plan special events and parties here.
Get Air Houston - Northwest Houston
8270 Willow Place Drive N., Ste. 100
The great thing about Get Air is that it has areas for children of all jumping abilities. The main trampoline area is for kids at least 46 inches tall, but the Kiddie Court is its own separate area for children under that height requirement. There's a foam pit, slackline, ninja course, an area for guests with special needs, and an area for slam ball where you get to live out your dreams of becoming the next NBA star. You can purchase jump times online to save time and make scheduling your visit easier. Pricing starts at $14 for one hour and $10 for one hour in the Kiddie Court. you can also plan special events and parties here.
Jumping World Houston
14147 Hwy. 290 (northwest Houston)
2222 Spencer Highway (Pasadena)
100 Gulf Freeway N. (League City)
Jumping World is the perfect place for a big-kid (or big-ish kid) birthday party because along wth the field of trampolines there is a massive inflatable slide, a foam pit, a mechanical bull (yes, really), and private party rooms. The company runs weekly specials, like discounts for toddlers or families of four or more. Like other facilities, Jumping World requires a waiver for guests under 18, and it can be found online to save some time. The rates vary on day and activity, but they start at $6 for guests ages 4 and under for one hour and $8 for older guests. Note: The dress code excludes denim - so no jeans, denim shirts, or denim skirts.
Sky High Sports - Energy Corridor
10510 Westview Drive
At Sky High, you can reserve your jumping times before leaving the house. This assumes, of course, that you are one of those organized moms who can remember to do this among other things. Once inside, there is a massive foam pit, basketball hoops, dodgeball, and a ninja course. There are plenty of party packages to choose from for birthdays or special events as well as weekly specials.
Sky Sports USA Trampoline Park - West Oaks
14409 Park Hollow Drive, Unit B
This 39,000-square-foot trampoline park features batting cages, dodgeball tournaments, basketball goals at varying heights, and a fantastic children's section for kids ages 5 and under. This is a plus because many of these complexes are (rightfully) geared toward older children and do not offer much for toddlers. This makes a family trip much more appealing. Rates start at $5 for kids ages 4 and under for a 30-minute session and $8 for ages 5 and up. The Sky Sports grip socks are $2.25 for adults and children. Party packages are available as well.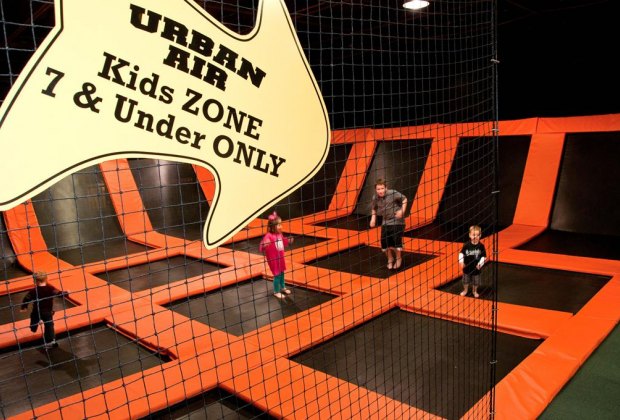 Photo courtesy Urban Air
Urban Air Trampoline Park
19304 Hwy. 59 N. (Humble)
20502 Hempstead Road, Ste. 110 (northwest Houston)
9848 Hwy. 90 (Sugar Land)
20100 Holzwarth Road, Ste. A (Spring)
Urban Air is quickly expanding in Houston with four locations to be fully operational by mid-2017. What's unique about this chain is the age-specific specials and events available each week, like preschool and toddler jump, teen night, and adult fitness. There is a separate zone for kids ages 7 and under, obstacle courses, dodgeball courses, and its infamous Urban Warrior Course, which mimics the American Ninja Warrior course. You can also reserve private rooms for parties and special events.
Altitude Trampoline Park - Katy
24952 Katy Ranch Road
Book tickets online for Altitude Trampoline Park's free jump, parties, special events, and fitness classes (these one-hour classes are open to men and women of all ages). It's not required, but it is recommended because slots can fill up fast on various days. Special socks are required and can be purchased for $2, and the equipment is suitable for jumpers of all ages. Along with safety netting, there are soft trampoline walls to keep your little flyers protected. Amenities include a massive performance wall complete with a rock wall and foam pit where you can battle it out with other guests, basketball, and dodgeball. There are private rooms for birthday parties, which can accommodate up to 20 jumpers.
Bounce Bounce - Cypress
7955 Barker Cypress Road, Ste. 100
Inside Cypress' Bounce Bounce trampoline park you will find the standard massive trampolines, an indoor zip line, dodgeball and basketball, a foam zone, and a children's maze as well as rides, a water zone, and ropes course. There is also bubble bumping where participants climb inside giant, plastic balls and bounce around on a trampoline. Special bounce socks are required and can be purchased for $2 a pair, and although toddlers are welcome, they may no be able to jump 11 a.m.-7 p.m. on Saturdays and Sundays because of crowds. You can book birthday parties and special events here as well.
Photo courtesy Sky Sports