Outdoor Go-Karts Around Houston: The Ultimate Adrenaline Rush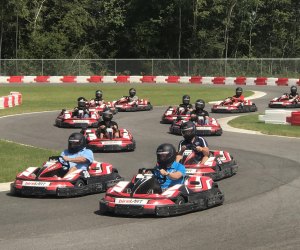 On your mark, get set, go! Take the wheel and head toward one of these family-friendly go-kart tracks in the greater Houston area. Feel the wind in your hair as you whip around hairpin turns and race down straightaways toward the finish line. Go the extra mile at these fantastic outdoor tracks, many of which also offer fun activities such as laser tag, mini golf, and arcade games.
Speedy's Fast Track - Spring Branch
11440 Hempstead Road
713-957-8803
Speedy's Fast Track offers multiple types of karts for use including single rider standard karts, two-seater karts, super karts and Formula One (or, F1) karts. Racers with a valid driver's license who want to experience ramped up speeds can take Speedy's F1 karts for a spin to reach speeds up to 30 mph. This unique go kart track features a mini golf course build on the interior on the racetrack space. For even more family fun during a visit to Speedy's, visitors can try a rousing game of laser tag or take a turn on one of the many pinball and video games inside of the arcade.
Bay Area Raceway - Dickinson
3825 Gulf Freeway
281-337-7223
This family-friendly track was newly remodeled in 2018 and features a completely new racing surface and track configuration. All drivers must be at least 55 inches tall, but unique two-seat karts are available for rent and can accommodate passengers who are at least 36 inches tall. In addition to go kart racing, Bay Area Raceway features a game room with updated arcade games and fun prizes. This location is open to the public seven days a week, closing only on Thanksgiving Day and Christmas Day of each year.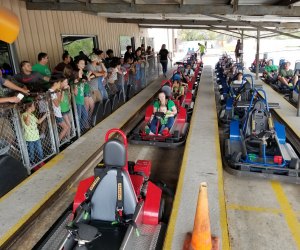 Racers of all ages getting ready to hit the track/Photo courtesy Bay Area Raceway
MSR Houston - Angleton
One Performance Drive
281-595-3305
With a track distance of 3/4 of a mile, this outdoor go-kart track is the largest in the greater Houston area. Both adult and junior karts are available to rent for ages 9 and up for 15-minute kart racing sessions. MSR Houston also offers private driving sessions, membership packages for more serious racers, as well as hosts birthday parties and special events. MSR Houston is open to the public Thursday-Sunday each week, with special events occurring on Monday- Wednesday.
Speedsportz Racing Park - New Caney
23050 Speed St.
866-607-7223
This sprawling track is perfect for families with older children looking for a true racing experience with top-of-the-line karts. Racers at Speedsportz must be at least 12 years old and 58 inches tall to drive one of the park's "ride and drive" karts. Racers ages 16 and up can take their racing to the next level with 125cc karts that can reach up to 70 mph during the track's Kart Racing Experience. Speedsportz also offers racing leagues and driver coaching sessions.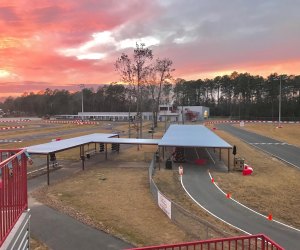 A view of the starting area at Speedsportz Racing Park/ Photo courtesy Speedsportz Racing Park
Go Kart Raceway - Houston
2800 W. Mt. Houston Road
281-447-7378
Families can speed their way into fun every single day of the year (including holidays!) at Go Kart Raceway. Racers at Go Kart Raceway can choose from standard karts, double-seater karts, or extra fast super karts. Each karting session lasts five minutes and drivers must be a minimum of 54 inches tall. When you've had your fill of racing, be sure to check out their two-story arcade filled with hundreds of games and opportunities to win tons of prizes.
Houston Grand Prix - Kingwood
13901 Eastex Freeway
281-987-3032
At Houston Grand Prix, racers can go the extra mile when choosing between racing on a 1/4 mile asphalt track and a 1/2 mile concrete track for karting fun, as well as play on a multitude of arcade games. This track offers wristbands good for one hour of go kart rides to help streamline your racing experience and special packages to help save when combining go-kart rides and arcade play. All rides on the asphalt track are four minutes long, and rides on the concrete track last one lap. Drivers on the concrete track must be at least 15 years or older.
Top Photo courtesy Speedsportz Racing Park