Top Glow-in-the-Dark Mini Golf Near Houston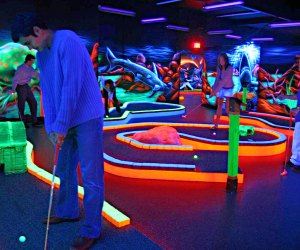 Mini golf is a staple in most families' rotation of fun weekend activities, but in Houston, standing in the heat for an hour putting around a small plastic ball isn't always...a ball. Black light mini golf, on the other hand, combines the game with lovely air conditioning indoors and lots of glow-in-the-dark fun. Below are a few fun entertainment spots with glow-in-the-dark, indoor mini golf around Houston.
For more ideas on indoor family activities, check out our Indoor Fun Guide for Houston kids.
Shankz specializes in glow-in-the-dark fun. Its mini golf course was recently been updated with new designs and challenges and is best for kids ages 4 and up. Expect games to take anywhere from 35 minutes to an hour at this Houston mini golf spot. Other in-house black light games include Cannonball, which is an air cannon gaming system where you get to use souped up nerf guns, and Timefreak, which is essentially a larger-than-life game of whack-a-mole.
Black light mini golf is upstairs inside the large Palava entertainment facility. This indoor mini golf course near Houston is perfect for kids as young as age 3, but don't worry, there are challenging holes to contend with for the more seasoned mini golfer. And mini golf isn't the only black light adventure at Palava; catch a game of glow-in-the-dark laser tag while you're there.
Inside the massive Track 21 entertainment center in Northwest Houston is this out-of-this-world Cosmic Mini-Golf course. It is jungle-themed and features nine fun holes surrounded by glow-in-the-dark gorillas, lions, and giraffes.
This is the only Main Event mini golf in the Houston area that offers blacklight mini-golf! (There are four others: in Katy, Shenandoah, Humble, and Stafford.) This course is perfect for even the most inexperienced mini golfers, and you get to rock out to (not too loud) music along the way.
This post originally published in 2017.