25 Things To Do in Pacific Palisades with Kids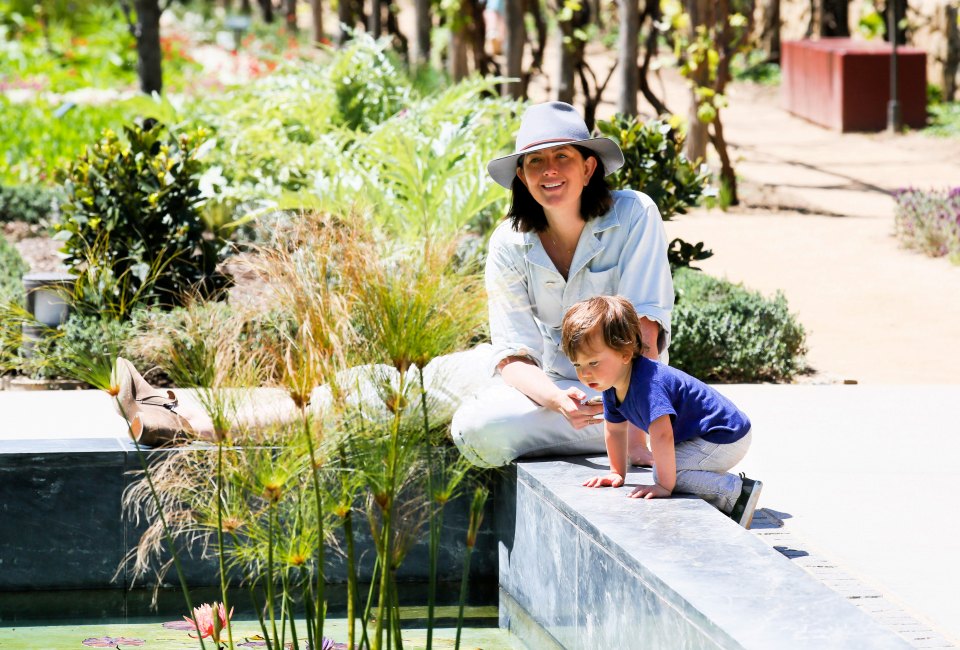 4/16/19
- By
Susan Leslie
A short drive from Santa Monica or Malibu and worth the drive from anywhere else in LA, the Pacific Palisades sits nestled atop a cliff line from the beach to 26th Street (Allenford). While the neighborhood is certainly celebrity-dense and the real estate is one of the most pricey in the city, families are drawn to the Palisades for its small town feeling, its kid-friendly neighborhoods, and the fantastic schools. Whether you live in the Palisades or not, here are 25 bucket list items you may want to start crossing off your list in this city by the sea.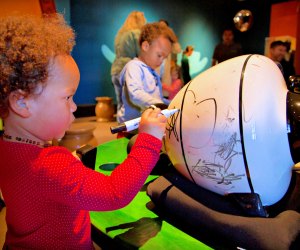 Color your Ode to a Grecian Urn. Photo by Sarah Waldorf courtesy of J. Paul Getty Trust
1. The Getty Villa
When you say, "The Getty," most people think about the big museum on the hilltop off the 405. The Getty Villa was actually established first, and many Angelenos don't even know it exists. Be sure to visit on a day when you can take your time exploring. Experience the ancient world of Greece and Rome, 7,000 years of art from the end of the Stone Age to the fall of the Roman Empire. Art, sculpture, architecture, and beautiful gardens are all part of the free admission. Parking costs $20, or $15 after 3pm. Check out the website for parking reservations.
2. Gladstones
This icon at the corner of Sunset and PCH not only has great grilled ahi, it also has a spectacular view of the ocean and coastline; you may even see a pod of dolphins swim by as you sip your margarita. Make a day of it and take the kids to the beach right next to Gladstones, then stop in for a parent cocktail while your kiddos enjoy the fish and chips.
3. Fourth of July
If you live in the Palisades, no one says "What are you doing on the 4th?" because in the Palisades the national holiday is a day-long event steeped in community, tradition, and family fun. First, the day starts with a 5K, 10K, or Kids Fun Run. Next, locals head to the center of town for the annual parade, complete with floats and the kid-decorated bicycle brigade. Finally, it's time for the spectacular fireworks at Pali High School (get tickets in advance).
Will Rogers Beach. Photo by Rufus/Flickr
4. Beach
What's so special about the Palisades? The beach! At the bottom of Temescal Canyon, you'll find Will Rogers Beach, where there's plenty of fun in the sun. Go for a bike ride or rollerblading down the beach path, take a turn at the volleyball nets, fly a kite, build a sand castle, or just stretch out and relax! There's usually plenty of parking on Temescal, or if you have 2 kids, 3 beach chairs, and a cooler in tow... head for the pay parking lot. Prices vary depending on the season.
5. Summer Camps
The benefit of living in Los Angeles is access to the beach during the summer. There are plenty of beach camps up and down the coastline, but be sure to check out two of them in the Palisades: Sandy Days and Fitness by the Sea. Swimming, surfing, beach volleyball, sand castles, crafts, kite flying... they have a little something for every kid! Also, check out the YMCA camp. Although it is not on the beach every day, being in the Palisades means campers can take a quick jaunt to the beach as one of their weekly activities.
6. Northern Trust Open Golf Tournament
Every August at the Riviera Country Club, this golf tournament descends on the Palisades and is one of the most coveted tickets in spectator golf tournaments around. Good news, you can get a Family Plan ticket and for every paid adult ticket, unlimited kids under the age of 18 are free! The Family Plan ticket includes 2 good-for-one-day adult Grounds tickets, free kids tickets, and 2 $10 concession vouchers for Tuesday-Sunday.
7. Will Rogers Polo and State Park
In 1926, Will Rogers built a polo field on his vast estate in the Palisades. In 1944, the property became a State Park open to the public and home to the Will Rogers Polo Club. The park is open daily from 8am-5pm (except Thanksgiving, Christmas, and New Year) and includes hiking trails, the main house, and the polo fields. Although fires and BBQs are not allowed, bring a picnic as there are plenty of tables to dine al fresco. Check the website for polo match schedules.
8. Self-Realization Center
Whether you need a peaceful oasis to get away from the kids or beautiful lake to explore with your kids, this gem tucked away just off Sunset east of PCH is a must-see. The atmosphere is quiet and calm, so be sure to silence your phone and encourage the kiddos to find their inner and outer peace. There is no charge to visit Lake Shrine.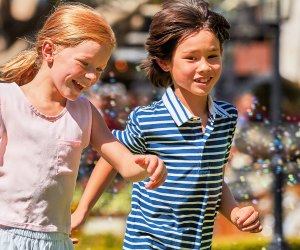 Palisades Village offers a free kids club that offers a weekly dose of fun, including music, entertainment every Thursday from 10 am – 11 am.
9. Palisades Village
The all-new, Caruso-developed Palisades Village is now the town center of the Palisades. With more than 40 boutiques and eateries, you're bound to find something for everyone. Shop the trendy stores, visit the dine-in movie theater, and don't miss McConnell's ice cream shop! If you live close enough to walk, it's a beautiful stroll; however, the center does offer one hour of free parking.
10. Hiking, hiking, hiking
Love the great outdoors? The Palisades has amazing hiking trails for all levels and all ages. Explore Temescal Canyon, Santa Ynez, Los Leones Trailhead, to name a few. Whether you are looking for a quick romp through the forest or a day-long hike with your Scout troop, there are plenty of trails to navigat—and the views will astound.
11. Theater Palisades
Have a budding thespian? Located just across the street from Pali High School, Theater Palisades is a gorgeous, full-service theater that offers two children shows per year and five main stage adult shows. Children's audition dates and performances are on the website. Whether you are a performer or an audience member, this community theater puts on top notch productions.
12. Thanksgiving Turkey Trot
Did you know the average person eats 3,000 calories on Thanksgiving Day? Prepare for the feast by joining the 5K or 10K Palisades Funding annual Turkey Trot for charity. The starting line is at the Pali Football Field; this is a fun event for the whole family and makes eating that pumpkin pie a little more guilt-free.
13. Palisades Schools
There are few neighborhoods in LA more family friendly than the Palisades, and families flock to the area for the incredible schools. There are great public schools, including Marquez Charter Elementary, Pali Charter Elementary, Pali High School, and an array of private schools, including Seven Arrows, Village School, St. Matthews, Westside Waldorf, Corpus Christie, Le Lysee Francais, Calvary Christian, and various preschools. Each school has must-see community programs, including holiday boutiques, Halloween festivals, musicals, and sports.
14. Pali Farmer's Market
Organic produce, free samples, and lots of stuff for the kids to do?! I'm in. Every Sunday, the Pali Farmer's Market is brimming with shoppers and for good reason. Can't get enough? The Palisades Farmer's Market has just opened a sister market in The Highlands on Sunday mornings!
15. Palisades Rec Center
Not only does Pali Rec Center have great kids classes in tennis, basketball, dance, etc but it has wonderful community events such as the annual Easter Egg Hunt, Pancake Breakfast, and the very popular, Movies in the Park. This park can entertain kiddos all day. Waiting for your kid to get out of one of the many classes there? Walk over to the library and pick up a book and have some "me" time on one of the park benches.
16. Horseback Riding
"I want a pony!" Horses and kids... it's a kind of innate bond that starts at an early age. What, you don't have a horse? No problem! There are two great options for riding. Westside Riding School offers classes, and Will Rogers Riding Trails offers trail rides. Gallop on over to sign up and yippeekayay!
17. Riviera Country Club and the Bel Air Bay Club
Okay, let's face it... you say "Country Club" and most people can't afford to even consider membership. But did you know you don't have to be a member to take tennis at The Riviera? And both of these clubs are available for special event rentals.
18. Pali Pool
The Maggie Gilbert Aquatic Center at Pali High School has public swim lap hours and recreation swim hours. Youth prices are only $5 (adults are $8)... or buy an unlimited annual pass! No better way to beat the heat than a dip in the Pali Pool. Have a budding tadpole? Swim classes are offered by Westside Aquatics.
19. Rustic Canyon
This city park, hidden in a canyon between the Palisades and Santa Monica, is one of the best secrets of the area. People not in the know can drive in circles forever trying to find this gem; those who know it get to lose themselves in a little piece of heaven that feels so much farther from the city than it is. The Rec Center is like a place lost in time and offers wonderful classes, camps, holiday events, and a preschool alternative program. The playground and park sit in a cool sycamore grove, with adjacent tennis courts and a pool that's never crowded. The park also houses the charming coop preschool, Rustic Canyon Nursery School.
20. Mom Clubs
Need some extra support or just want to meet other moms? Join The Moms Club, a Mommy and Me group, Stay-at Home Moms Group, Working Moms group... you get the picture! There's a mom's group for everyone because moms need help as well. These clubs can all be found on the Meetup app.
21. Playgrounds
There are some awesome playgrounds worth checking out in the Palisades. The Pali Rec Center is popular with local kids, as well as, the playground on Temescal Canyon between PCH and Sunset. On the weekend, head over to Marquez Charter school where the lower yard/playground is open. You can climb the monkey bars while looking at the ocean!
22. Halloween
The Pumpkin Patch at Simon Meadow is an iconic tradition for anyone on the Westside. This is not only a great place to get your Halloween pumpkin; it is an awesome place for pictures of your little ones in a sea of orange. Also check out the annual Halloween Festival at Marquez Charter School, with games and a spooky haunted house. For Halloween night, beware of the goblins... and the truckloads of kids that swarm the neighborhood trick-or-treating.
23. Kid Classes
There are more kids' classes in a two block radius than you could ever imagine. Join the dance team at Fancy Feet, learn aerial arts at Studio K, become the next Picasso at Mission Renaissance Art... the list goes on: Katy O'Neil Art, Gerry Blanck Martial Arts, Piano, Sew Chateau, Adderly, ATAM, Pali Rec Center classes, among others. If you need an extra-curricular class for kids, you will find it in the Palisades.
24. The Views
The views in the Palisades are breathtaking. Follow the cliff coastline road along Corona del Mar, Via de Las Olas, Ocean View, Shore Drive, Porto Marina Way, or drive up to the Highlands, or head up near the Getty Villa. Almost everywhere you look in the Palisades, you can indulge in a gorgeous view.
25. Yogurt Shops
Do not be fooled by "yogurt" being #25. It could easily have been #1... and #2... and #3. Palisadians take their yogurt and ice cream very seriously. There's McConnell's in the Village, Sweet Rose, Toppings, and The Yogurt Shoppe, Craving an ice cream at 3pm? You might be waiting an hour, as these stores are swarmed by kids getting out of school in the afternoons. The line is worth the wait at Toppings, where there are at least 100 different toppings to choose from. Try all four of these creameries, which all have a little something different to offer.
This list is just the tip of the iceberg; there are literally so many things to do with kids in the Palisades that if you live here, you don't really ever have to leave. If you don't live in the Palisades, take a drive up and explore; mark off a few items on this bucket list and maybe even create a few of your own. Subscribe to the major news outlets in the Palisades to learn all about upcoming events: The Pali Post, The Palisades News, and Patch Palisades.
Sign up for the Mommy Poppins Newsletter today!
i