Roller Skating Rinks Are Still Great Spots for SoCal Family Fun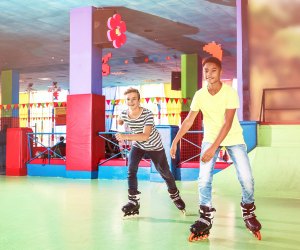 If you grew up in the 70s and 80s, you probably have great memories of rockin' and rollin' at the roller rink. Birthday parties, end of year school trips, disco evenings, or just plain having fun inside on a hot or rainy day—roller rinks were the best. Even though inline skates are the outdoor skate of choice these days, we can still put on some quads at these LA- and OC-area roller rinks. Take the kids for a taste of your childhood. And, Mom and Dad, you can go ahead and skate too. It is great exercise and just as fun as you remember.
Check the online calendars or call before heading out, especially if traveling some distance; all venues host private parties and skating events. To rent a "skate mate" wheeled PVC helper for beginners, confirm that they are both available and permitted during the open skate you want to attend. Rinks typically charge by the "session," a scheduled block of time. For a smaller fee, skaters can roll over into the next session—but don't arrive late in a session, because you will need to pay again.
Los Angeles
Moonlight Rollerway Skating Center
5110 San Fernando Road
Glendale 91204
818.241.3630
All ages open skates are available on Tuesdays (with live organ music!), Thursdays, Fridays, Saturdays, and Sundays—with family fun night on Sunday evening and kids skate (12 and under with parents) on Saturday morning. Lessons, extensive snack bar, and birthday parties are available. Inline skates permitted, but only quads are available for rent.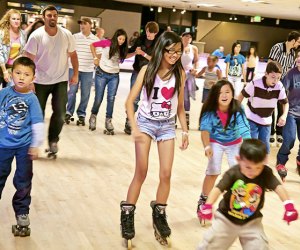 Kids get rolling at Skateland in Northridge.
8140 Parthenia Street
Northridge, CA 91325
8140 Parthenia Street
Northridge, CA 91325
Orange County
Fountain Valley Skating Center
9105 Recreation Circle
Fountain Valley 92708
714.847.0022
Lessons, birthday parties, fundraising parties, open skating, family nights, and more are all here. If your kids love the place, consider the Locker Club; tweens, teens, and parents all love this deal, that includes supervised unlimited open skating for a month. Sundays feature Artistic Skating contests, $3 to watch. Before heading over, check the online calendar to make sure there are no special events scheduled. Inline skates are permitted, but only quads are available for rent.
Holiday Skate Center
175 N Wayfield
Orange 92867
714.997.5283
In addition to open skate times, Holiday offers Kids' Skate (under 10 and parents), Family Skate, After School Skate, and Club Skate Nights (for junior high and high schoolers). Birthday parties can be during public or private times, depending on how much you want to spend, and 50/50 fundraisers are popular amongst the local schools. Inline skates are permitted, but only quads are available for rent.
The Rinks
5555 McFadden Avenue
Huntington Beach 92649
714.901.2629
Though The Rinks is primarily an inline hockey and roller derby venue, there are open skating hours Monday through Thursday afternoon, Friday evening, and Saturday afternoon. Both inline and quad skates are available to rent.
Inland Empire
Cal Skate Grand Terrace
22080 Commerce Way
Grand Terrace 92313
866.607.5283
Six-week lesson sessions (for kids and adults), a wide variety of birthday party options, family and friends skate deal on Friday/Saturday nights and Saturday/Sunday afternoons all make this place popular. Cal Skate offers the best monthly skate pass options in Southern California: 3 base choices, and add-a-card for the entire family. Quads, inline, and speed skates are all available for rent.
The Rinks
4325 Prado Rd
Corona 92880
951.279.7465
Though primarily an inline hockey club, The Rinks in Corona offers the best free skate deal in town. For just $5, including inline or quad skate rental, all ages can skate from 2:30pm–4:30pm on Monday, Wednesday, and Friday. Occasional skate night events are also scheduled.
Skate Express
12356 Central Ave
Chino 91710
909.465.1383
Skate Express has all the usual roller rink amenities—plus mini bowling lanes, an arcade with prizes, and bumper cars. All ages are welcome for Feature Fridays; see the online calendar for music themes.
Ventura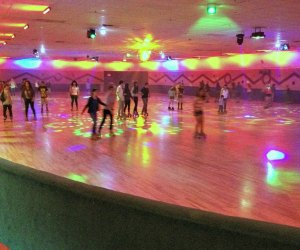 Ventura's Skating Plus is especially great on Family Nights.
Skating Plus
1720 Mesa Verde Ave
Ventura 93003
805.644.2121
Skating Plus holds family night on Sundays, which is the best deal of the week and includes up to five people. Check the online calendar for junior open skating (10 and under with parents only). Look for special sessions on holidays, and check the website for coupons.
Permanently closed as of 2021:
Skateland Northridge
18140 Parthenia St
Northridge 91325
818.885.7655
Skateland has a brand new maple rink and new carpet as of May 2014. Open sessions are on Saturdays, plus family nights on Saturday and most Wednesday evenings, Friday after school skates, and Friday night 13-and-up skates. Summer brings daily open skate sessions; check the calendar online—also check for online coupons. In addition to lessons, fundraisers, and parties, Skateland offers an arcade, Lazer Maze, snack bar, and free WiFi. There is even a summer day camp, reservations required. Inline skates are permitted.