Skateboarding the Best Skateparks Around Los Angeles for Kids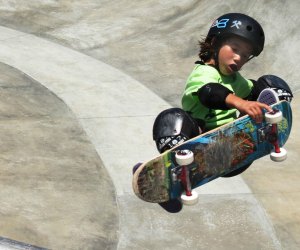 Skateboarding is a really exhilarating sport for kids. There is nothing quite like grinding the pavement and letting the wind blow through your hair (protected by a helmet, of course). But, then you hit a pothole and wonder if there is an easier way to experience urban skateboarding in its truest form. Thankfully, there is!
Skateparks are a great way to let your kid really practice her skills and gain insight from the pros. Here are just a couple tips to keep in mind to really make your excursion pop:





• Shade is usually minimal to nonexistent. Concrete is hot, so remember to bring sunscreen and lots of water.

• Weekends tend to be busier than weekdays. If you have a beginning skater, keep this in mind.

• Remember to wear safety gear. Concrete, rails, and pools are unforgiving, so it is best to take all of the necessary precautions.

Here are our picks for the top ten parks in Los Angeles County: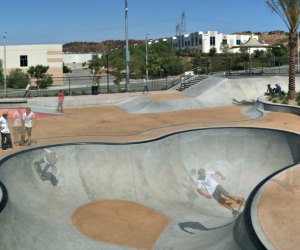 Santa Clarita Skatepark. Photo by Jeff Turner/CC BY 2.0
1. Santa Clarita
George A. Caravalho
Santa Clarita Sports Complex
Santa Clarita, CA 91387
8am-9pm daily
Free
This place is huge. It's a 40,000 square foot concrete jungle, and it's open 365 days a year.

2. Belvedere Skatepark
4914 E. Cesar E Chavez Ave.
Los Angeles, CA 90022
10am-9pm daily
Free
This park is a little over 19,000 square feet. It has a vert, pool, and lots of transfers (trannys).
3. Culver City Skatepark
9910 Jefferson Blvd.
(Northwest corner of Jefferson and Duquesne)
Culver CIty, CA 90232
Mon-Fri 12pm-12am; Sat-Sun 9:30am-4:30pm
Free
This park is one of the smaller parks at 1,300 square feet. But, it's a good choice for younger skaters, and there is lots to do. There is a pool, a 90 degree banked hip, and many other challenges.

4. Chino Skate Park
14225 Central Avenue
Chino, CA 91710
10am-9:30pm
Free
This park is 27,624 feet of goodness. You'll find a three leaf clover bowl, tranny, street, and vert.

5. Stoner Skatepark
1835 Stoner Ave
LA, CA 90024
Mon-Thu 9am-9:30pm; Fri 9am-8pm; Sat 9am-5pm
Free
This park is really aesthetically pleasing; there is lots of granite and shady trees. For a 20,000 square foot park to be a great place to skate and to be pleasing on the eye can't hurt!

6. Lafayette Skatepark
625 South Lafayette Place
LA, CA 90057
7am-9pm
Free
This park is 10,000 square feet, built thanks to Rob Dyrdek. Check the site out for more info on this incredible foundation.

7. Westchester Skatepark
700 West Manchester Ave.
LA, CA 90045
Mon-Fri 9am-10pm; Sat-Sun 9am-5pm
This park is 13,000 square feet. There are lots of elements to please even the most advanced skaters. There is a bank ramp, stairs, and a manual pad. It really is a beautiful park.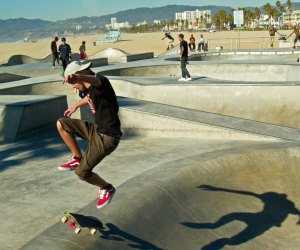 Venice Skatepark. Photo by Majunznk/CC BY 2.0
8. Venice Skatepark
123 Venice Beach
Venice, CA 90291
310.399.2775
Venice Skatepark is every skateboarder's dream. It has paved mounds, sunken pool, metal railings, and a built in audience! There are very skilled adult skaters, so it's important to make sure that your child watches out for them.

9. Skate Lab
4226 Valley Fair St.
Simi Valley, CA 93063
805.578.0040
Hours and pricing
Skatelab is a great park for beginners to advanced skaters because there are so many options. It's indoors, which makes it the only park open in the rain. You can also pay extra for lessons. The park is divided into sectors: there is a street sector, beginner sector and an outdoor sector. There are special scooter only times, so please call ahead.

10. The Cove in Santa Monica
1401 Olympic Blvd.
Santa Monica, CA 90401
310.458.8228
Hours
Prices
The Cove is a 20,000 square feet park touted as the birthplace of modern skateboarding, with ramps, bowls, stairs, a pool with tile coping, a bowl, and a rail.
Top photo at Venice Skatepark by Maximum Panda/CC BY 2.0
This updated post was originally published on May 20, 2012.