12 LA Restaurants Where Kids Can Try Ethnic Foods They Just Might Like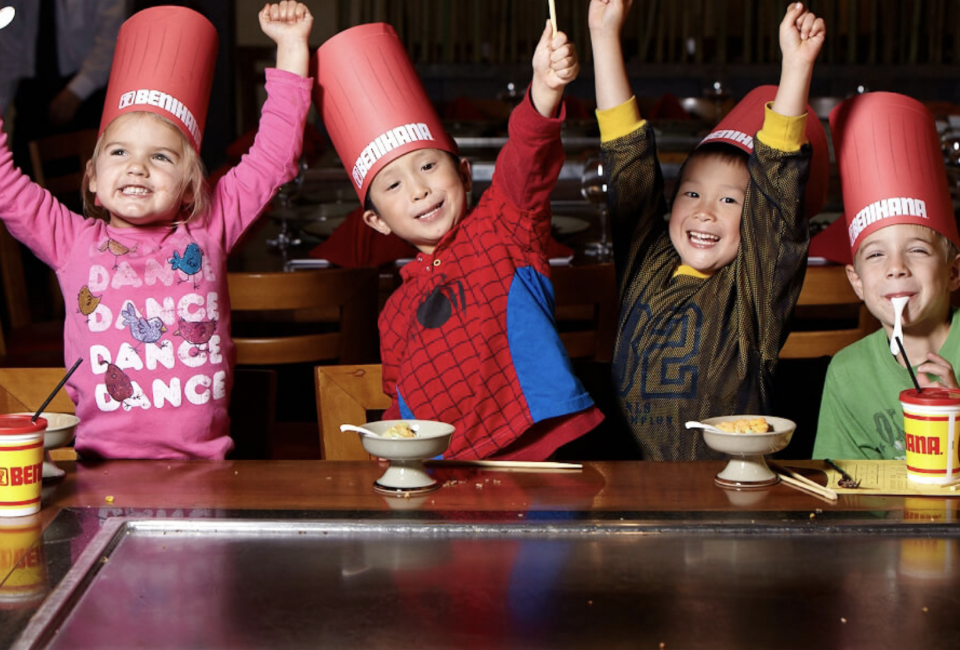 11/30/16
- By
Jacqueline Stansbury
Food is one of the fraught topics of parenting. From day one it's us against them when it comes to eating. Having spent weeks with a lactation expert for baby number one, I thought I had it down, but baby number two had other ideas. Moving on to solid food, our kids really show us who is boss. They like what they like and will eat what they will eat - even if that means pizza as vegetable and ice cream as protein. Meanwhile, mom and dad are craving something ethnic. You know, a little spice, more than one ingredient, maybe even a variety of vegetables. It may sound more daunting than another round of nuggets at Kids Eat Free night, but with a little planning your family could have a tastier, more exotic dinner out.
Kids will try anything if you make it fun and don't dish up too much pressure. Don't give up on eating out. Take them wherever you want to go; let them order a small portion of whatever they are willing to eat (and sometimes that may end up being the bread basket), and then encourage them to try what's on your plate. If you want to be magnanimous, let your little epicureans be creative about ordering, but know that you may have to bring it home. Get mad about this, and they will never try anything new again. In our melting pot of a city there are tons of ways to make ethnic dining fun, and many of the following options have multiple locations*. Or hit a food truck evening and try it all in one not-remotely-fancy location!
1. Porto's Bakery* - Cuban
315 N. Brand Avenue Glendale, CA 91203 (818) 956-5996
I can't always sell my kids on a ham and cheese sandwich, but they will always eat a "Cubano" - which is the same thing only grilled with pickles and served in a dynamic bakery where the pastries look so scrumptious nobody minds waiting for a table.
2. Mitsuwa* – Japanese
3760 Centinela Avenue Mar Vista, CA 90066 (310) 398-5996
Perfect for dining out on a rainy day, Mitsuwa is a combination food court and grocery store. Our favorite stop is Santouka for Ramen noodles, but there are restaurants dedicated to Udon, Tempura, and even European style baked goods. The grocery store is great for picking up Japanese snacks or sushi, and we always have to stop at J-Style to check out the toys.
3. Hsi Lai – Vegetarian Buddhist
3456 Glenmark Hacienda Heights, CA (626) 961-9697
A seven dollar donation, and it's unlimited access to this vegetarian buffet. It's a bland cuisine, designed for stimulating the spirit more than the taste buds, but the temple is beautiful, and it's something different to do.
4. Roscoe's House of Chicken and Waffles* – Soul Food
1514 N. Gower Street Hollywood, CA (323) 466-7453
Okay, so if we go here, the kids will likely want waffles, which is fine, and we will all want some of that crispy fried chicken. The great thing about soul food is the sides. Get the young'uns to at least try the greens and beans.
5. Moun-of-Tunis – Moroccan
7445 ½ Sunset Blvd. West Hollywood, CA 90046 (323) 874-3333
Welcoming to families, but not cheap, this is kid friendly because you eat with your hands in a festive tent. Nightly belly dancing is fun, but possibly not everybody's cup of mint tea.
6. Gyu-Kaku* – Japanese Barbecue
14457 Ventura Blvd. Sherman Oaks, CA (818) 501-5400
Kids and parents agree on this one. Though technically ethnic, it doesn't get much more basic than a bowl of white rice served with grilled chicken, beef, or shrimp. Delicious, and you get to cook it yourself…not for young children who need huge quantities of supervision. This chain also has fantastic happy hours and weekday specials with discounted meals and beverages. Check the website. Fun for the entire family.
7. Mexican Food
Here in Los Angeles, Mexican food hardly counts as ethnic. Most of our children have grown up with rice and beans as a staple. However, if tacos, burritos, and pozole are still a new frontier, here are a few places to try: At La Cabaña in Venice, you can watch them make homemade tortillas, and sometimes the kids get to make their own; Olvera Street is always fun for its atmosphere; the Mercado in East LA has dueling mariachis, and Juliet Child's all-time favorite restaurant is the Super-Rica taco stand in Santa Barbara.
8. Alpine Village – German
833 West Torrance Blvd. Torrance, CA 90502 (310) 327-4384
A bit of Bavaria in the basin, here is where your kids can tackle schnitzel, brats, and pretzels (never a hard sell in my house). Wurst case scenario, they won't like it. Oktoberfest sounds festive, and it surely is if beer guzzling is your thing, but definitely not for children.
9. Ocean Seafood – Chinatown
750 North Hill Street Los Angeles, CA 90012 (213) 68703088
This dim sum restaurant is a family favorite. Carts are wheeled around, and the kids can point to what they want. My two tend to fill up on the barbecue pork bao, which are fluffy and doughy (in other words Chinese for "white diet") and quite delicious. Meanwhile, I get broccoli and shrimp and lots of other things, and occasionally talk them into sampling.
10. Artesia - Indian Food
Pioneer Blvd. Artesia, CA 90701
We have plenty of Indian restaurants, but why not make it an outing and head to Artesia? You can't go wrong on Pioneer Blvd. No, it is highly unlikely that the finicky eaters in your household will embrace a curry on their first trip to an Indian restaurant. That said, I've never met a child who didn't love a good Mango Lassi. A decent source of protein, as it's made with yogurt, and appealing to kids because mango is just so darn sweet. Add a little nan bread to the mix, and the kids will be full while the grown-ups enjoy the more sophisticated choices on the menu. My kids have never said "no" when Indian was suggested, and as they get older they are starting to eat spinach and vindaloo and all of the other things that make this such an amazing and delicious cuisine.
11. Restaurant Row – It's Showbiz!
Pricey but fun, La Cienega Blvd. in Beverly Hills is home to several restaurants that emphasize experience as much as the food. There's Lawry's for roast beef, Fogo de Chao for Brazilian Steak, The Stinking Rose for garlic, and of course the most kid friendly of all - Benihana* where the food is sliced, diced, and flipped right before your little ninja's eyes.
12. Café Crepe - French
1460 3rd Street Santa Monica, CA 90401 (310) 576-0499
Crepes are a no brainer. What kid doesn't like pancakes? Sweet ones with butter and sugar will always be a hit, but if you want the children to have something savory, the great thing about crepes is that they can usually choose a filling.
Looking for a more traditional restaurant experience? Check out our favorite places where kids eat free, our favorite restaurants Downtown or in Hollywood, our favorite pizza places, and a few suggestions for kids with food allergies. Bon Apétit!
Originally published January 30, 2015
Sign up for the Mommy Poppins Newsletter today!
i