25 Best Swimming Pools in Los Angeles: From Public Pools to Hotels with Day Passes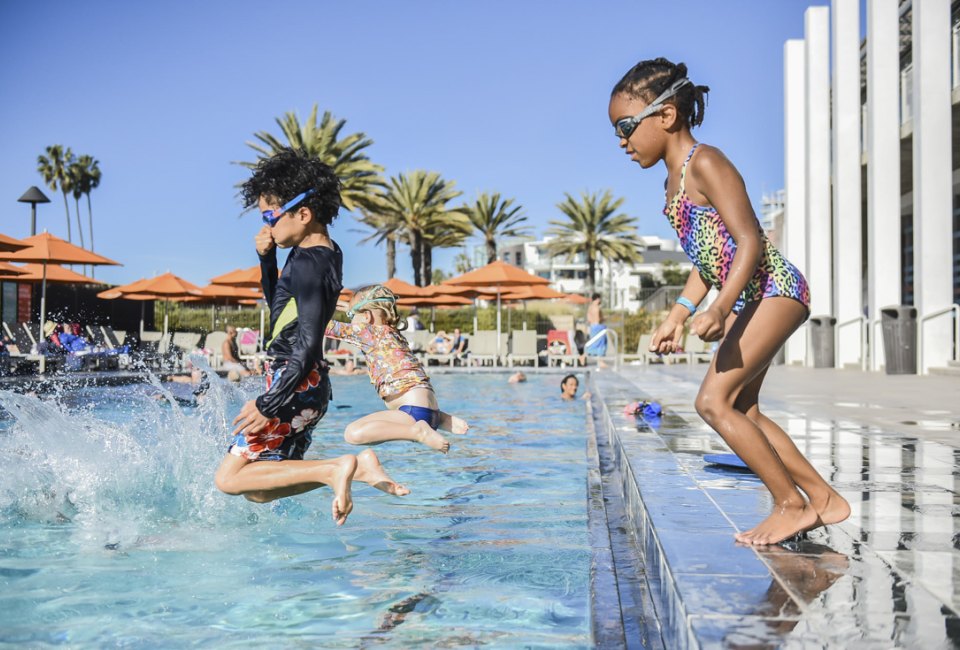 6/24/22
- By
Kathie Bozanich
There are loads of swimming pools in Los Angeles, from backyards to free public pools to private clubs. With so many to choose from, which are the ones where you can drop in (no memberships or lessons required) and they are so cool that kids want to spend the whole day there? Think Los Angeles swimming pools with water slides, water play features, extended shallow areas for the little ones to splash in, or even just a beautiful, peaceful setting with cocktails and Wi-Fi. From inexpensive public pools to hotels with day passes, here are our favorite destination swimming pools worth packing up the car, sitting on the freeway, and spending a splendid, splash-filled day.
For more wet summer fun, from the Best Water Parks in Los Angeles to the Coolest Splash Pads in Los Angeles, check out our Guide to Pools, Splash Pads, and More for Los Angeles Families.
Best Swimming Pools in Los Angeles: Westside and South Bay
Locals love this place for its Olympic-size swimming pool, heated competition pool, and diving board (open to kids who can pass the swim test and are at least 48 inches tall). Children under 48 inches anywhere in the pool area must be accompanied by an adult who is 18 years or older, and the adult-to-child ratio must be one-to-one. Discounted passes are available, but it's pretty affordable even by the day (adults $4, kids $3). Reservations are required for a 70-minute swim period.
This unique, city-operated public swimming pool is a hidden gem that offers a gradual entry the whole length of the pool, with spray features, fountains, and waterfalls to keep little kids busy and soaked. There's a water slide for bigger kids (those ages 7 and older or 48 inches or taller), but take note that its hours are more limited than the pool hours. Also note: Kids ages seven and under must be accompanied by an adult in the water, and that adult must be wearing a bathing suit. Youth season passes are available. Tip: Save this one for a hot day, as the water is usually quite cool.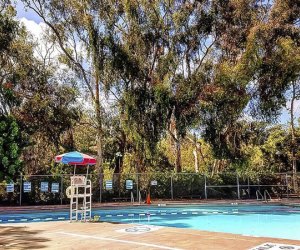 The name rustic says it all; it's like lake swimming, but cleaner! Photo courtesy of the Rustic Canyon Recreation Center
This is escapism at its best: swimming in a tranquil setting amid the natural beauty of Rustic Canyon Park. Small and well-maintained, the pool is unheated and only open during the summer. While the swimming pool itself has no special features, the park is a delightful hideaway that feels like it's miles from any city and years from the current century—a great spot for a picnic before or after. Kids seven and under must be accompanied by an adult in the water. Youth season passes are available.
The facility at Santa Monica College has two large, heated swimming pools: one is 2.5 - 4.5 feet deep and is warmer, and the other ranges from 6.5 - 13 feet deep and has several swimming lanes and two diving boards. To swim in the deeper pool, kids need to show that they can swim an entire pool length. The pools are popular and can get a little crowded. Children under eight must be accompanied by an adult in the water. Discounted passes are available, and Santa Monica residents pay half price with proof of residency; see site for additional discounts.
The Beach House, open to all with no membership required, sits on oceanfront property originally developed as an estate for actress Marion Davies in the 1920s. The swimming pool itself is one of the few remaining features of the original estate. The shallowest part of the pool is four feet deep, so it's not for beginning swimmers (those under eight must be accompanied in the water by an adult), but the facilities offer more than just swimming. Besides the vintage pool, you'll find a splash pad, playground, an indoor recreation center with games and ocean view, beach volleyball, and an outdoor cafe on the property. Everything except the pool is free to access. The pool is open daily during the summer, and pop-up pool days are held during the off-season. Check the website for advance passes and reservations, as the pool can sell out on hot summer days; if you do get there and find it full, put your name on the list and enjoy the beach until your number is called!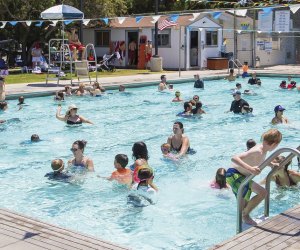 Begg Pool is a great reason to spend the day in Manhattan Beach. Photo courtesy of manhattanbeach.gov
6. Begg Pool — Manhattan Beach
Families can make reservations for lap swim (for kids ages seven and up) or recreational swim (for up to 5 family members) for 50-minute sessions. Reservations must be made online. Recreational swim is $5 for residents and $7 for non-residents; lap swim is $5 for residents and $7 for non-residents. While the pool doesn't have water slides or anything fancy, it's a solid pool option. There are grassy areas where families can set up camp, the staff is super friendly, and it is located in beautiful Manhattan Beach.
Seaside Lagoon is unlike any other public swimming pool; for starters, it's not really a pool at all but a man-made sandy lagoon adjacent to the ocean, separated by a breakwater. The water is seawater, but it's heated and chlorinated. Features include slides, sprinklers, a playground, picnic tables with umbrellas and barbecues, and even a Ruby's Diner. Admission for all this is under $10 per person.
The popular 25-by-25-meter swimming pool opened (along with a skate park) at Alondra Community Regional Park in 2012; there is also a splash pad here. Summertime recreational swimming is free, and the splash pad is open year-round; check the website for weekly schedules.
Best Swimming Pools in Los Angeles: Central Los Angeles
This pool area, featuring mid-century modern architectural touches, was added to the city-run Hollywood Recreation Center in 2015. The pool's spiral water slide is a highlight, and there are multiple diving boards. Kids seven and under must be accompanied by an adult in the water on a one-to-one ratio; the adult must be within arm's length of the child at all times. Youth season passes are available.
You may just catch yourself pretending to be an Olympian at this swim center in the shadow of the Coliseum; in fact, the competition pool here was built for the 1932 Summer Games in Los Angeles. There's also a family pool that has a large shallow area with spray fountains. There are many rules that govern this public facility, and they are strictly enforced; check the website before you go.

There's a pool, and so much more! Photo courtesy of the Santa Clarita Aquatics Center
Best Swimming Pools in Los Angeles: The Valleys
Among this public aquatic center's many nice attributes is that there's one swimming pool for serious lap swimmers and a recreation pool for families. Recreational Family Swim hours and fees are for the use of the shallow end of the dive and recreation pool and do not include the use of lap lanes, hydro spas, or weight room. The beautiful setting in Arroyo Seco is another plus, and there's a pirate-themed playground nearby for water-logged kids. The facility is open year-round, but Family Swim hours change seasonally; check the website for the schedule. Kids ages seven and younger must be accompanied by an adult in the pool with a one-to-one ratio.
The activity pool at this facility, with its open and enclosed water slides and aquatic playground, is such a hive of activity you may just find yourself splashing right along with your kids. The activity pool is $2 more than the recreation pool, and wristbands are given out in limited quantities for each two-hour session. On certain hot days, the line can begin well before the activity session. Kids must be 47 inches or taller to ride the water slide. Discounted admission is available for Burbank residents with proof of residency.
Some folks will be drawn here by the heated pool, others by the outdoor patio/indoor pool combination. But kids are all about the 65-foot spiral water slide. The diving board is a nice touch as well, but seriously, it's all about the slide.
On a hot day in the San Fernando Valley, this enormous swimming pool (city officials say it can fit 2,800 people!) and its dual water slides are an oasis. The pool's zero-entry, sloping shore makes it even more appealing to families. Known locally as "the swim lake," the pool is surrounded by a sandy beach, and there are grassy picnic areas nearby. Kids ages seven and under must be accompanied by an adult. Youth season passes are available.
The aquatic center boasts three swimming pools, two of which offer recreational swimming hours. The one sure to catch your kids' eyes is the activity pool, with a large, long water slide (for kids 48 inches and taller), spray fountain, and other water play features. It's a safe space to play, with a gradual entry and decent-sized shallow end as well as a roped-off deep end. With so much to keep the little ones busy, the drive is worth it. While you don't need reservations for recreational swimming, it'll save you from waiting in line. Season passes are available.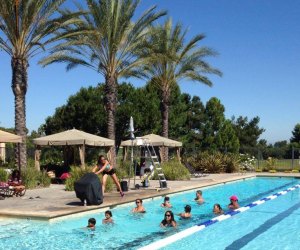 Resort-like setting, public pool prices. Photo courtesy of Aliso Viejo Aquatic Center
Best Swimming Pools in Orange County
Aliso Viejo Aquatic Center features an outdoor pool and splash pad, both of which are open for the summer of 2022 on a first come, first served basis. Monday through Thursday, from 3:30pm to 6pm, no lap swim is available; there is a designated zone in the lap pool open for recreational swimming in addition to the splash pad and kid pool. The entry fee is $4 for kids and $6 for adults for residents and only $2 more per person for non-residents.
Another destination pool in the Orange County parks and recreation department is the San Clemente Aquatics Center complex at Vista Hermosa Sports Park. Swimmers can enjoy both a competition pool and an activity pool, while younger kids can splash the day away in the water play structure in a sizable wading pool. The surrounding park offers plenty of green space for a picnic (more than half an hour before getting back in the water, of course).
While the facilities are used extensively for lap swimming and professional events, swimmers of all stripes can visit during limited recreational swim times. Of interest to bigger kids are the water slide and diving area in the two seven-foot-deep Olympic pools. Smaller kids can enjoy a more shallow pool with a gradual depth of 4.5 feet. Anyone who wants to use the deep end, water slide, diving pool, and diving boards must first pass a swim test. Children ages 5 and younger must be accompanied by an adult, one-on-one, in the water at all times. The center also holds occasional special events such as Dive-In Movies; check the website for more information.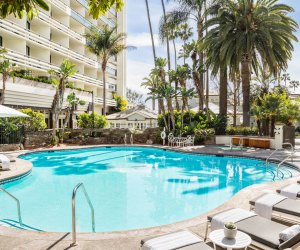 Kids love the heated pool and turtle pond; parents love poolside cocktails. Photo courtesy of Fairmont Miramar Hotel
Best Hotel Swimming Pools in Los Angeles with Day Passes
If you're prepared to spend a little more for a special swimming experience, there are various hotel pools accessible via Resort Pass, a service hotels use to sell day passes to their swimming pools. The options change each season, these are our faves this summer.
Set on five secluded acres across from Santa Monica Beach, this is a real staycation of a day. The pool is heated, and while it doesn't specifically have special features for children (apart from the beautiful surroundings), the gardens include a natural pool populated with turtles that kids love to visit. Adults, meanwhile, love the poolside service from the delicious Fig bar and cafe, delivered to the relaxing lounge chairs. (Resort Pass price to visit this hotel pool: Adults $35; Children $20)
20. Hotel MdR—Marina del Rey
Another luxurious hotel pool available via Resort Pass is at the Hotel MdR Marina del Rey. Enjoy the heated pool, free parking and Wi-Fi, ping pong tables, bike rentals, and hot fresh cookies upon arrival. Cabana rental is also available for an extra dollop of luxury—and an extra fee. (Resort Pass price to visit this hotel pool: Adults $20; Children $10)
A heated pool, a hot tub, and poolside food and beverage should be enough to make a staycation day for most people, but feel free to kick it up a notch with a cabana that includes a fridge, ceiling fan, and TV. Hot tip: If you bring more than 4 people, the cabana actually works out to be a better deal. All that plus the view is lovely, and the cocktails have that whole straw coming out of a coconut thing that screams vacation. (Resort Pass price to visit this hotel pool: $30)
I know what you're thinking, taking kids to a West Hollywood rooftop pool sounds like a party scene. The Le Parc Suite Hotel, however, is more kid-friendly than most of the other pool scenes around Hollywood. The pool itself is fairly basic though it's heated and there's Wi-Fi available. While it's a bit pricey for adults, kids are free! (Resort Pass price to visit this hotel pool: Adults $75; Children Free)
While the Beverly Wilshire might be a bit cost-prohibitive, you can treat your kids to a day of Beverly Hills glamour at the Marriott. There are lounges to soak in the sun and a hot tub for a relaxing break from the pool. When the kids get hungry, grab a snack from the Corner Pantry or get breakfast/dinner from theGREATROOM. (Resort Pass price to visit this hotel pool: Adults $25; Children $15)
If your children love the ocean, The Marina Del Rey Hotel is a unique setting for a pool day. With a setting right next to the marina, kids can watch boats come and go from the dock in between cannon balls. Be sure to plan ahead because there are no children allowed on Sundays when the hotel has its Sunday Boat Parties. (Resort Pass price to visit this hotel pool: Adults $40; Children $15)
The Newport Beach Marriott doesn't offer flashy slides or playgrounds, but it has two lovely pools plus a Jacuzzi with plenty of greenery, lounge chairs, cabanas, and poolside food and beverage service. It's worth the price to watch your kids splash and play while you get in a little lounging. (Resort Pass price to visit this hotel pool: Adults $25; Children $20)
There are more hotels and resorts in Los Angeles and Orange County that offer day passes to their pool areas. Often these are easiest to find via apps or websites like Resort Pass. It's a good idea to double check whether the pool is kid-friendly.
Finally, while it's not a swimming pool, the beach area at Newport Dunes Resort is a fun day of swimming that's totally worth the drive; its beach-front water park, with inflatables in a protected cove, offers day use passes while the beach and playground area are always free.
Originally published July 2017 and updated annually; additional reporting by Matt Matasci
Sign up for the Mommy Poppins Newsletter today!