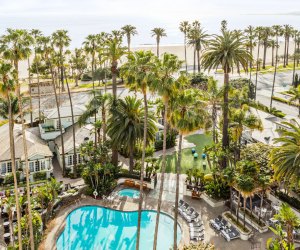 LA's Best Swimming Pools with Play Areas and a Little More for Kids and Parents
Sure, there are miles of great beaches in SoCal, including a few hidden gem beaches, but sometimes you want to cool off without sand and waves. It can be worth going a little farther to find a swimming pool that's open to the public for recreational swimming and offers something special: Think slides, water play features, extended shallow areas for the little ones to splash in, or even just a beautiful, peaceful setting with cocktails and wifi. Here's our list of cool destination swimming pools worth a drive in LA and OC.
Note that many of the destination pools normally featured in this post are closed during the 2020 health crisis; the information about the pools below is confirmed as of July 31, 2020. New closures are announced daily, however, so we strongly recommend calling before heading to any of these pools. For more swim center options, check this list of community swimming pools open in summer 2020.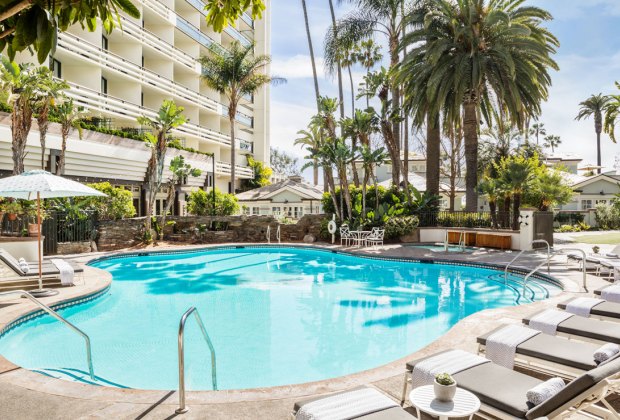 Kids love the heated pool and turtle pond; parents love poolside cocktails. Photo courtesy of Fairmont Miramar Hotel
Best Swimming Pools on LA's Westside
Culver City Municipal Plunge—Culver City
310.253.6680
As of July 13, 2020, the pool is open again, but only with reservations (no drop-ins). COVID screenings, including temperature checks, are conducted before entering the facility.
Locals love this place for its Olympic-size swimming pool, heated competition pool, and diving board (open to kids who can pass the swim test and are at least 48 inches tall). Children under 48 inches anywhere in the pool area must be accompanied by an adult who is 18 years or older, and the adult-to-child ratio must be one-to-one. Discounted passes are available, but as a community pool it's pretty affordable even by the day (adults $4, kids $2.50).
Fairmont Miramar—Santa Monica
310.576.7777
If you're prepared to spend a little more for a special swimming experience, there are various hotel pools accessible via Resort Pass, a service hotels use to sell day passes to their swimming pools. The options change each season, but one participating hotel this summer is the beautiful Fairmont Miramar, set on 5 secluded acres across from Santa Monica Beach. The pool is heated, and while it doesn't specifically have special features for children (apart from the beautiful surroundings), the gardens include a natural pool populated with turtles kids love. Mom and Dad, meanwhile, love the poolside service from the delicious Fig bar and cafe, delivered to the relaxing lounge chairs. (Resort Pass price to visit this hotel pool: Adults $30; Children $20)
Hotel MdR—Marina del Rey
310.822.8555
Another luxurious hotel pool available via Resort Pass this season is at the Hotel MdR Marina del Rey. Guests can enjoy the heated pool, free parking and wifi, ping pong tables, bike rentals, and hot fresh cookies upon arrival. Cabana rental is also available for an extra dollop of luxury. (Resort Pass price to visit this hotel pool: Adults $25; Children $10)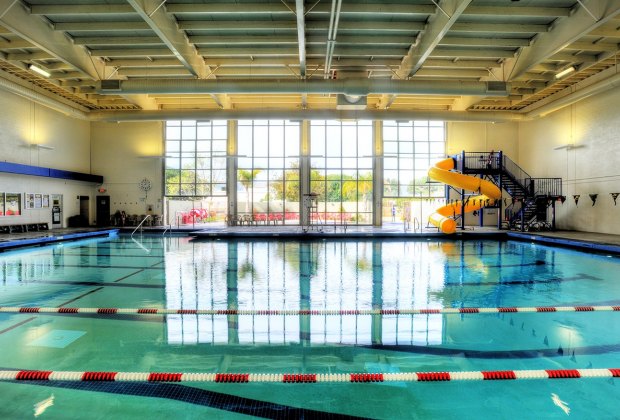 It's all about the slide. Photo courtesy of Pleasant Valley Aquatic Center
Best Swimming Pools in the Valleys
Hilton Universal—Universal City
818.321.7282
A heated pool, a hot tub, and poolside food and beverage should be enough to make a staycation day for most people, but feel free to kick it up a notch with a cabana that includes a fridge, ceiling fan, and TV. If you bring more than 4 people, the cabana actually works out to be a better deal. All that plus the view is lovely, and the cocktails have that whole straw coming out of a coconut thing that cries vacation. (Resort Pass price to visit this hotel pool: $30)
Rose Bowl Aquatics Center—Pasadena
626.564.0330
Note that as of July 31, 2020 the facility is open only for lap swim, classes, and other organized programs; watch the RBAC Facebook page for more reopening info.
Among this public aquatic center's many nice attributes is that there's one swimming pool for serious lap swimmers and a recreation pool for families. Recreational Family Swim hours and fees are for the use of the shallow end of the dive and recreation pool and do not include the use of lap lanes, hydro spas, or weight room. The beautiful setting in Arroyo Seco is another plus, and there's a pirate-themed playground nearby for water-logged kids. The facility is open year-round, but Family Swim hours change seasonally; check the website for a current schedule. Kids ages seven and younger must be accompanied by an adult in the pool with a one-to-one ratio.
Pleasant Valley Aquatic Center—Camarillo
805.987.8198
New info as of July 31, 2020: the facility is being closed at end of business today, after being re-categorized by the state as an indoor fitness facility. Reopening info is not yet available.
Some folks will be drawn here by the heated pool, others by the outdoor patio / indoor pool combination. But kids are all about the 65-foot spiral water slide. The diving board is a nice touch as well, but seriously, it's all about the slide. Part of the Pleasant Valley Parks and Rec department, the center has a full range of community aquatics programs in most seasons; during the 2020 season the facility is open and offering as many programs as safety allows.
Santa Clarita Aquatics Center—Santa Clarita
661.250.3740
This facility has not yet opened for the 2020 season but hopes to announce a reopening soon.
The aquatic center boasts three swimming pools, two of which offer recreational swimming hours. The one sure to catch your kids' eyes is the activity pool, with a large, long water slide (for kids 48 inches and taller), spray fountain, and other water play features. It's a safe space to play, with a gradual entry and decent-sized shallow end as well as a roped-off deep end. With so much to keep the little ones busy, the drive north is worth it. Season passes are available.

Calling a 30,000 square foot water park a pool is probably an understatement. Photo courtesy of Cambria Hotel & Suites
Best Swimming Pools in Orange County
Aliso Viejo Aquatic Center—Aliso Viejo
949.716.3333
Aliso Viejo Aquatic Center features an outdoor pool and splash pad, both of which are open for summer of 2020 at 50% capacity, on a first come, first served basis. Swimmers must pass a temperature check, and no locker rooms are available. The prices are great, though (adults $6, kids $4, non-residents add $2), and being an entirely outdoor facility will hopefully help protect it from the re-closures some of the partially indoor swim centers have experienced.
William Woollett, Jr. Aquatics Center—Irvine
949.724.6717
Note that as of July 31, 2020 the center has closed again for recreational swimming until further notice.
While the facilities are used extensively for lap swimming and professional events, swimmers of all stripes can visit during limited recreational swim times. Of interest to bigger kids is a water slide and diving area in the two seven-foot-deep Olympic pools. Smaller kids can enjoy a more shallow pool with a gradual depth of 4.5 feet. Anyone who wants to use the deep end, water slide, diving pool, and diving boards must first pass a swim test. Children ages 5 and younger must be accompanied by an adult, one-on-one, in the water at all times. The center also holds occasional special events such as Dive-In Movies; check the website for more information.
San Clemente Aquatics Center—San Clemente
949.429.8797
As of July 31, 2020 this facility is only open for lap swim, and only for those age 13 years or older.
Another destination pool in the Orange County parks and recreation department is the San Clemente Aquatics Center complex at Vista Hermosa Sports Park. Swimmers can enjoy both a competition pool and an activity pool, while younger kids can splash the day away in the water play structure in a sizable wading pool. The surrounding park offers plenty of greenery for a picnic (more than half hour before getting back in the water, of course).
Newport Beach Marriott—Newport Beach
With so many public swimming pools off limits, thank goodness local hotels are sharing. The Newport Beach Marriott doesn't offer flashy slides or playgrounds (that would probably be closed anyway), but it has two lovely pools plus a jacuzzi with plenty of greenery, lounge chairs and cabanas, and poolside food and beverage service. It's worth the price to escape thinking about the pandemic for a few hours. (Resort Pass price to visit this hotel pool: Adults $25; Children $20)
Cambria Hotel & Suites—Anaheim
855.887.7689
If you're really committed to finding an exceptional pool experience in Orange County, you could just book a night at the Cambria Hotel, where the new water park is exceptional and open for 2020. The outdoor pool area features multiple water slides and splash pads. The facilities are only available to overnight guests, but with Disneyland closed the hotel is offering some generous deals to lure families in for the night. By the time you're done shelling out for a day pass at another hotel, it may be more worth your while to book a night at the Cambria and enjoy the extreme delights of this pool area along with a little overnight pampering.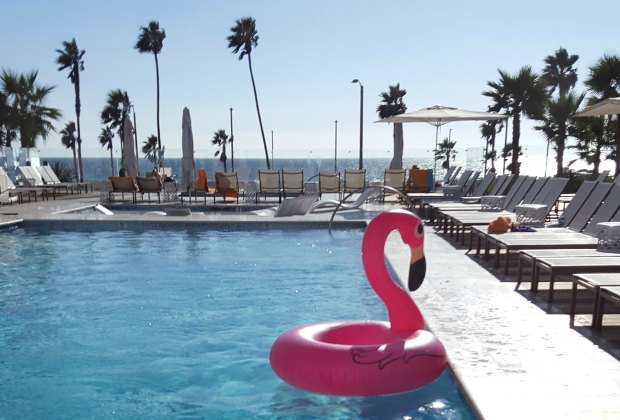 The flamingo float is waiting for you at Pasea Hotel in Huntington Beach. Photo courtesy of the author
Other Resort Pools with Day Passes
There are more hotels and resorts in Los Angeles and Orange County that offer day passes to their pool areas. Often these are easiest to find via apps or websites like Resort Pass, especially in a season when openings and closures change so quickly. It's a good idea to double check whether the pool is kid-friendly.
Finally, while it's not a swimming pool, the beach area at Newport Dunes Resort is a fun day of swimming that's totally worth the drive; its beach-front waterpark, with inflatables in a protected cove, offers day use passes, while the beach and playground area are always free.
Originally published July 27, 2017 and updated annually