LA County Fair: Fun Beyond the Roller Coasters, Even on a Hot Day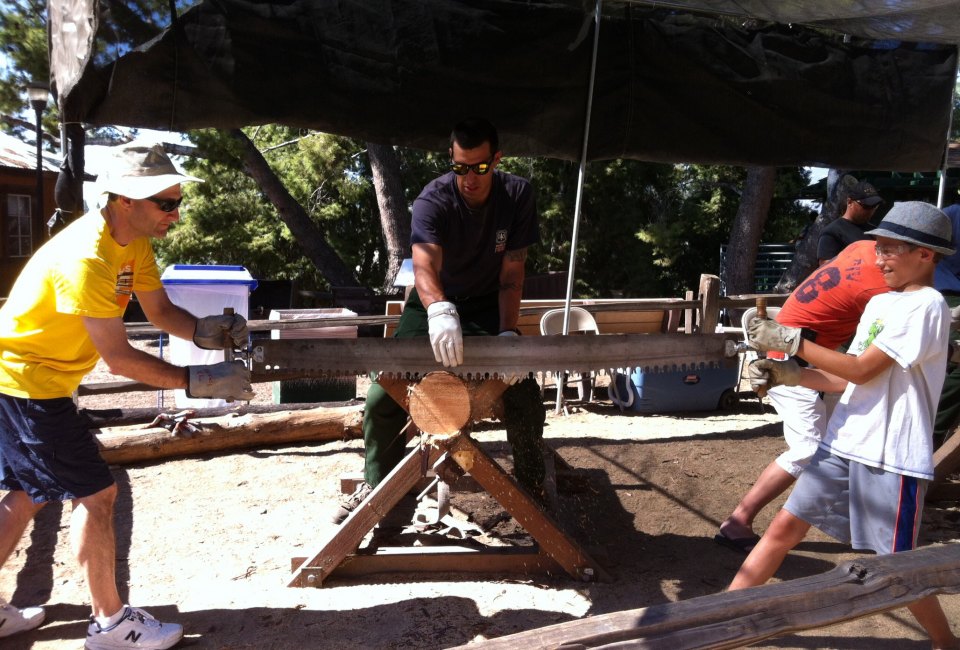 9/16/15
- By
Roberta B
Somehow, during all my years in LA County, I had never ventured out to Pomona for the Los Angeles County Fair until this past weekend. The fair always seemed so big that I didn't know where to begin, and generally so hot that I hesitated to try. Thrill ride fans probably already know the vast opportunities the fair offers for hurtling bodies through space in a variety of carnivalesque ways; but truth be told my own thrill ride needs can be satisfied in an hour or two at the Santa Monica Pier. I brought my family to the fair in search of a different experience, something more akin to a spider spinning "Some Pig" above a farmer's prize livestock. And while I didn't find Charlotte, I did find several unexpected ways to enjoy a September day–many of which turned out to be shady, breezy, or even air conditioned. And let's be honest, that pretty much always matters during LA County Fair season.
Our day at the fair was a triple-digit scorcher–the kind that makes my family question my sanity when I head the car east. Here are five unexpectedly fun ways we found to escape the heat while enjoying the LA Fair.
Petting Zoo
I was pleasantly surprised to discover that the first thing my son wanted to head for–petting animals–was shady and included with admission. The Farm is the first area you encounter if you park in lot 9 and enter through the tunnel, and the petting zoo area of The Farm is large and covered, with oodles of friendly goats and sheep enjoying the shade and the cups of food kids can bring in for $3.
Sky Chair
This ride costs 8 tickets per person (that's $4), and there are a few great reasons to spring for it. For starters, it offers a bird's eye view of the fair, coupled with a chance to rest tired feet. It's a one-way ticket (either way), so it also is a mode of transport, either between the shopping area and the Metrolink / Gate 17 entrance, or between the Home and Garden area and the Gate 9 entrance (there are two paths). But the best reason to spend some time suspended above the fair is the breeze up there. It was a delight sitting and taking it all in from above, with a breeze in our hair.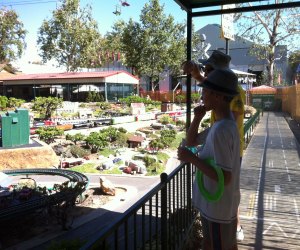 Garden Railroad
The Fairplex Garden Railroad is open monthly outside of fair season, on the second Sunday of the month, and daily during fair. The display is a must-see for train enthusiasts, with its 9,800 feet of intricately decorated track. It's also a great stop on a hot day, because of the refreshing misters that spray visitors who linger to appreciate the handiwork of the model builders.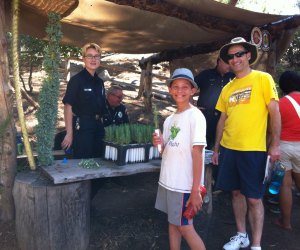 The Great Outdoors
This was perhaps the pleasantest surprise of all; I had no idea that the LA Fair hides a faux national park within its borders. Passing through the gates to the Great Outdoors display looks and feels like entering an honest-to-goodness park, with a dirt trail heading up into a tree-lined hillside and ranger stations along the way. The theme of the area is heavily educational, with lots of giveaways for kids to earn by answering fire safety questions. We also got a small tree and succulent clipping to bring home. Following the trail to the top leads to two unexpected rewards: an opportunity to saw a log (yielding another free souvenir) and an air conditioned ranger station with an educational display on the Bureau of Land Management. There are also some wild(ish) burros to pet.
The Bayou
It might seem counter-intuitive, but another place to escape the sun in the Home and Garden area is The Bayou. Sure, the swamps of Louisiana are not famous for their cool breezes, but this indoor display offers a moist, shady break on a sunny day. Amidst slightly incongruous Mardi Gras decorations, kids can get up close and personal with a few reptiles, including snakes and alligators.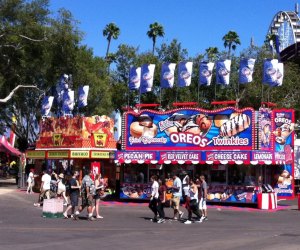 And finally, a word about the food. If your whole reason for the drive to Pomona is to find fried conversation pieces and eat them, you won't be disappointed; Twinkies, pickles, cheesecake, and more all await you in deep fried splendor. Nutella and bacon sandwiches are on the menu, too. However, if something more classic, in a cool and relaxing environment, is more your speed, it's well worth knowing about Spaghetti Eddie's inside the air conditioned pavilion at the western edge of the carnival section. The menu is standard Italian; the quiet tables have checked table cloths and bus staff; wine is plentiful, and the temperatures are refreshingly low for refueling on all levels.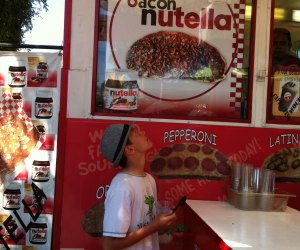 Places featured in this article:
Sign up for the Mommy Poppins Newsletter today!