Hang Ten! Summer Surf Camps for LA Kids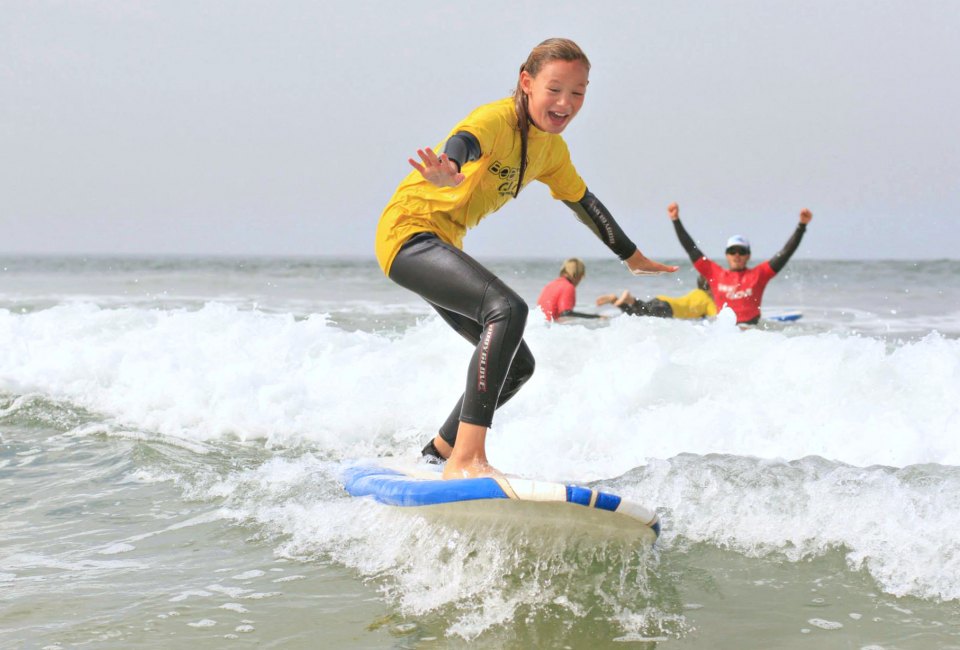 2/21/20
- By
Audrey M
Sun, sand, sea...it must be summer! Summer is the perfect time to learn to surf—and a surf camp can teach your kids everything they need to know. There is more to surfing than just the mechanics of getting up on the board; there is also wave selection, ocean safety, and the all-important surfing etiquette that is best learned from someone in the know. And, of course, our SoCal Summer Camp Guide wouldn't be SoCal without a listing of surf camps!
Please click the links to the individual camps below to see which ones are offering programs this year.
Surf campers must be swimmers. Camps provide wetsuits and boards, though some let you bring your own equipment. Most camps also provide shade in the form of pop-ups, water, snacks, and sunscreen, as well as plenty of other activity options. Campers should bring their own lunches unless instructed otherwise. Surf camps have chosen their locations carefully, selecting beaches with gentle slopes and small breakers. Register your kids for a summer surf camp, and give them a lifelong hobby!
El Porto Beach
End of Rosecrans
Manhattan Beach
424.237.2994
email
Ages 7 and up
Morning camp 9am-1pm
Afternoon camp 12pm-4pm
El Porto Surf School welcomes all student surfers from beginning to advanced, ages 7 and up, locals and visitors. The 1:4 instructor to student ratio ensures quality instruction and student safety. Junior lifeguards in the Manhattan Beach, Hermosa Beach, and El Segundo programs can attend the morning or afternoon camps and are escorted to their junior lifeguard locations (HB and ES juniors need bicycles).
Santa Monica/Venice Navy St Tower
Manhattan Beach 45th St Tower
Kids 7-12, Teens 13-17
Full Day 9:30am-3:30pm
Half Day 9:30am-12:15pm or 12:45pm-3:30pm
Sibling, multiple week, and early bird (before Apr 30) discounts available; extended care options available.
With two locations and multiple scheduling options, including extended care, Learn to Surf can fit nearly anyone's summer camp needs. In addition to surfing, campers can bodyboard, run, build sand sculptures, and play beach games like frisbee, touch football, volleyball, and beach soccer. At Learn to Surf, no child is forced to participate in any activity.
Santa Monica (Annenberg)
Santa Monica (Ocean Park)
Redondo Beach (near Miramar Park)
Kids 5-17 (most surf campers are 9-16)
Full Day 9am-4pm
Half Day 9am-12:30pm or 12:30pm-4pm
Multi-week, sibling, and early bird (before May 15) discounts available. Extended care options available.
Perfect Day holds surf camps at several locations. All are adjacent to its beach camps (ages 5 and up, beginning swimmers welcome), enabling one-stop drop-off for all kids. Family discounts apply to both camps, and kids can go back and forth between camps. Surf campers may also boogie board and play beach games, but surfing is encouraged. There is a 5:1 student:teacher ratio while surfing. Perfect Day also runs a surf camp through Redondo Beach Parks & Rec (discounts do not apply).
Santa Monica/Venice (Rose Ave.)
Manhattan Beach (45th St.)
Malibu (Surf Rider 3rd Point)
Kids 5-14 (ages 5-7 only surf if ready)
Full Day 9am-3pm
Half Day 8:30am-12:30pm
Multi-week and sibling discounts available. Extended care available. Team program available.
Freedom's camp emphasizes the importance of self-confidence, friendship, and respect for the outdoors. In addition to surfing instruction, campers are also led through water safety, self rescue, and ocean knowledge courses. Boogie boarding and beach games are also part of the fun.
Will Rogers State Beach Tower 17
Kids 6-12, Teens 13-17
Full Day 9am-4:30pm
Half Day 9am-12:30pm or 1pm-4:30pm
Early bird discount until Apr 30. Multi-week and sibling discounts available. Extended care available.
Malibu Long Boards' camp at Will Rogers State Beach is easily accessed from the Valley as well as the Westside. A variety of beach games and water sports complement the surf component of camp. No child is forced to participate in any activity, and there are many options. Performance evaluations are given every afternoon. Very flexible scheduling allows a minimum of two days/week for your camp; see website for complete scheduling and pricing options.
Malibu (Zuma Beach)
Kids 5-8 and 8-12, Teens 13-17
Full Day 9am-3pm
Transportation is available from several Valley and Westside locations. Sibling discount available. Optional beach bash in August.
Malibu Makos focuses on surfing and swimming. Beach games are available for those who don't want to be in the water all day; no child is forced to do any activity. Safety and marine ecology are emphasized as well. The Mini Makos program (5-8, 4:1 student:instructor) stresses surfing, ocean safety education, and marine ecology awareness. Team Fiji (9-11, 6:1) learns about specific surf spots, surfing/physical fitness, ocean safety education, and the culture of Fiji. Team Australia (12-17, 6:1) learns about Australia and works on surfing and ocean skills away from the younger students; Team Australia can expect to be challenged to help develop confidence, good judgment, and solid wave knowledge and selection.
Huntington Beach (9th Street)
Santa Monica (Ocean Park)
Kids 8-17
Full Day 9:30am-2:30pm
Half Day 9:30am-12pm
Surf Academy runs surf camps in partnership with both the City of Santa Monica and the City of Huntington Beach. In addition to surfing, campers have other options: ocean swimming, paddling, body surfing, and playing beach games. Check the website for full details on the Santa Monica program, which will be coming soon.
Huntington Beach (Bolsa Chica tower 22)
Kids 5 and up
Half Day 8:30am-1:30pm
Early bird discount available (ends May 20).
Salty Grom Sprouts (5-7) enjoy a 3:1 ratio and a simplified curriculum, with an emphasis on confidence building. It's still a surf camp, but the pace is slower for the younger kids. Older kids enjoy a 4:1 ratio and work with the same instructor every day. Friday is family day; come down and see what your student can do!
Newport Beach (28th Street)
1.866.SURF.CAMP
Kids 6-16
Full Day 8am-3pm
Half Day 8am-12pm
Run by the City of Newport Beach Parks and Rec, Newport Surf Camp teaches campers the history of surfing as well as surf mechanics and surf safety (riptides, ocean safety, sun safety). For full-day campers, bodysurfing and beach games fill the afternoon.
Originally published in 2012 and updated seasonally