Santa Anita Park Spring Carnival
Santa Anita Park

KidStock
Pretend City Children's Museum

Online Robotics Camp
Young Gates - Kids Online Personalized Classes
Sign up for our free newsletters.
The Lucas Museum of Narrative Art Is Bringing Star Wars to Exposition Park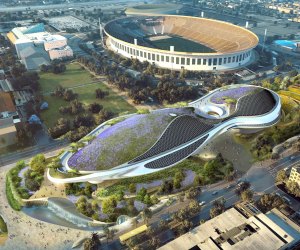 3/16/18
- By
Li Starr
In this season of exciting museum news, we have another juicy announcement to share! If your family loves all things Star Wars, you may feel the need to whip out a light saber: The Lucas Museum of Narrative Art (as in Star Wars mastermind George Lucas) has just broken ground in Exposition Park. As if Downtown wasn't already brimming with cool museums to entertain your kids, you'll have yet another reason to visit once the museum is completed.
The 300,000 square-foot, non-profit museum will feature collections and original works of art from world-famous artists (and we're betting more than a few Star Wars artifacts), plus daily film screening in two state-of-the-art theaters. The Museum will pull together comic art, paintings, illustration, photography, filmmaking, and drawings for visitors to explore. While there will be a free research library for educators, kids are also a big focus: education is a "centerpiece" of the museum's programming, which promises to reach diverse students of all ages and give them ways to tell their own stories.
Given that Lucas has donated heavily to the USC film school, we can only imagine what he's planning to do to reach younger kids—but teaching kids about filmmaking and technology is already on the docket. "The focus of the Museum is to open up people's imaginations and inspire them to dream beyond what is considered possible," said co-founder George Lucas in a statement. "Narrative art and storytelling stirs our emotions, shapes our aspirations as a society, and is the glue that binds us together around our common beliefs."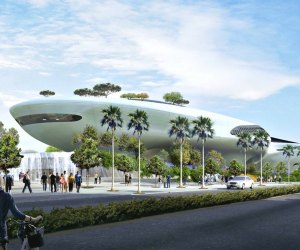 For those who live in the area, tolerating a little (okay, a lot) of construction will have a pretty awesome payoff. The project is going to tear up a series of asphalt parking lots (lots #2 and #3) to create the museum, which will also be surrounded by 11 acres of park land and gardens. The lost parking lots will be replaced with underground parking, and the foundation promises that thousands of jobs will be created directly and indirectly as a result of the museum.
And Exposition Park, already a worthwhile destination for the California Science Center and Natural History Museum, will truly become LA's ultimate museum hub.
The only hitch? By the time the museum opens—2021—your kid won't be so little anymore. But, as we all know, love for Star Wars lasts forever.
Renderings of the Lucas Museum of Narrative Art, courtesy of the museum