Apple Picking Near San Francisco: Best Bay Area Orchards to Visit With Kids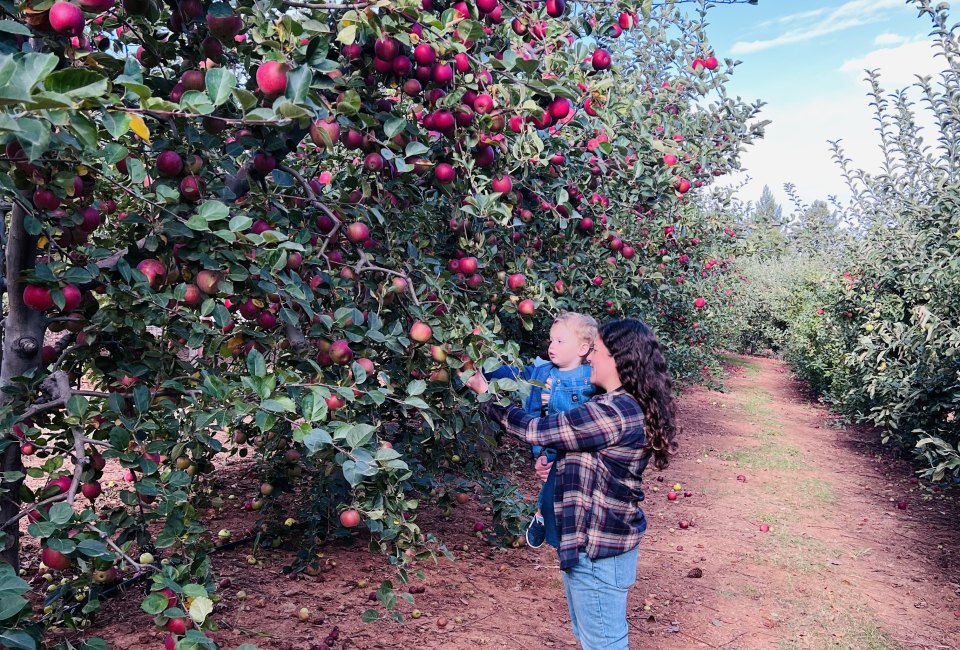 8/28/22
- By
Sandra Lee
While California has a reputation as the land of lemons and avocados, there are actually plenty of places to go apple picking near San Francisco! There is just something about the fall season and bringing the kids to an open orchard to pick apples: It's where memories are made, traditions get started, and Instagram pics get snapped.
Here we've rounded up the best Bay Area apple orchards for apple picking near San Francisco with kids. Some are a bit of a drive, so make sure to bring snacks, water bottles, and sunscreen to enjoy the day. And don't forget to pick up an apple pie or two and a bottle of cider for the ride home! For fall festivals and more events that take place at apple orchards, check out the San Francisco calendar of events.
Best Orchards for Apple Picking Near San Francisco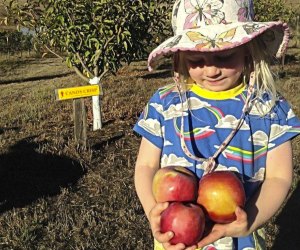 Orin, Pinova, Candy Crisp, or Jonagold; what apples will you pick? Photo courtesy of Chileno Valley Ranch
Outside Petaluma in coastal Marin, Chileno Valley Ranch is home to grass-fed beef and u-pick apples in the fall. With varieties of Orin, Pinova, Candy Crisp, and Jonagold, the apples here are beautiful and delicious. Families can make reservations to visit on Sundays only during the month of September (and sometimes October, depending on weather and growing conditions). The season opens for Labor Day weekend and reservations can be made starting in late August. Check the Facebook page for the most up-to-date information.
In the rolling hills of Sonoma County in Sebastopol, Ratzlaff Ranch is home to Apple-a-Day u-pick orchards. The season usually brings Gravenstein, Golden Delicious, and Rome apples available for $2 a pound. The Apple-a-Day apple juice is award-winning at the Sonoma County Harvest Fair, so make sure to pick some up before heading home, along with other yummy treats like apple bread and fresh-baked cookies. Check the Facebook page for the most up-to-date information about this season's apple events.

Tiny trees means little people can easily pick by themselves. Photo courtesy of Clearview Orchards
This beautiful orchard is home to certified organic Fuji, Gala, Honeycrisp, and Mutsu apples and is open for apple picking in September. This is a particularly great orchard for families with little ones, as the trees are dwarf-sized with plenty of grass space between rows so kids can easily pick apples on their own. Reservations are required for parking and entry, and there is a small fee for one hour of picking for up to 8 people. Don't forget to stop by the store and get some apple popsicles to cool down after a hot day in the sun!
The 14-acre solar-powered organic farm is operated and founded on Afro-Indigenous permaculture principles. The u-pick farm is open from late August until November and offers Gilbert Golden Delicious, McIntosh, Golden, Gravenstein, and Braeburn apples as well as pluots, blackberries, and raspberries. U-Pick is by appointment only and slots are released on Tuesday mornings at 9am. The farm is open from 11 am - 3pm and has an entrance fee of $25. The farm has a store that has beautiful African baskets and lavender for sale, and also offers farm tours for large groups.
Open Saturdays and Sundays starting in September through the month of October, Live Earth Farm in Watsonville has Fuji and Gala apples for just $1.50 a pound. Admission is $10 per car and is timed so that the farm never feels crowded. You can bring your own buckets, boxes, or containers to collect the produce or purchase from the farm directly. Remember to dress accordingly in layers, hats, and sunblock. Pack a picnic box and spend the day!

Make sure to stop by the Red Barn Shop for pies, apple slushies, and ice cream. Photo courtesy of Gizdich Ranch
Head out to the countryside in Watsonville and pick your own Pippin, Fuji, Red, and Golden Delicious apples at the very popular Gizdich Ranch. Apple picking starts in September; check the website often to see times and availability. Make sure to stop by the Red Barn Shop for pies, apple slushies, and ice cream—a favorite with the youngest visitors. A deli is also on site and whips up boxed lunches to enjoy at one of the ranch's picnic areas after a long day of apple picking.
Apple Hill is a community of farms all around Placerville offering activities for the whole family, including apple picking. Check the website for information about the different farms, which ones have the variety of apples you want, and when to visit. The beauty of Apple Hill is that you can farm hop and visit some just to pick, and other farms that have activities specifically for kids like hay rides, mining adventures, and play areas. Spend the morning picking apples, and the afternoon having fun in the great outdoors.
Sign up for the Mommy Poppins Newsletter today!