Day Trip: Travel Back In Time at The Dinosaur Place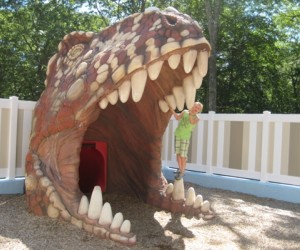 Thanks to a reader tip, we recently left the city and traveled back in time to wilds of Eastern Connecticut to spend the day at The Dinosaur Place at Nature's Art, where kids can explore a family friendly Jurassic Park style attraction. Encounter thirty life-sized cretaceous creatures while trekking the wooded nature trails around Raptor Bay, a seven acre lake complete with its own erupting volcano. A giant playground, an amazing maze, a super cool water play area along with exciting indoor activities (panning for gold and gem mining to name two) round out the offerings. Dinosaur Place is minutes away from Mystic, Connecticut and Rhode Island's beaches making for a perfect day trip destination or part of a weekend away. Here's the inside scoop on this fun prehistoric park, and tips to make the most of your time there.
In the parking lot, you are greeted by Monty, the mascot of Dinosaur Place, an enormous T-Rex who sometimes sports sunglasses and a giant coke can. Once there you need to decide if you want to do the inside activities or the outside activities. There is one entrance fee for all the outside activities while the inside attractions are priced a la carte. The outside adventures are really fun so head there first and add on an inside attraction or two later (if you can pull the kids inside, that is.)
Dinosaur Place:
This is a 60 acre outdoor adventure park with 1.5 miles of nature trails split over three routes where families can come nose to knee cap with realistic, life sized dinosaur statues.
The trails meander through a beautiful Connecticut forest full of delicious smelling flowers, ferns and other greenery. We heard birds chirping and even saw chipmunks and hummingbirds on our trip. While on the trails make sure to read the interpretive signs on the different time periods and dinos. Kids will love the "what am I boxes", educational pit stops where they can learn about dino bones, brains and more.


Don't miss the Raptor Bay trail and its real working 20 foot volcano that rumbles and erupts smoke periodically throughout the day.
Follow the trails to the A-maze-asaurus, a fun maze made of high white panels that ends up in a slide that is accessed only by climbing into a dinosaurs gaping maw. Nervous parents can stand on the elevated viewing platform to watch the kids scramble. The maze is a bit of a challenge even for adults. I got lost once or twice rushing through after my son. All the kids there loved it and they can go in as many times as they want until they tire of it.


Stay on the path until you arrive at the play area. Monty's Playground has five really cool play structures for all age groups on a cushy wood chip ground. The coolest one, Spacenet, is made of thick green ropes hooked together to form a funky spider web like climbing structure for older kids.
Across the way is the Splashpad, basically a colorful giant water play area with every kind of spouting, spilling, misting, running, dumping, raining, bubbling water feature you can imagine-- all with a dinosaur theme. There are even attendants to enforce the rules, and café tables and umbrellas for the adults.
Natures Art:
The inside area is called Natures Art, where you can find the mining, fossil digging and gold panning activities along with a gigantic gift shop selling everything dinosaur. The inside attractions are pretty cool and most of them are scheduled and timed. They are priced per activity (packages available) separately from the outdoor attractions. In addition to mining, prospecting and unearthing dinosaur bones, kids can enjoy drop in craft projects or buy a geode to split open on the spot.

Thunder Creek: Kids aged 4 and up can relive the gold rush by panning for pyrite for ten minutes in real rushing "stream". (Starts at $7.50)


Jackpot Mine: Kids aged 4 and up can enter a realistic looking candle lit mine for 30 minutes to dig for crystals and polished stones. Plus they get to keep what they find. (Starts at $12.99)

Bone Zone: Kids can help unearth dinosaur bones for 30 minutes. No matter what they find they get to take home some real fossils and dinosaur activity sheets. (Starts at $12.99)
Helpful Tips to Make the Most of Your Trip:
1. Bathing Suits, water shoes and swimmy diapers (if still in diapers) must be worn in the Splash Pad. They have a big, clean changing room right across from the water feature. So bring what you need in a backpack along with sunscreen, towel and bug spray (helpful for the dino trails). They do have shoes for loan and swimming diapers for sale if you forget yours.
2. My five and a half year old was running and skipping from dinosaur to dinosaur on the trail but if you don't have a good walker you can bring your stroller through the nature trails, they are wide and basically flat.
3. Do the nature trails/dinosaur walk first. Upon arrival head straight to Raptor Bay trail so you avoid the playground. Once the kids see the playgrounds – they won't want to do anything else.
4. The outdoor attractions are open April to November each year but the Splash Pad is only open between Father's Day and Labor Day. So plan accordingly.
5. Catch your spot for the volcano eruption, hourly starting at 11:00 am. You can see it anywhere on the lake but best the viewing area is at the end of the Connecticut Trail or the seating area at Monty's Playground.
6. Pack a lunch or get one at the snack shop where they offer a limited menu of grilled cheese sandwiches and other kiddie faves.
The Dinosaur Place at Nature's Art
1650 Hartford-New London Turnpike
Oakdale, CT
For more day trip ideas, check out our other family friendly trip posts.