25 Free Things To Do in NYC This Winter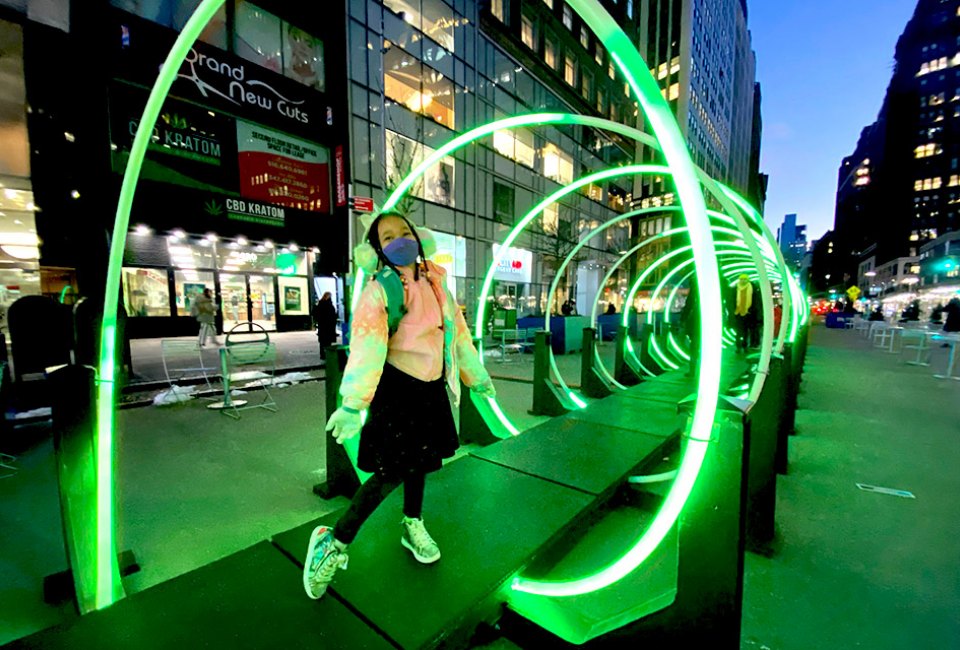 1/16/22
- By
Danielle Wilson
New Yorkers just experienced their first significant snowfall to jumpstart the new year, and we have an entire season of cold weather days ahead of us. With temperatures hitting single digits and the luster of awesome holiday gifts wearing off, you're probably thinking about ways to keep your kids busy from now until spring without breaking the bank or losing your sanity. Fortunately, whether you're a resident or just visiting the city that never sleeps, there's no shortage of free things to do in NYC this winter.
In fact, we've found 25 free things to do in NYC, and there's truly something for everyone on our list of freebies, from exploring nature and outdoor family fun while kick-starting healthier habits to festive celebrations of the Lunar New Year, interactive and creative art installations, and activities that encourage future activists and celebrate the life and legacy of Martin Luther King Jr. These engaging experiences don't cost a thing, and we've even found a collection of cool things to do indoors, too!
Be sure to check with each venue for its COVID guidelines and requirements before heading out to any event, and read more about local public safety protocols here; some events are getting canceled or postponed at the last minute due to the latest COVID surge, so always confirm details before departing.
To get more free fun at home and in your town delivered to your inbox sign up for our newsletters and discover all the free events and activities near you in our New York City Free Things To Do With Kids Guide.
Your next trip to the Garment District is going to be lit! Passage is a new interactive light experience with 20 illuminated circles forming a rainbow tunnel for pedestrians to walk through from now until Sunday, February 13. Each ring radiates light and emits sounds as visitors pass, making it an installation that will surely be an Instagram-worthy experience.
The Met's first exhibition exploring the work of Walt Disney features a collection of hand-drawn illustrations from Walt Disney Animation Studios displayed side-by-side with European decorative arts that inspired many of the motifs. On display through Sunday, March 6, the exhibition is included with museum admission, which is pay-what-you-wish for New York residents, and New Jersey and Connecticut students.
|
Chill out with the animals at the Bronx Zoo, which offers pay-what-you-wish general admission on Wednesdays. Photo by Jody Mercier
As a New Yorker born and raised and raising a soon-to-be toddler, tween, and teen in this pricey city, admission fees add up quickly. So, bookmark this list of venues, including museums, zoos, and gardens, with free hours so you can watch your kiddos and out-of-towners get excited over their favorite exotic creatures.
Always free to guests ages 20 and under, be sure to pop by the museum to see the Puppets of New York exhibit, which features some of the city's quirkiest residents like Oscar the Grouch, Lambchop, and those included in the Thanksgiving parade and beyond. Other excellent exhibits of interest include the 12-room Stettheimer dollhouse, the beautiful Starlight installation, and Timescapes, a short multimedia documentary highlighting 400 years of Big Apple history.
It's never too cold for ice cream, so why not head to the Ample Hills factory in Red Hook, Brooklyn, for a free visit? This 15,000-square-foot factory allows guests to learn all about the frozen, tasty treat, and watch its production—500,000 gallons of ice cream are churned out yearly—yum!
Gen Z music-loving kids are likely unfamiliar with rapper LL Cool J's first album, "Radio," which inspired this new work by Astoria-based artist Sherwin Banfield. Take a trip back in time by heading to David Dinkin's Circle in Flushing Meadows Corona Park for a close-up look at the monument of the music legend holding a solar-powered boombox. The Rock and Roll Hall of Famer's popular hits can be heard playing from noon-5pm on Mondays, Wednesdays, Fridays, and Saturdays until November 2022.

Hit the ice at Governors Island's new Winter Village, which is free on Fridays. Photo by author
Hop the ferry to Governors Island—complimentary rides on weekends before noon, for NYCHA residents and IDNYC holders—to enjoy ice skating for free every Friday at the new Winter Village, which is open through Sunday, January 30.
Celebrate the rich traditions of Black comix with a three-day virtual festival at the Schomburg Center. The lineup includes panel discussions, workshops, cosplay, and highlighted works from creators across the country. If you miss the fest, be sure to stop by The Schomburg Center to see the Boundless: 10 Years of Seeding Black Comic Futures in-person exhibition.
Celebrate the Lunar New Year, and welcome the Year of the Tiger with an afternoon of culture, music, and the arts at Flushing's Town Hall in Queens on Sunday, January 16. A virtual option is also available via FTH's YouTube Channel.
On Sunday, January 16, inspire future astronomers with an evening visit to the Prospect Park Parade Grounds to join the Urban Park Rangers, who discuss the universe's science and history. Observe the nearly-full moon and learn how the movements of the moon and sun appear to us as we watch from Earth.
RELATED: Winter Fun Guide for NYC Kids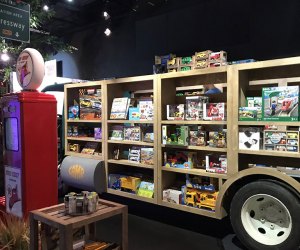 CAMP is packed with cool toys and cool hands-on experiences. Photo by Jody Mercier
Gone are the days of the "look, don't touch because we aren't buying" visits to the toy store when so many now encourage interactive fun for kids of all ages. Pop by FAO Schwarz and dance on the iconic piano. Other spots for interactive fun include CAMP, Lego Stores, and Harry Potter New York. No matter where you go, be prepared to stay awhile.
On Monday, January 17, pay tribute to MLK during a free celebration of life hosted by BAM that brings civic leaders and artists together. The 36th edition features inspirational performances, a recording of King, and a powerful solo dance piece set to King's final speech, "I've Been to the Mountaintop." RSVP is required and does not guarantee admission, which is first come, first served.
Honor Martin Luther King Jr. with a family-friendly day of service by packing hygiene and self-care kits, crafting origami hearts and doves to decorate a local hospital or firehouse, and enjoying a storytime. Adults in the group can also donate blood. Family-friendly projects are held at the Commonpoint Queens Sam Field Center in Little Neck and Central Queens site in Forest Hills on Monday, January 17, though there are options to participate in some projects from home.
Grab your walking shoes and binoculars to see if you'll find any of the 220 bird species that inhabit Governors Island on Monday, January 17. Register online in advance for specific location info. Space is limited.
RELATED: 100 Free Things To Do in NYC With Kids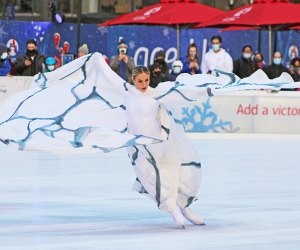 Catch a stunning ice theater performance on Tuesdays and Thursdays in Bryant Park. Photo courtesy of Bryant Park
Every Tuesday and Thursday afternoon through Thursday, February 17, Bryant Park visitors can stop by the Rink at Bank of America Winter Village, where they'll enjoy pop-up concerts presented by the Ice Theater of New York.
Bundle up and get outside to explore nature and discover the history of our National Parks, which offer gratis admission in honor of MLK Day. Don't stress if you can't experience them on those dates; out of the 400 parks across the nation, 264 of them never charge a fee to enter.
Young children and their families can avoid the chillier temperatures with indoor fun at the Corlears School. Take advantage of the free programming, which includes free play, movement, theater class, and STEAM activities every other Saturday beginning Saturday, January 22.
Head to the 265-acre Clay Pit Ponds State Park Preserve to help tap its collection of maple trees for sugaring season. Two sessions are held, and each includes a 1-mile hike on Saturday, January 22. Registration is required.
RELATED: Restaurants Where NYC Kids Can Eat for Free

Help maintain the beautiful Shirley Chisholm State Park during a service project. Photo by Suzy Q
Layer up and volunteer to help clean marine debris and litter off the shoreline at this state park on Saturday, January 22. All materials provided. Make a day of it, and arrive an hour or two earlier to hike and explore the state park.
Adventure to Staten Island and learn the process of making maple syrup from tap to table! Participants watch a tapping demonstration and then collect sap before heading to the Nature Center for a tasting. This programming runs from Saturday, January 29-Saturday, February 26.
Saturday, January 29, kicks off a new season-long series from Rock and Roll Playhouse. Catch an ode to The Beatles in the first performance of this new monthly must do.
RELATED: Where to Find Free Classes at NYC Stores and Public Places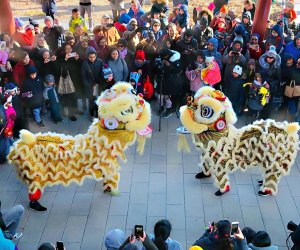 Celebrate the Lunar New Year at the Queens Botanical Garden. Photo courtesy of the garden
On Saturday, February 5, Welcome the Year of the Tiger with fun outdoor activities to celebrate. Enjoy lion dance performances, a scavenger hunt, Chinese zodiac storytime, community art projects, and more!
Take your art lovers downtown to Brookfield Place to observe its first exhibition of the year. On display from Tuesday, February 1-Monday, April 4, Letven's bold, colorful wall sculptures are poetic representations of the mind translated through thought-provoking patterns.
From Thursday, February 3-Saturday, February 5, families can ring in the Lunar New Year with live ice carvings, DIY paper lantern craft kits, and more.
Snow lovers of all ages enjoy Winter Jam, a free winter sports festival Saturday, February 5, that lets visitors learn to ski, go sledding, snowshoeing, bowling, curling, or play dodge ball and flag football all in Central Park!