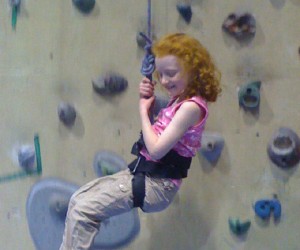 Indoor Rock Climbing Classes and Centers for Westchester Kids
Looking for an active, family-friendly outing that can be enjoyed year round? Rock climbing is a great workout for everyone, targeting muscles all over the body that can often be hard to reach via traditional exercise. It can increase muscle tone and improve cardiovascular health with regular participation. And because climbing requires a combination of physical exertion and creative thinking, even less athletic kids will feel immense pride and satisfaction looking down at what they have accomplished.
Children who are regular climbers credit this activity with helping them concentrate, building their strength and endurance and increasing their overall confidence. Indoor rock climbing facilities provide all of the benefits of this activity without having to worry about the weather. Read on for details on indoor rock climbing in Westchester. Also, be sure to check our Winter Fun Guide for more ways to stay active in Westchester.
Climbing Centers
The Rock Club - New Rochelle
130 Rhodes Street
The main wall at this state of the art climbing center is over 40 feet high with terrain ranging from easy to radically extreme. With over 200 individual routes and separate beginner and group areas, there is truly something for everyone. Choose from day passes, multi-passes and membership options depending on your family's interest. The Rock Club knows how much kids love to "climb the walls" so they offer a wide variety of programs for children to do just that including after school classes, vacation mini-camps and birthday parties.
The Cliffs - Valhalla
1 Commerce Street
The Cliffs at Valhalla has over 13,000 square feet of climbing terrain with expertly set routes from beginner to professional level abilities, and even a rappel tower. Enjoy their open climb hours or take part in their many classes. They also offer memberships for families looking to make climbing a tradition. Kids will be thrilled with offerings such as summer camp for ages 8-15 years, climbing teams, after school classes and awesome birthday parties. There is even a family learn-to-climb clinic where every member of your family, regardless of skill level, can learn and have fun together.
Rock Walls
Life The Place To Be - Ardsley
2 Lawrence Street
We mentioned Life in our post on indoor play spaces and with good reason. This industrial, modern event space is every child's dream! In addition to arcade games, laser tag and bowling, you'll also find an awesome rock climbing wall for kids 9 and up.
Sportime USA - Elmsford
380 Saw Mill River Road
Sportime USA is loaded with fun things to do including batting cages, arcade games and rides. In addition, their rock-climbing wall is a favorite activity for kids who frequent the center. Supervised closely by staff, children work their way up the 24-foot wall and enjoy the support and enthusiasm from all the onlookers down below.
Creative Commons Photo Credit: Anthony Crider