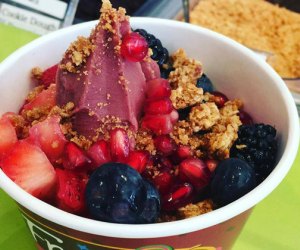 Best Places for Frozen Yogurt with Kids in Lower Westchester
Summer is here, as is the burning desire to cool down with an ice-cold frozen treat. We previously rounded up some of our favorite ice cream parlors in Westchester, and now we're turning to frozen yogurt. But what adults crave in a frozen-yogurt shop isn't necessarily what kids want (gummy worms on top of cabernet-pomegranate twist?).
Choosing where to go for fro-yo is fraught with numerous options—partly because there are often new shops opening and others closing (Eastchester lost Nuts About Yogurt, while Pure Bliss recently closed in Pelham and Larchmont). Sure, there are many national chains to choose from, but our interest lies more in the local operations. To help guide our readers, my family made the ultimate sacrifice in visiting a bunch of fro-yo shops in Lower Westchester—strictly for our readers' benefit, of course. A few calories later, we've whittled these down to a choice few and have offered the inside scoop.
Read on for the skinny on fro-yo! Be sure to sign up for our newsletters and follow us on Facebook to stay in the know about all things kid-related in Westchester.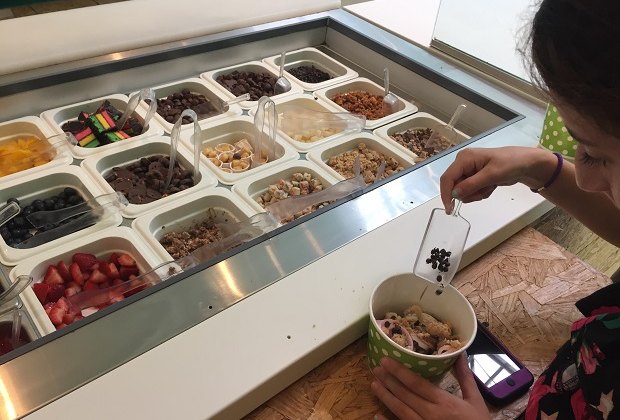 Doling out the toppings at Go Greenly on Garth Road.
Go Greenly – Dobbs Ferry & Scarsdale
Go Greenly has seven locations in total, three of which are in Westchester (two in Scarsdale, one in Dobbs Ferry). Go Greenly differentiates itself from its competitors by emphasizing eco-friendliness, from biodegradable containers to cornstarch spoons. More than 20 flavors of frozen yogurt are in the rotation. Tantalizing flavors include red-velvet cheesecake, s'mores and Thai iced tea, as well as wedding cake, pink lemonade and "watermelon love." But if your kids are traditionalists, they likely won't balk at brownie batter, "cookier & creamier" or milk chocolate. Selections vary. Yogurt smoothies, bubble tea and frappes are also on the menu. Go Greenly also serves salads and drinks,
Swirl and Joy – Tuckahoe
Brightly decorated in fuchsia and orange, Swirl and Joy is located directly opposite Pinot's Palette, with seating both indoors and out. Crepes, smoothies, panini, breakfast sandwiches and drinks are offered, but yogurt is the primary appeal. With a wide variety of flavors and toppings, the possible combination of concoctions is highly satisfying. Loyalty cards are available. Summer hours are more extensive.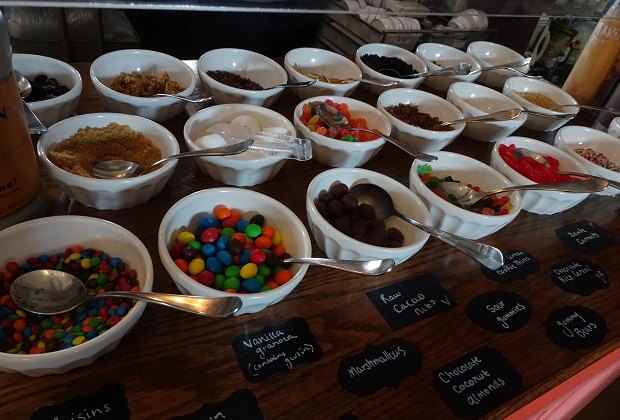 Uncommon toppings at Brrzaar in Irvington.
Brrzaar – Irvington
Located in the Irvington train station, Brrzaar serves organic, Kosher frozen yogurt that's free of artificial ingredients, high-fructose corn syrup and other objectionable elements. The eight flavors vary, and approximately 50 toppings are available—including some uncommon ones like maple syrup, brown sugar and Nutella. Fro-yo by the pint and in cookie sandwiches are offered, as are pastries from Balthazar Bakery, soups, oatmeal and beverages. Added appeal for kids is a wooden train set to play with—and real locomotives whizzing by the window. There's also a garden-like seating area. The shop opens in the wee hours to accommodate commuters—in case you crave an early-morning yogurt fix.
Cherry Tree Frozen Yogurt – Mamaroneck
Cherry Tree proved to be one of our faves. The décor smacks of cheerfulness, the variety of both flavors and toppings was satisfying and we were hooked after one taste. The Triple Chocolate, Cookies 'n Cream and Nutella were all standouts. Two sorbets (raspberry and passion-orange-guava) were billed as "new flavors." We even loved the translucent spoons in assorted colors. Smoothies and coffee are also on the menu, and unique to this shop is the presence of Cherry Tree characters that are for sale as plush toys. Both generations of testers can't wait to go back.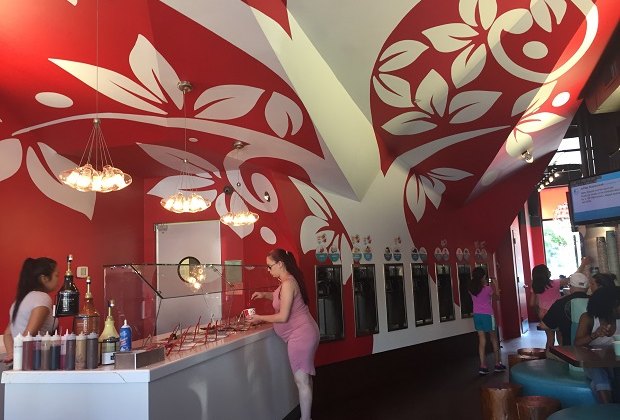 Bold decor at Cherry Tree Frozen Yogurt.
Frannie's Goodie Shop – Yonkers & Mount Kisco
These locations are individually owned and operated. The original founder, Frannie herself, has retained ownership of the Yonkers location (as well as one in NYC) and has ventured beyond fro-yo in opening Exit 4 Food Hall, also in Mount Kisco. Smoothies and pies are also available. Beyond fro-yo, Frannie's doubles as a candy store, selling candy by the pound or as toppings (including less common ones like chocolate curls and orange sprinkles). Additional offerings include crepes and coffee drinks. The Ridge Hill location—which is located right by Legoland and Rockin' Jump—now has a menu of breakfast and lunch options as well. Ask for a reward card to enjoy perks with your cumulative purchases.
Cups – Yonkers
The only New York location of this small chain (there are a total of nine sites), Cups comes in handy when shopping at the Cross County Shopping Center, where it's located. There are 16 flavors to choose from and seating both indoors and outdoors, with a decidedly adult vibe. Not my favorite yogurt and the music was loud, but my kids gave this a thumbs-up because of the selection of toppings.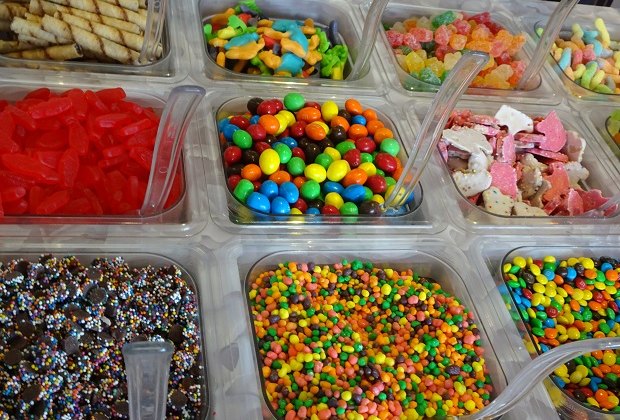 The toppings at Cups earned a thumbs-up from our kid taste-testers.
Forty Carrots – White Plains
Beyond frozen yogurt (which earns rave reviews online), Forty Carrots is a restaurant inside Bloomingdale's that offers a full menu of sandwiches, salads, drinks and other savories. There's a section of table seating and a more informal area with counter seating reminiscent of old-school Woolworths and department-store eateries. So for a retro feel, pull up a stool and order off the menu, or order fro yo to go (that's what we did and were surprised to find that our cup of yogurt arrived in a separate container than the topping). A half dozen flavors included chocolate, vanilla, coffee and cheesecake. Portions are generous, but the downside of not being self-serve is the inability to minimize the portion; even my kids gasped at the price—we spent $21 on three yogurts and two toppings. Some lunch packages include frozen yogurt for more of a bargain. Soy and skim milk are available for use in shakes. A visit here can be combined with a trip to The Westchester mall (and Play), down the block.
Top photo courtesy of Frannie's Goodie Shop. All other taken by the author (and taste testers).