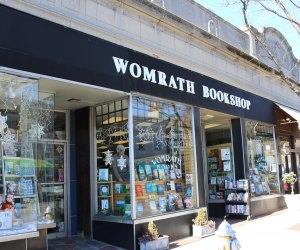 Book-Lover Crawl: 10 Ways Westchester Families can Celebrate Reading
New York City might get all the credit for the best and biggest bookstores, libraries, literary events, and authors, but Westchester is also full of great places to visit and things to do for those who love all things literary. So put your book down for just a minute and check out these 10 family-friendly ideas for book lovers.
Have a budding writer in the family? Check out our list of creative writing classes for Westchester kids.Or sign up for our newsletters to receive more suggestions right in your inbox.
1. Head to Hastings-on-Hudson
The town of Hastings-on-Hudson is home to beloved children's book authors Alyssa Satin Capucilli (author of more than 50 kids' books, including the Biscuit series of picture books for young readers) and Peter Sis (author of more than 25 books like Fire Truck, Ice Cream Summer and Dinosaur!) Check out some of their books at the Hastings-on-Hudson library, which has a children's room filled with books and toys—it's also great spot for young train enthusiasts to watch Metro-North trains through the windows.
Just up the street from the library is the cozy independent bookstore Galapagos Books, featuring local authors like Patty Chang Anker, Seth Godin, Bill McGowan, and Isabella Bannerman. If there's a serious book collector in the family looking for rare books and first editions, head over to Hastings' Riverrun Books & Manuscripts.
2. Get Lost in the Aisles of a Used Bookstore
Visit Bruised Apple Books in Peekskill, which sells used books—and records, too—including many at bargain prices. It's a great spot for those who enjoy the thrill of the hunt since you never know what you'll find.
3. Discover Your Kids' New Favorite Book
Go to Larchmont and browse at the Voracious Reader. This bookstore specializes in kids' books, and they have a small selection of books for grownups, too. There's also a café with snacks and coffee. The Voracious Reader regularly hosts events, including story times, meet n' greets with authors, evenings featuring books and pizzas, and more.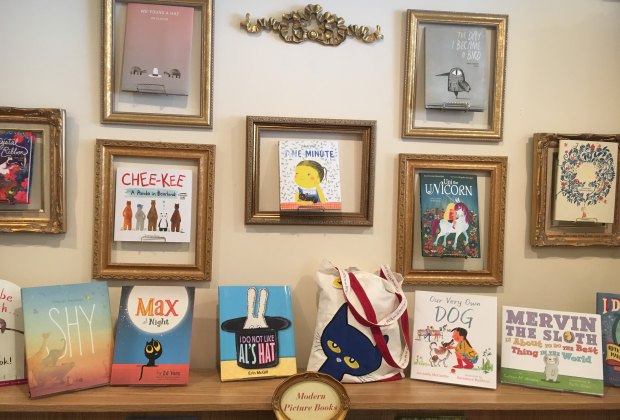 Books on display at the Voracious Reader
4. Read a Classic
The town of Irvington takes its name from the author Washington Irving, who is best known for his short stories The Legend of Rip Van Winkle and The Legend of Sleepy Hollow. Cozy up with a Washington Irving story while you drink some coffee and grab a bite to eat at the Black Cat Café.
5. Use Your Imagination
Sleepy Hollow embraces its macabre heritage and offers a list of activities in the area, including cemetery tours, spooky stories, and more. Plus, Sleepy Hollow is home to the Hudson Valley Writers' Center, where (grownup) writers can take classes in fiction, memoir, poetry, essay writing, and more.
6. Skip the Chain Bookstore
Pleasantville's Village Bookstore regularly hosts author readings, poetry contests, and other events. Bronxville is home to Womrath Bookshop - whose motto is "eat, sleep, read local," and they've been in business for 78 years. Larchmont is also home to another independent bookstore, Anderson's Book Shop, with books for adults and kids as well as a selection of toys, games and gifts.
7. Follow in the Footsteps of a Famous Author
Scarborough (part of Briarcliff Manor) and Ossining were home to one of Westchester's most famous authors, John Cheever. Cheever was said to enjoy eating at diners in Ossining, so read some Cheever stories while visiting the Landmark Diner or DD's Diner. Cheever also liked riding his bike to the Teatown Lake Reservation.
8. Borrow Books and Find Story Times
The White Plains Library is home to a much-beloved kids' section, "The Trove"—with the motto "Imagine, explore, discover." Yonkers is home to three library branches, and the Yonkers library website has a robust calendar of events. Offerings include bilingual story time (English/Spanish), nursery rhymes, picture book time, and special events like a "library luau"
9. Share Your Old Books - Or Hunt for Free Books You Get to Keep
Log on to Little Free Library and find instructions for building your very own miniature library where you can give away books you no longer want to keep. You can also use the map to find little free libraries where you can take a book – one that'll be yours to keep, at no charge.
10. Mark Your Calendar and Plan to Attend a Book Festival
Chappaqua is home to the annual Chappaqua Children's Book Festival. The event takes place each October and features book signings from children's book authors—including many who are Westchester residents—as well as activities for kids.
Photos taken in Bronxville and Larchmont by the author.