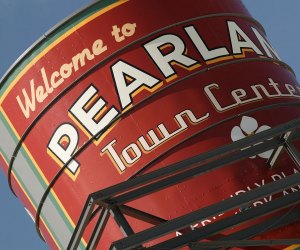 Insider's Guide to Exploring Pearland, TX with Kids
Houston has no shortage of sprawling suburbs to explore. Located about 20 miles Southeast of the heart of downtown Houston via Highway 288, the city of Pearland is home to some of the area's best family-friendly activity centers, spacious parks, stellar shopping, and locally owned restaurants. Take a look at our list of the top spots to play, eat, and explore in this quaint community.
Things To Do
1. Take a stroll around the area's premier open-air mall, Pearland Town Center. Pearland Town Center offers a plethora of brand-name shops to choose from and is home to several special events throughout the year. On the second Saturday of each month, enjoy exploring the Pearland Farmer's Market featuring locally made baked goods, local produce, hand-crafted jewelry and more.
2. Head over to Pearwood Skate for a retro roller rink and arcade experience that can't be beaten. Pearwood Skate offers birthday party packages, private lessons, and even holiday camps for kids. Flooding during Hurricane Harvey prompted a renovation of the skating surface and now the skating is even better than before!
RELATED: 100 Things to Do With Houston Kids Before They Grow Up
3. Explore the Pearland Westside Library in Shadow Creek Ranch to find a large selection of books for kids, teens, and adults. They offer a host of activities including story times for babies, toddlers, and preschoolers, as well as writing workshops and book clubs.
4. Go for a ride at Bay Area Equestrian Center. This full-service equestrian facility offers horseback riding lessons, show training, riding camps, and hosts customized parties. Get up close and personal with their beautiful horses with a private horseback riding lesson for first-time visitors for only $35.
5. What kid doesn't like wandering around Bass Pro Shop? From a large selection of boats to an over-sized fish tank and large animal displays, there is so much to see. The Pearland location hosts several free family-friendly events throughout the year including Halloween, Easter, and Christmas celebrations.
6. Create, play, and learn at Kid N Play. Kids can explore this indoor playground venue filled with kid-friendly activities to inspire creative play. Intricately designed mock city stations feature areas where kids can pretend to be hairdressers, chefs, and doctors. The venue also includes a two-story play structure with slides and tunnels, as well as an area made just for toddlers.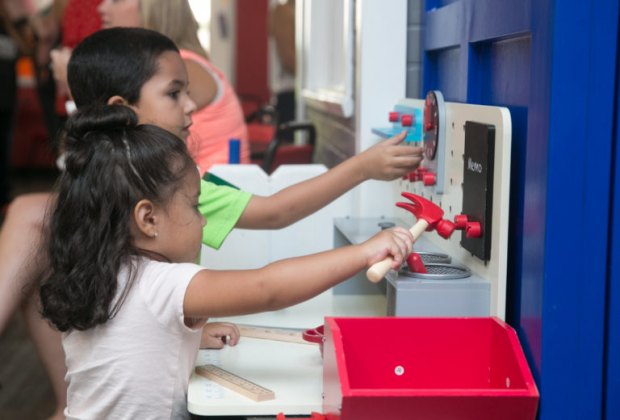 Kids get hands-on while engaging in pretend play at Kid N Play/ Photo Courtesy City of Kid N Play
7. Visit one of Pearland's many parks and trails. Play on one of two large playscapes, catch a game of hoops, or have a picnic at Centennial Park. There is also a splash pad open seasonally from April through October. If trails are more your speed, head on over to the Shadow Creek Ranch Nature Trail to explore paved trails through natural vistas. While community favorite Independence Park is currently undergoing renovation, the dog park and trails there are still open for families to visit.
8. Shop or sell gently used children's and maternity clothing at Lollipop Boutique. This locally owned and operated consignment store is the largest of its kind in the Bay Area. Find great deals on high quality clothes and baby gear. Clothing sizes for kids range from preemie to young adult. The boutique adds new items to inventory every day, so there is always something new to discover.
9. Attend one of Pearland's many festivals and community events. From holiday celebrations for Christmas and Easter, to family fun runs like Paws in the Park, Pearland offers a host of fun activities for the entire family to enjoy.
RELATED: Insider's Guide to Exploring Seabrook, TX With Kids
10. Catch a flick at Studio Movie Grill. Have dinner and a movie all at once at this family-friendly dine-in theater.
11. Find each of the four-foot painted fiberglass "pears" when you follow the Pearscape Trail around Pearland. These works of art are located all around town at landmarks such as Pearland Town Center, City Hall, and Independence Park. They make for awesome photo-ops and help to beautify the community.
12. Hop on over to Lone Star Bounce Town and let kids romp through over 9,000 square feet of inflatable obstacles featuring fun character themes. In addition to large inflatables, Lone Star Bounce Town boasts arcade games, slides, flat screen TVs, and concessions. There is also an area specifically designed for toddlers to safely explore with playhouses and a block table.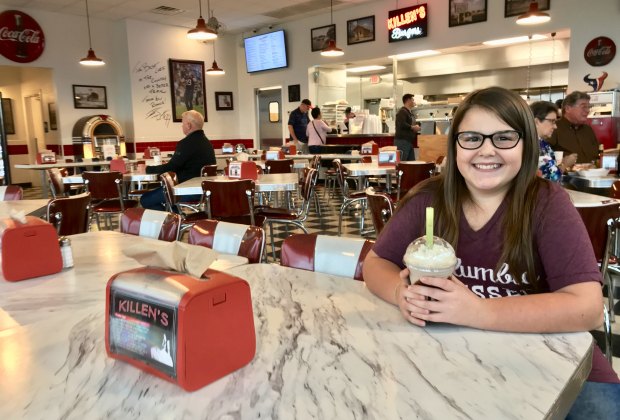 Enjoying a mocha almond milkshake and retro decor at Killen's Burgers/ Photo by Ashley Jones
Places to Eat
Killen's Burger's
2804 S. Main Street, Pearland
281-412-4922
This is hands-down my family's absolute favorite eatery in Pearland. Their throwback 1950s diner atmosphere transports visitors to a simpler time. Their juicy burgers and magnificent milkshakes are top-notch. Vintage arcade games help pass the time and family-friendly classic hits playing over the restaurant's sound system puts everyone in a good mood. This spot is also a favorite of Houston Texan's star J.J. Watt, whose giant photograph and personalized signature greeting dons the wall near the cash register.
RELATED: Insider's Guide to Exploring Katy, TX With Kids
Killen's Barbeque
3613 E. Broadway Street, Pearland
281-485-2272
Not to be missed is another of local Chef Ronnie Killen's family-friendly eateries, Killen's Barbeque. This spot has become a destination restaurant, with diners driving in from all over the Houston area and beyond to grab a bite of Killen's famous barbequed meats and handmade sides. You may have heard about the crazy lines down the block to get in, but now that the restaurant is open for both lunch and dinner, the lines are a bit more under control. Even if you do have to wait for a bit, there is plenty of outdoor space for kids to stretch their legs, and I promise the food is worth the wait!
Busy Bee Cafe
4009 Broadway Street, Pearland
281-485-8690
If you're looking for somewhere to eat that offers a little bit of everything, Busy Bee Cafe is where you'll find it. This cozy diner offers delicious southern-style comfort food in a casual, family-friendly atmosphere. This local spot has been a community staple for years and continues to offer great value and service to the city of Pearland day in and day out.
Big Humphery's Pizza and Italian Restaurant
5627 Broadway Street, Pearland
281-485-0392
Kids will love making their very own pizza at Big Humphery's in Pearland. This locally owned and operated spot has been a family favorite in the area for years. In addition to the make-your-own option for kids pizza, Big Humphery's also offers an extensive menu featuring handcrafted pizza and pasta creations, as well as salads, soups, and burgers.
Central Texas Barbeque
4110 Broadway Street, Pearland
281-485-9626
Open since 1969, Central Texas Barbeque is one of the oldest establishments in the city of Pearland. They offer slow smoked meats and fantastic homemade sides that are all absolutely delectable. The old-fashioned atmosphere at Central Texas Barbeque is certainly family-friendly, as four generations of this family-owned restaurant work together to create a fun dining experience for all. Don't miss out on their yummy desserts like banana pudding, bread pudding, and pecan pie.
RELATED: 20 Things to Do With Kids in Tomball, TX
AJs Snowcones
1807 Broadway Street, Pearland
281-766-7669
Looking for a cold, sweet treat on a hot day? Look no further than AJs Snocones. This family-owned snow cone and ice cream shop serves up crazy, creative concoctions like gummy worm topped snowcones, as well as sultry snacks like hot Taki "fries" with pickles and cheese.
Top photo courtesy Pearland Town Center