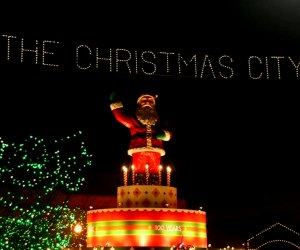 12 Best Christmas Towns in New England
Visiting a Christmas town or a Santa's village before Christmas is a great way to experience the magic of the season. While nothing beats the joy of watching your kids' faces light up on Christmas morning as they run toward the tree, Christmas towns offer kids the chance to post their Dear Santa letter via official North Pole mail, help Santa feed his reindeer, or sing Christmas carols on a sleigh ride. Luckily, you don't have to wait until late December for yuletide magic. New England has some of the top Christmas towns in the world, along with cities hosting famous light displays, charming Christmas festivals, and spirited parades that offer families cherished Christmastime experiences beginning as early as Thanksgiving week.
To plan more fun in the region, see our New England Family Travel Guide. If you just can't wait for Christmas, watch one of our picks for the best kids Christmas movies.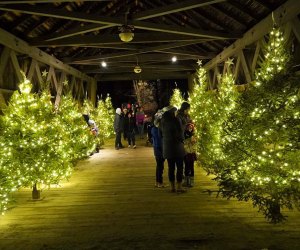 Stroll through the Christmas Tree Trail at Christmas by Candlelight in Sturbridge, Massachusetts. Photo courtesy of Old Sturbridge Village, Facebook
1. Sturbridge, Massachusetts
Take a step back in time when you visit Old Sturbridge Village, which mimics rural New England in the 1790s through 1830s. During the holiday season, their annual Christmas by Candlelight event is always a hit. Take an enchanted sleigh ride, cozy up around a bonfire, snag a photo with Santa and Mrs. Claus, and enjoy some delicious holiday treats, among other Christmas traditions. Don't miss the demonstrations of classic Christmas projects like knitting stockings or making a wreath, plus vote for your favorite one-of-a-kind design in the annual gingerbread house contest. Sturbridge also hosts an annual tree lighting ceremony featuring carolers, kid-friendly scavenger hunts and more.
OUR LATEST VIDEOS
2. Greenwich, Connecticut
One of the oldest towns in Connecticut, Greenwich is known for a host of holiday festivities, including their annual Reindeer Festival, a tradition that has brought families joy for 13 seasons. Kids are invited to help Santa feed Dancer, Prancer, and the rest of his reindeer herd, plus hang out with Santa in his very own toy workshop. Strolling through the decorated town adorned with colored lights and festive decorations gives "merry and bright" a whole new meaning.

Businesses in Kennebunkport, Maine, are getting ready to deck their halls for their 40th annual Christmas town celebration. Photo courtesy of Christmas Prelude, Facebook
3. Kennebunkport, Maine
Though it's known as a summer travel destination, Kennebunkport turns into a winter wonderland come Christmastime. Combine coastal charm with holiday merriment with a seaside visit to the annual Christmas Prelude, where bright lights, bows, and boughs deck the whole town. Enjoy a tree lighting in Dock Square, let sleigh bells ring on an enchanted sleigh ride, hum along with carolers to your favorite Christmas tunes and help the kids make some festive crafts. And for the biggest event of all, Santa ditches his sleigh for a lobster boat, making his grand entrance by water.
4. Portsmouth, New Hampshire
Dating back to the 17th century, the historic Strawbery Banke Museum in Portsmouth is home to some of the most vintage-inspired Christmas events in New Hampshire. For more than 40 years, the museum has hosted their Candlelight Stroll Under the Stars event, where players and performers reenact 350 years of Christmas traditions and make families feel as if they've been transported into a classic Christmas movie. Portsmouth is also home to the Portsmouth Historical Society, which hosts an annual Gingerbread House Contest and Exhibition each year, as well as the Music Hall, where you can catch spectacular performances of Irving Berlin's White Christmas.
5. Newport, Rhode Island
The opulent mansions of Newport were originally built as summer homes in the 1850s to early 1900s, and now people from all over come to admire their magnificence. Around the holidays, that's made even more apparent as the Breakers, Marble House and the Elms turn into a magical outdoor wonderland, featuring a 15-foot poinsettia tree and other festive touches. Additionally, the city's Sparkling Lights event features lit-up paths and spruce trees all while your favorite holiday tunes play in the background. Last but not least, the Bowen's Wharf Annual Christmas Tree Lighting is on again (virtually) for the 51st consecutive year, an event that always commences the holiday season.

Woodstock, Vermont, has a full schedule of Christmas town events on Wassail Weekend. Photo courtesy of Billings Farm and Museum, Facebook
6. Woodstock, Vermont
Though it's a charming town year round, Woodstock is a highly popular holiday destination. Specifically, Wassail Weekend is a most talked-about event, where families can watch demonstrations of traditions like holiday cooking and dipping candles, listen to a selection of holiday tales, and more. Of course, what would the weekend be without a horse-drawn wagon or sleigh ride? Woodstock Town Hall Theatre hosts an annual Cookies with Santa event.
7. Taunton, Massachusetts
They don't call Taunton "The Christmas City" for nothing; the city takes its decorations seriously and lights up in an extraordinary way around the holidays. Head to the annual Lighting of the Green & Lights On Festival, where you can admire a truly magical holiday light display on the historic Taunton Green, plus live music, fireworks, and other fun activities for the little ones.

Santa arrives by tugboat and greets children in Mystic, Connecticut, before tree lighting and a lighted boat parade. Photo courtesy of Olde Mystick Village, Facebook
8. Mystic, Connecticut
People typically head to Mystic for its quintessential New England charm, but the holiday season really ups the ante on its appeal. For one, there's the beloved Holiday Lighted Boat Parade, which begins with a tree lighting and ends with Santa arriving by tugboat and patrons gathering to admire the festively decorated boats. Christmas in Mystic wouldn't be complete without a holiday stroll through Olde Mistick Village, where lights adorn more than 40 shops and restaurants. In fact, the village itself turns into a holiday wonderland during its annual Festival of Lights, which includes live entertainment and delicious treats.
9. Freeport, Maine
Freeport is probably one of the only places in the world that has its very own talking Christmas tree. During the town's ever-popular Sparkle Celebration each December, you can witness the magic yourself, as well as a parade of lights and a special appearance by Santa. You may even get to meet Sparkles, one of Santa's most stealth elves, who rewards shoppers with gift certificates to local businesses. All week long, you can participate in a bunch of free festivities, whether it's a visit with Santa, a carriage ride, or a viewing of your favorite Christmas movie.

Of all the Christmas towns in New England, Jefferson, New Hampshire, makes a theme park of it. Photo courtesy of Santa's Village, Facebook
10. Jefferson, New Hampshire
Jefferson may be a small town, but it comes alive each year with its iconic Santa's Village, a Christmas-themed park and one of the most fa-la-la-la-fun places to visit during the holidays. The kids will love Reindeer Rendezvous, where they can feed real reindeer, or head over to Elf University for a unique elf scavenger hunt. The fun continues with all kinds of age-appropriate themed rides, from the Reindeer Carousel to Santa's Express Train, the Skyway Sleigh, and more. End the trip with a visit to Santa's Home, where Santa can be found lounging in his rocking chair, ready to hear which gifts children wish for the most this year.
11. Providence, Rhode Island
If your kids are zoo fans, they're going to love how Roger Williams Park Zoo in Providence comes alive during the season. There, the
Holiday Lights Spectacular
is made up of 1.5 million illuminated lights and is surely a sight to walk through and admire. After that, keep the merriment going with either a live or virtual viewing of
A Christmas Carol at Trinity Rep.
And don't forget to hit the ice at the
BankNewport City Center
for a fun and festive night out—it's your choice of ice skates or an ice bumper car!
12. Manchester, Vermont
Manchester has that small town charm, but is big on holiday spirit. Christmas celebrations are taken quite seriously with a lineup of fun events all month long. Bring the kids to the Manchester Holiday Fair to get some early holiday shopping done before heading to the Palace Theatre for a live performance of classics like A Christmas Carol or The Nutcracker. Even just strolling through the beautifully decorated town will bring on all the warm and fuzzy feelings the Christmas season is known for.