25 Things To Do With Kids in Greenwich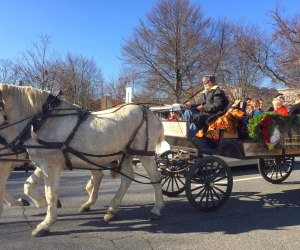 10/18/19
- By
Clementina Verge
Whether you access it by train (the ride from Grand Central Terminal in New York City takes less than an hour) or cross its picturesque town line by car, Greenwich offers a plethora of luxury shopping, restaurants, playgrounds, nature escapes, cultural opportunities, and waterfront activities. Here are 25 places to see and adventures to pursue in this Fairfield County community.
1. Bruce Museum
An area fixture for decades, the Bruce Museum is about to get bigger and better. Renovations began last month and the final unveiling will reveal more hands-on science exhibits, an update to the Art Wing, and a new Education Wing devoted to interactive children's programs. Even now, however, the museum offers plenty of adventures in art and science, and family-friendly activities.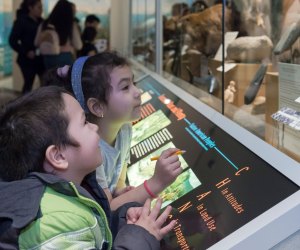 New kids' programming is coming to the Bruce Museum. Photo by Carola Muis
2. Audubon Greenwich
If your family enjoys nature, hiking, and learning about conservation, this is the place to be. Seven nature sanctuaries sprawled across 686 acres offer glimpses into wetland habitats, diverse forestland, coastal ecosystems, and bird life. Visitors can also enjoy fun and educational programs, including lectures on astronomy, family yoga, bird walks, and sensory-sensitive Saturdays.
3. Great Captain Island
Drift away from the mainland and enjoy a different view of the Connecticut shoreline. Take a two-hour Cruise to Nowhere, or head to the island where a beautiful lighthouse awaits, along with plenty of bird watching opportunities (including egrets, osprey, and herons), picnic areas (featuring grills), trails, swimming (in posted areas), and restrooms. Between June and September, a public ferry service operates from the landing at Roger Sherman Park (off Arch Street).
4. Mianus River State Park
Rock bridges, waterfalls, miles of trails, and of course, the Mianus River, decorate this urban forest nestled between Stamford and Greenwich. Children will enjoy exploring vernal pools and rock formations, trying to spot wildlife, fishing, biking, venturing inside a cave, or learning about what's growing in the wildflower garden.
5. Binney Park
Challenge a friend to a tennis match or have a picnic along the pond. Children will delight in exploring the nature-themed playground where activities are grouped by themes (leaves, trees, bees, mushrooms, and more). The park features picturesque ponds, bridges, lawns, and a gazebo. In the summer, you can catch concerts and family movies, while in the winter, many residents of Old Greenwich and Riverside lace up their ice skates and enjoy the outdoors on the frozen pond.
6. Bruce Park
Play catch, have a picnic, hike, explore playgrounds suitable for ages 2 to 12, enjoy scenic views of Long Island Sound, and, of course, do not forget to check out the exhibits at the Bruce Museum, which adjoins the property. The park is especially beautiful in the spring, when daffodils, azaleas, and dogwoods are in full bloom.
7. Greenwich Library
Gone are the days when libraries were mostly musty storage houses for books. Today, many boast beautiful architecture, creative play areas, engaging programs, and plenty of resources beyond the printed page. The Greenwich Library is no exception. Between its gourmet cafe on the lower level, a full-blown art gallery that exhibits art in all mediums, and a vibrant children's area, you'll easily spend a day here.
8. Babcock Preserve
This pristine portion of wilderness is perfect for quiet family outings, recharging, and reconnecting to nature and each other. The 4-mile loop is low in elevation (under 300 feet) and suitable for all ages and abilities. Horseback riding is allowed, so do not be surprised by the sight and sound of hooves.
9. Greenwich Avenue
Explore the playground, shop, get lost in conversation on the Greenwich Common, stop by the Veterans' Memorial dedicated to those who fought in World War II, Korea, and Vietnam, peek inside an art gallery, or indulge in a treat from Coffee Luca.
10. Greenwich Reindeer Festival
The annual celebration takes place from the end of November through early December. Photos with Santa, visiting reindeer, face painting, balloon artists, refreshments provided by local restaurants, train and carousel rides, and dance demonstrations by Greenwich Conservatory of Classical Ballet are all part of the festivities.
11. Greenwich Wine + Food Festival
The multi-day annual festival takes place in September at Roger Sherman Baldwin Park and showcases the area's decadent culinary and wine selections. The event, which benefits multiple charities, features big name entertainment (Little Big Town and Tim McGraw are among past performers) and notables such as Martha Stewart and Valerie Bertinelli.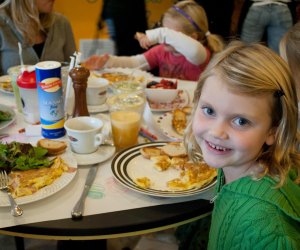 Méli-Mélo Crêperie & Catering was serving up crepé​s before it became a fad. Photo courtesy of the restaurant
12. Méli-Mélo
How does a croque monsieur sound, or a banane et Nutella ave unce? A local favorite since 1993, this French restaurant offers a vast and delicious array of crépes, soups, sorbets, ice cream, sandwiches, salads, and juices. A wide selection of soups include French onion, chicken coconut, broccoli cheddar, and coconut pumpkin, while the rest of the mouth-watering menu includes chocolate croissants, fresh berries, and many omelets. Gluten-free crépes are available per request, along with vegetarian options.
13. Smart Kids Toys
When was the last time your family engaged in a game of door pong? That's ping pong without a table. Sure, online toy retailers abound, but there is something delightfully memorable about stepping inside a cozy, independently-owned toy story. A community fixture for more than 30 years, Smart Kids Toys offers unique and educational items for all ages. Dolls, musical toys, puppets, plushes, construction sets, and science and nature kits are sure to keep children entertained for hours. Is your backyard missing an American Ninja Warrior Ninjaline?
14. Greenwich Point Park
Gather seashells, relax by the waterfront, admire the seaside garden, indulge in a picnic (clambake, anyone?), go for a bike ride along Long Island Sound, or await a spectacular sunset. Non-residents must purchase entry passes.
15. Bush-Holley House Museum
Once upon a time, Cos Cob was the first art colony in Connecticut, and "a cradle of American impressionism." A tour of the eight-room house links visitors to the past, offering glimpses into history, landscape, and gardens. Of special interest to families is the super-interactive summer Art and History Camp; children grades 2-8 weave and build Colonial toys during Early American Life week, and learn about the Cos Cob art colony while creating Impressionist art during Art Colony week. The house/museum is open Wednesday through Sunday.
16. Greenwich Botanical Center
Nestled in Montgomery Pinteum Park, this beautiful facility offers plenty of opportunities to enjoy flowers and all things green, and also offers environmental enrichment activities geared especially for children. Depending on season, they can create an autumnal cornucopia, cuddle up in their pajamas for an evening of cookies, cocoa, and holiday fun, or explore during Forest Days.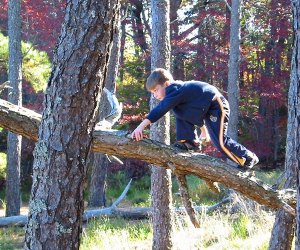 Photo courtesy of Greenwich Botanical Center
17. Diane's Books
Celebrating nearly 30 years in business, the store's success is credited to its old-fashioned hometown feel, engaging staff, and a wide selection of books for all ages. Stop in to browse Diane's latest picks and search the names of authors who have signed the wall following speaking engagements.
18. Jig Charters
Gather family and friends for a day on the water. Choose from a 4-hour fishing tour, a lobstering experience, or Fireworks on the Sound available Friday evenings from July through September.

19. Cos Cob Park
Located along the Cos Cob Harbor, this lovely park is ideal for play, relaxation, and reflection. Twin translucent towers overlooking Long Island Sound stand in memory of September 11, 2001, and serve as an educational resource especially for children who are increasingly farther removed from that fateful day. You will also find an interactive playscape, benches along the walking path, ADA accessible sidewalks, and restrooms.
20. Greenwich Art Society
Children as young as 5 can take art classes here, acquiring skills in painting, drawing, collage, and sculpture. Stop by to peruse current exhibitions, or host a personalized art party held in a real art studio and taught by award-winning artists.

Photo courtesy of Greenwich Art Society
21. Augustine's Farm
Located on King Street, this family-owned farm offers goodness year-round, from fruits and vegetables, to farm fresh eggs, honey, fresh flowers, and seasonal items like pumpkins, corn stalks, and wreaths.
22. Outdoor Crafts Festival and Outdoor Arts Festival
Sponsored by the Bruce Museum, the two outdoor festivals showcase original artwork and include demonstrations, family art activities, a children's drawing contest, and delicious food. The Arts Festival takes place in October, while the next Crafts Festival will celebrate its 35th year May 16-17, 2020.
23. Greenwich Town Party
For the past decade, the party has celebrated community and instilled a sense of town pride by gathering the people of Greenwich for a day of music, food, fun, family, and friendship. The next event is scheduled for May 23, 2020.
24. Dorothy Hamill Skating Rink
Recreational skaters, figure skaters, and hockey players call this indoor ice rink home. Take lessons, join a team, or just have fun with friends. Skating School is available for ages 3-15, and includes a Mommy, Daddy & Me program for ages 3-4. More experienced skaters can enroll in the Bridge Program, which includes introduction to ice dancing, edge and power skating, and more.

25. Kelsey Farm
Children have been learning to ride here since 1949. Whether your little equestrian is interested in competing, showing, or just bonding with a horse, this facility offers summer programs, year-round lessons, and features both indoor and outdoor arenas, a heated tack room with a viewing area, and direct access to Greenwich riding trails.