Registration Opens for Free Spring Break STEM Camps in NYC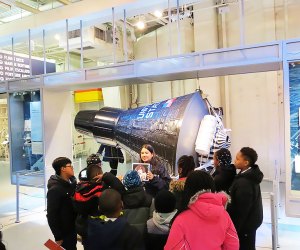 The NYC Department of Education's popular free STEM Matters program is back in 2022 and offers FREE week-long camps during New York City's spring break, with programming running from Monday, April 18-Friday, April 22, 2022. The deadline to apply for these hands-on programs, serving kids in kindergarten through 12th grade, is fast approaching.
Eighteen different sites are offering programs across the five boroughs, and many are hosted by New York City's top cultural institutions and kid hot spots like the Bronx Zoo and the Intrepid Sea, Air & Space Museum. The subjects are diverse but focus on the sciences.
Looking for more camp coverage for spring break or beyond? Be sure to bookmark our New York City Camp Guide and our Camp Directory where you can search for camps by type, age, and neighborhood.
Subscribe to our newsletters to get stories like this delivered directly to your inbox.
Program themes vary by age. For example, kindergarteners through second graders can apply to join a weeklong Zoo Detectives program at the Bronx Zoo, middle schoolers can attend a Nature on the Bronx River program in connection with Rocking the Boat, and high schoolers can earn urban farming internships at the Genovesi Environmental Study Center in Brooklyn, or opt to learn about water conservation and put their leadership skills to work by facilitating a summer STEM Matters program for elementary school kids.
A description of the Central Park Zoo camp for second, third, and fourth graders provides a glimpse of what the kids can expect:
"Spring into action at the Central Park Zoo! Investigate environmental mysteries and challenges around the world, and discover how New Yorkers take action to help wildlife and wild places here in the city and across the globe. Hands‐on activities, animal investigations, and up‐close animal encounters will make this week unforgettable!"
The camps, which run from Monday, April 18-Friday, April 22, last roughly the same hours as a school day, 9am-3pm. Hours for high school programs may vary slightly. Parents must provide lunch and transportation, though MetroCards are available to those who need them. All applications are due Monday, February 28. Applications for elementary and middle school students require parents and students to answer short essay questions; high school students may need a teacher's recommendation and might be asked to interview. Organizers warn they always have more applications than openings.
See the STEM Matters website for individual camp descriptions and to apply.
A version of this post was published previously, but it has been updated for 2022.