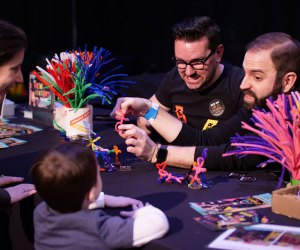 Free Spring Break STEM Camps in NYC Now Accepting Applications
The NYC Department of Education is hosting free STEM camps this spring break for public school kids staying in town for the vacation, which runs from Thursday, April 9 to Friday, April 17, 2020. The deadline to apply is fast approaching.
Twenty-one programs are offered in total, hosted by many of New York City's top cultural institutions and kid hot spots like the Bronx Zoo and the Intrepid Sea, Air & Space Museum. The subjects are diverse but focus on the sciences.
For example, kindergarteners through second graders can apply to join a weeklong Super Animal Adaptations program at the Bronx Zoo, middle schoolers can attend a STEAM Machine Maker Camp at the Staten Island Maker Space, and high schoolers can take part in a Tech Scholars program at the New-York Historical Society. Animal encounters are plentiful at the camps, especially those held at the city's zoos. The New York Aquarium hosts a Seaside Explorers program aimed at teaching youngsters how to be better neighbors to our coastal wildlife. A photography course at the Museum of the City of New York might seem more artistic than scientific, but it gets kids outside, exploring the city and investigating the engineering properties of local architecture.
RELATED: Summer Camp Guide for NYC Families
A description of the Central Park Zoo camp for second, third, and fourth graders provides a glimpse of what the kids can expect:
"Campers will 'spring into action' as we investigate all things zoo! Each camp day is filled with up-close animal interactions, exploration in the zoo, and a hands-on design challenge related to the theme for each day."
RELATED: Free and Cheap Summer Camps for NYC Kids
The camps, which run from Monday, April 13-Friday, April 17, last roughly the same hours as a school day, 9am-3pm. Hours for high school programs may vary slightly. Parents must provide lunch and transportation, though MetroCards are available to those who need them. All applications are due Monday, February 10; beware, though, that overwhelming demand forced applications to close early in the past. Applications for elementary and middle school students require parents and students to answer short essay questions; high school students may need a teacher's recommendation and might be asked to interview. Organizers warn they always have more applications than open slots.
See the STEAM Matters website for individual camp descriptions and to apply.
A version of this post was published previously, but it has been updated for 2020.