Apply Now For NYC's Free STEAM Summer Camps
Due to the pandemic, the Summer in the City programs will not run in Summer 2020.
It's a strange time to be a New York City schoolkid to be sure, but in hopes that brighter days are on the horizon, New York City's Department of Education is accepting applications for its Summer in the City program, which includes FREE STEAM summer camps and summer enrichment programs, plus internships and college-level courses for high schoolers. Don't delay: Applications for all programs are due Friday, April 10. The popular annual summer day camps are available to NYC kids entering kindergarten through grade 12 in September.
The camps take place at almost two dozen popular NYC institutions known for STEAM programming, including zoos, museums, and botanical gardens. Public, charter, and home school students in NYC may all apply. We should caution, however, that with most things in NYC these days, there's no telling how the coronavirus will affect the programming, but, since there's no cost to apply, and we're all stuck at home, you've got very little to lose.
The camps run in July and August in one-week intervals, while a college-credit course runs for four weeks, and the STEM Acadamy academic program runs for five weeks. Read on for full details on each program.
Students in the one-week STEAM Matters camps are placed at institutions all over the city including the following: Bronx Zoo, New York Aquarium, Prospect Park Zoo, Central Park Zoo, Queens Zoo, Intrepid Sea, Air, and Space Museum, Queens Botanical Garden, Queens County Farm Museum, Staten Island Zoo, Staten Island Museum, Museum of the City of New York, the NYC Center for Aerospace & Applied Mathematics (Space Center), the Genovesi Environmental Study Center, and SUNY Old Westbury on Long Island.
RELATED: FREE and Cheap Summer Camps for NYC Kids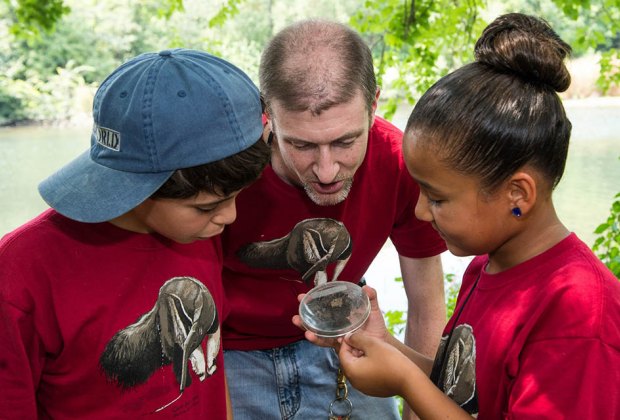 Interact with the animals at various zoo-hosted camps! Photo by Julie Larsen Maher for WCS
The Summer 2020 programs add art to the mix, shifting from STEM to STEAM. The NYC Department of Education describes activities, dates, and appropriate grade levels for each camp on its STEAM page. Examples of programming include an AquariArt camp at the New York Aquarium for children in kindergarten to second grade, while middle schoolers might opt for a Wildlife Makers Camp at the Queens Zoo. Most of the camps begin at 9am and end at 3pm.
Students are selected by lottery, and thousands of applications are expected for a small number of seats; each program has 20-25 slots available. Make sure your camper is with you when you're ready to apply; they must answer a couple of questions as to why they're interested in a particular camp. Applicants are invited to only one week of camp to ensure more kids have the opportunity to attend.
Transportation is not provided, but MetroCards are available for students. Campers must bring their lunch and snacks.
Apply online by Friday, April 10, 2020. There is no fee to apply, and it took us about 20 minutes to complete our application. Questions should be directed to STEMMattersNYC@schools.nyc.gov.
In addition to the one-week camps, the city is offering a variety of Summer Academy programs. Children entering grades 3 through 11 are eligible for a five-week STEM Academy, running from July 6-August 11, 2020. An academic-focused program, STEM Academy, will be hosted at two sites in each borough. The STEM sessions run Monday-Thursday, from 8:30am to 2:30pm, and transportation is provided in some cases. Lunch and snacks are also included. The STEM Academy uses the same application as the STEAM Matters program.
High school students are eligible for one-week courses, paid internships, and four-week college courses depending on age and interest. These programs utilize the same application but are not lottery-based. Instead, a committee reviews individual applications, grades, and even test scores. Some may require an interview, and all need a teacher's recommendation.
The Summer Academy page also includes information on FREE school-based programs for younger students and those making the transition to middle school. Applications for these programs are taken at the schools where they are held. Contact your parent coordinator or school principal for more information.
Need more summer enrichment options? Check out these other NYC STEM camps or peruse these other FREE or inexpensive NYC summer camps.