"Treetop Adventure Course" at Turtle Back Zoo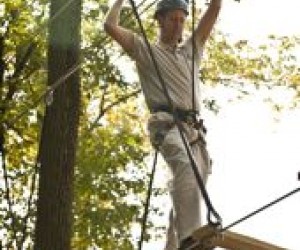 Not that we need another reason to love Turtle Back Zoo, but we were given one anyway. It's called "The Treetop Adventure Course", an awesomely challenging obstacle/ropes course set 35 feet above ground. This is serious exercise and serious fun for the whole family. You want to make a memory with your kids? Strap on a harness and climb through the trees together.

I had the opportunity to climb the course today and my sore arms and hands trying to type this article are proof that I made it through. All I can say is "wow". So hard. So scary. So totally fun and exhilarating.
Built right behind to the Essex County Turtle Back Zoo (there is an entrance inside the zoo and a separate entrance),Treetop Adventure Course is built in the trees; each tree has a platform and you traverse from platform to platform through a variety of "elements". The experience is broken down into two courses, beginning at about 10 feet in the air and getting as high as 35ft, before you zip line back to the nice, safe ground. And yes, obviously you are attached to a continuous lifeline system, but trust me, all it does is assure you that you won't hurtle to the earth; it does nothing to balance you or help you "cheat" as you cross the high cable tightropes. You really are doing it all on your own, which, of course, is what makes it fun. And terrifying, yes, but mostly fun.
I witnessed, first-hand, the "family experience" that is Treetop; a family of seven was immediately before me on the course. A mom, two 9-year old boys, two teenagers (girl and boy) and their teenage buddies, and they all had the exact same look on their faces: excited, nervous anticipation. What other activity could cause the same reaction in such a wide range of ages? This alone would have sold me on Treetop Adventure Course, but having completed the course myself, I can personally recommend it most highly.
"Treetop Adventure Course"-- $20/person admission. Saturdays and Sundays from 10am to 5pm through the end of November. Call 973-731-5800 for up-to-date weather information.
Some restrictions apply: Participant must be at least 54 inches tall; weight limit 250 pounds. Any persons under the age of 18 must have the liability waiver filled out by their parent or guardian before arriving to the course.