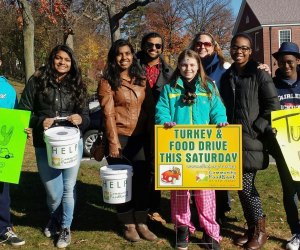 Holiday Volunteering Opportunities for New Jersey Families
Looking for new ways to connect as a family this holiday season? Volunteering together can spark the joy of giving in children of all ages.
The holidays are a great time to inspire your kids to give back. Create new family traditions this year by contributing to a favorite charity or reaching out to those in need. From the youngest kids coloring holiday greeting cards to teenagers serving Thanksgiving dinners, we've got the low-down on family-friendly holiday volunteering in New Jersey.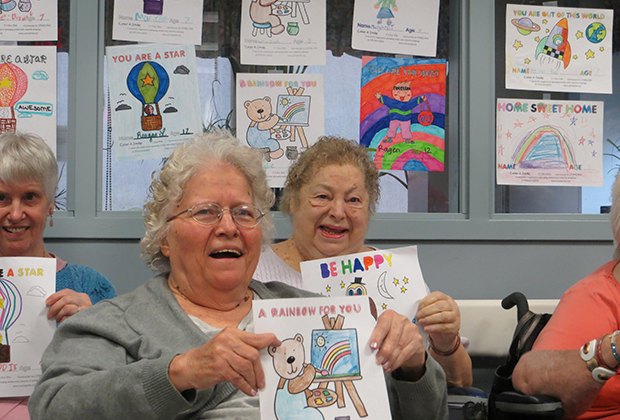 Kids can make cards to send to senior citizens though Color A Smile.
Volunteering Opportunities for Preschoolers
Many social service agencies and faith-based organizations rely on neighborhood volunteers and donations, especially during the holidays. For hands-on help, kids as young as preschool-age can color pictures to deliver smiles to home-bound senior citizens through Color A Smile, or sort through their own toy shelves to donate plastic toys in good condition to Second Chance Toys.
Volunteering Opportunities for Grade-Schoolers
Grade schoolers writing out their Santa wish-lists can embrace the spirit of giving by shopping for a new present for a child in need through Jersey Cares Frosty's Friends program. Many local churches, mosques, temples, and community centers also offer holiday giving trees, charity bazaars, and adopt-a-family programs that allow families to purchase and donate new, unwrapped gifts for homeless children and adults.
Local animal shelters have holiday wish lists, too—so while your kids are filling Fido's stocking, they can set aside some pet goodies for St. Hubert's Animal Welfare Center, which has also rescued almost 800 animals evacuated from Puerto Rico.
Volunteering Opportunities for Teens
Older children can help organize a hat-and-glove drive to bring warmth this winter to families through Jersey Cares or the Salvation Army. And as temperatures drop, the whole family can pack up cold weather kits containing warm socks, lip balm, and hand warmers for homeless men served by Bridges Outreach or Eva's Village. Teens can also collect and donate feminine hygiene products to South Orange–based Girls Helping Girls. Period, which helps local women and girls.
For additional family volunteer opportunities throughout the holiday season, reach out to these New Jersey charitable organizations:
Volunteering Opportunities in North Jersey
Bergen Volunteer Center – Hackensack
Encourages community service by children 10 and older by decorating bedrooms for homeless families moving into transitional housing; doing arts and crafts and singing with senior citizens; and making holiday cards.
NJ Veterans Memorial Home – Paramus
Youth volunteers are welcome to assist with daily recreation activities, including holiday events.
Liberty Humane Society – Jersey City
Always in need of kitty litter, cat and dog food and toys, blankets, and towels.
PAWS Montclair – Montclair
Ongoing needs for dog biscuits, leashes, dog and cat food, toys, and cleaning supplies.
Volunteering Opportunities in Central and South Jersey
Cuddle Me – Cherry Hill
A diaper bank in need of infant supplies including baby clothes and diapers. Also in need of volunteers to sort and deliver donated items.
​United Way of Monmouth and Ocean County – Farmingdale and Toms River
An umbrella organization for helping Jersey Shore–area families.
Bridge of Books Foundation – Rumson
Provides ongoing access to books for underserved children. You can donate books, run a book drive, and even host a "Books for Birthdays" party. Book drop-off is in Holmdel.
Quixote Quest – Camden
Camden County Center for Family Services project for teens eager to make a difference. Connects local teens to charitable causes throughout Camden County and holds monthly team-building meetings for the teens to share experiences.
Food Bank of Southern NJ – Pennsauken
Offers all kind of opportunities for both individuals and families to help feed the hungry in Southern New Jersey. Volunteers 13 and older (under 16 must be accompanied by guardian) may donate their time at the distribution center, events, or in the office. Plus, non-perishable foods are always needed. On Saturday, November 16, 2019 the FBSJ headquarters will host a Turkey Drop, where frozen turkeys and non-perishable trimmings are accepted.
For additional holiday volunteer opportunities, check out the NJ listings on Volunteer Match.
Where To Serve Thanksgiving Meals
Especially around Thanksgiving, local soup kitchens need volunteers to serve meals and sort donated boxes and cans of non-perishable food. Teenagers can roll up their sleeves and serve holiday dinners as many soup kitchens allow children age 14 and older to help out on weekends and holidays. To schedule a shift preparing or serving Thanksgiving dinners to those in need, contact:
Family Promise – Hackensack
Serving 150 meals daily at the Health and Human Services Center in Hackensack, 365 days a year. Special meals are served on Thanksgiving and Christmas. Additional services provided to Bergen County families in need.
Market Street Mission – Morristown
Market Street provides clothing, shelter, and meals to thousands of individuals in Morristown. Accepting donations and scheduling volunteers to serve lunch and dinner daily.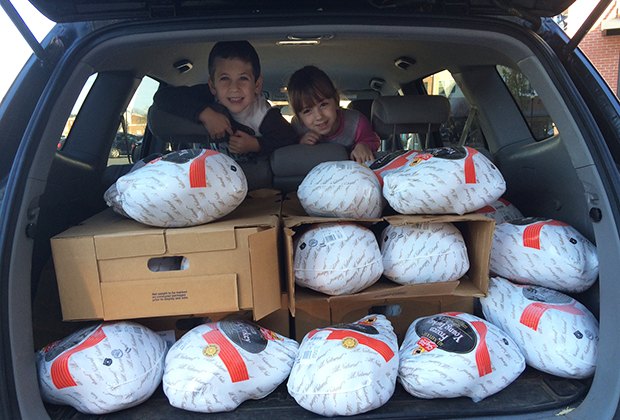 The Community Food Bank collects thousands of turkeys during its Turkey Drive.
Community Food Bank of NJ – Hillside and Egg Harbor
Volunteers needed to sort and repack food for delivery to hungry families across New Jersey, and to collect food, including turkeys, at community food drives around the state. The Food Bank's 2019 Turkey Drive will take place Saturday and Sunday, November 23-24.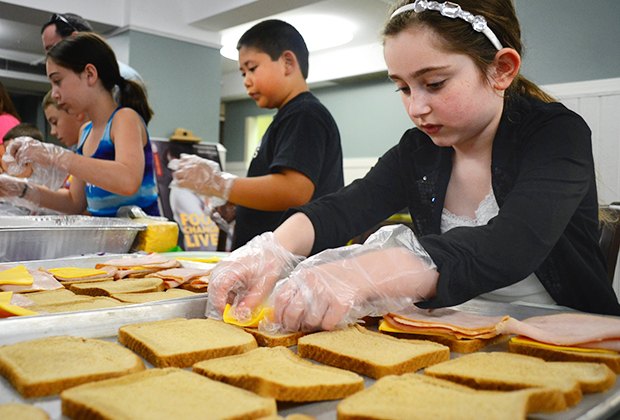 Kids can make sandwiches at Elijah's Promise for distribution at the soup kitchen.
Elijah's Promise – New Brunswick
Elementary school–aged children can make sandwiches, decorate lunch bags, and fill them with healthy snacks and drinks for distribution at the soup kitchen. Batches of 25 or more lunch bags can be dropped off on weekday mornings.
Eva's Village – Paterson
Volunteers needed to serve weekday breakfast and lunch in the community kitchen. Shifts are scheduled up to a month in advance.
All photos courtesy of the organizations.
This post was originally published in 2016 and is updated annually.