Northlandz Model Railroad Museum in NJ Is a Handmade Wonder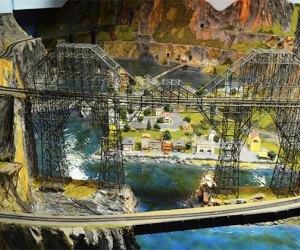 The Northlandz train museum in Flemington had long been on my hit list of day trips to share with my boys, ages 3 and 5. After all, it's home to the world's largest model railroad. But I was a little hesitant after hearing some mixed opinions about it. Some families felt it was a gem for train lovers, while others thought the museum was outdated and pricey. When the opportunity arose to see for myself what Northlandz was all about, my family made its way to Flemington to check it out. I'm very glad we did; we had a fabulous time, and I'd definitely plan a return trip. I will say, however, that the museum may not be for everyone. Here's what you need to know before you go.
Now Boarding: Track One
After buying our tickets for Northlandz, the owner suggested we start our visit with the outdoor train ride. I was expecting a little kiddie ride and was shocked to find a beautiful train with a real track built into the landscape. My boys happily watched the scenery roll by as the train chugged along for about 10 minutes. They were especially excited to go through a short tunnel.
I learned from the conductor that the owners built the tracks by hand, and the trains came from a manufacturer in Arizona. Clearly, a lot of care and pride went into creating the track—and the same was true for the next stop on our trip: the exhibits.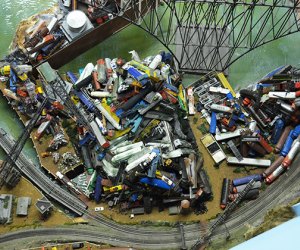 Next Stop: Exhibits
Northlandz's main draw is a walking tour through an elaborate display of model train exhibits, which includes eight miles of tracks, 40-foot bridges, 400 tunnels, and intricate scenes spiraling up and down the museum's many levels. You'll walk past cities, villages, a carnival, incredible canyons, 30-foot mountains, and more. My kids were in awe of a window that looked down through a multi-story canyon.
Bruce Williams Zaccagnino, who spent 16 years building the exhibit by hand, is the mastermind who conceptualized the journey through the landscapes. The scenery is incredibly impressive; anyone—train lover or not—would appreciate this very unique work of art. The scenes are so complex you could literally stand in front of one area for 10 minutes and not get bored as you take in a complicated carnival scene, or count the toothpicks in the "world's largest toothpick garden," or even wait for a train to show up.
That brings us to my first tip: prep children they need patience to truly appreciate this exhibit. With hundreds of tunnels and some trains traveling loops as long as 1,500 feet, you often need to wait a while for a train to roll through your exhibit. Kids who race through to see what's next will miss out. My 3- and 5-year-olds did great, but I can envision some very active children having trouble at Northlandz.
Another thing to consider is that the tour is designed to take about two to two-and-a-half hours to complete, so be sure to stop at the bathroom before you head into the exhibit. The only bathroom is on the bottom floor, and if nature calls on the upper levels you'd have a fairly long walk ahead of you. As a side note, the bathroom is not super nice; it could use a cleaning and renovation.
Also in preparation of the long walk, consider bringing along a beverage. There's a small snack shop on the first floor, and I noticed a vending machine along the tour. Food and drinks are allowed throughout the museum, which is nice.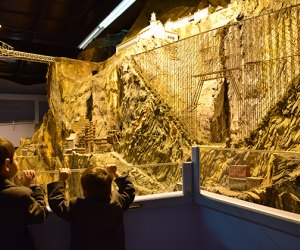 Photo by the author.
A fourth tip: if you have small children who can't walk for extended periods of time, consider using a small stroller. There are ramps in most places, so getting around on wheels is a breeze. But note that kids in the stroller would have no shot of seeing the exhibit over the 3.5-foot perimeter. I constantly had to lift my 3-year-old son to see over the wall. I appreciated the stoops sprinkled throughout the walk for little ones to use, but I wish there had been even more!
On that note, parents should know that while this is a kid-friendly museum, the focus isn't to cater exclusively to children. Rather, train lovers of all ages would have a great time at Northlandz. In fact, I ran into more families with kids over 13 (or no kids at all) than those with small children. I could envision a perfect day trip to Northlandz for families with several generations of train lovers. The museum is also just minutes from Flemington's Black River & Western Railroad station, and a combo trip would make for an unforgettable day.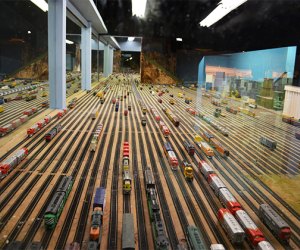 Final Destination: Yea or Nay?
Now what about the criticism that the facility is dark and dated? There is some truth to this. Northlandz isn't a pristine, action-packed, Disney World–type attraction. It's a handmade wonder, and the train exhibits themselves are bright, intricate, and amazing. Yes, the walkway is kind of dim, and the tack rug is worn and torn in spots. But it didn't bother me any. We were there to see the exhibits, which didn't disappoint.
In addition to the train exhibits, there is also a doll collection and giant dollhouse, a theater with a pipe organ (which Bruce plays), and art galleries. In certain areas, picture windows with dusty doll scenes and stuffed animals are displayed opposite the trains. I wouldn't make a trip just for the dolls, though the huge dollhouse was kind of neat to look at.
In the end, it's really about the trains. And I'd recommend Northlandz to any train lover who isn't looking for cartoony details and glitzy decorations. If the kids are old enough to handle a walking tour and have the patience to admire the intricate details, the museum is definitely worth a trip. Expect to pay $9.75 for kids ages 2 to 12; $12.50 for seniors; and $13.75 for adults.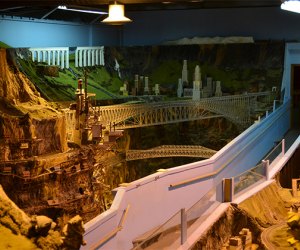 Unless otherwise noted, photos by David b. via Flickr.