Visiting Insectropolis: The Buzz About New Jersey's "Bugseum"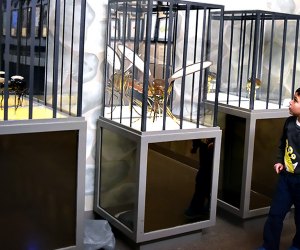 Insectropolis, The Bugseum of New Jersey, has been on my bucket list of NJ kid-friendly museums to visit for a while. My younger son is absolutely fascinated with creepy crawlies and loves hands-on learning experiences. So, we cleared our schedules one Saturday morning and headed down the Parkway to Toms River, home of our next "bug" adventure.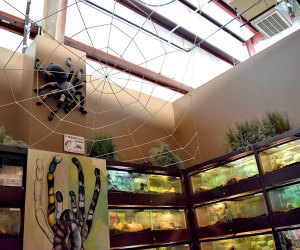 Peek inside the tanks of live insects.
Enter Bug City
We bought our tickets ($10 for all guests over age 2) and started our adventure through Insectropolis. We followed the beautifully painted walls and wove our way through the themed rooms, which were packed with cases of insect specimens and interactive educational displays. Children can learn how to identify various insect classes, crawl through a "muddy" tunnel like a termite, test their bug knowledge on touch-screen computers, spot walking sticks in a scene of branches and bugs, or spin a wheel to learn about the life cycles of various insects.
RELATED: Best Science Museums for Kids in NJ and Beyond

The exhibits are tastefully done, so don't worry if you are bug-squeamish.
Many of the themed rooms had tanks of live insects as well, including a room with about 15 tarantulas. Yep, if you're up for it, you can stand eye-to-eye with a huge hairy arachnid. Or, if you prefer, check out a family of roaches, scorpions, or other multi-legged friends. There are even a handful of reptiles to see. I was little worried that this bug museum might be a little too creepy for me, but everything was tastefully done, and the facts highlighted in the displays were pretty fascinating.
RELATED: The Slime Factory at Menlo Park Mall Is Messy Fun for NJ Kids

Engage in interactive exhibits.
Though there's lots of info to take in, Insectropolis is not a huge place. We took our time, read all of the signage, and spent several minutes with our favorite bugs, and were pretty much done in less than an hour. If you have a very active child or a "What's next? What's next?" kid, then you may not get a lot out of this quiet museum. But I guarantee that if your little love bug adores spiders and butterflies, they'll be in heaven here.
Up Close and Personal
The highlight of our visit was the hands-on demo. My son loved petting Spike (the cockroach), Pepper (the 254-legged millipede), and Rosie (the tarantula). The educator did a great job of putting everyone at ease with each little friend and sharing interesting facts about them. We also met the monthly featured creature: the vinegaroon. The presenter gave each of the kids a couple of informational cards, and we went on our merry way.

Inspect cases and cases of specimens.
As we headed out, we stopped in the gift shop and snagged a calendar. I was surprised by how many educational events are held at Insectropolis, from quiz games to art shows and seasonal programs. Insectropolis also has on-site birthday parties as well as "bug on the go" bashes at your home.
Insectropolis Hours
Insectropolis is open Tuesdays through Saturdays 10am to 3pm. Hands-on demonstrations take place Saturdays at 11am, 12:30pm, and 2pm; summer weekdays at 1pm and 3pm; and September through June weekdays at 2pm.
Photos by the author