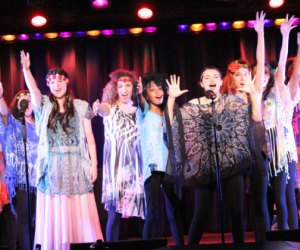 20+ Acting and Musical Theater Classes for Kids in New Jersey
New Jersey offers a great assortment of studios, big and small, that give kids a taste of life onstage. Whether your child is a newbie, an aspiring professional, or somewhere in between, there's a class to help him or her shine. And if your child's schedule is already booked through the school year, don't fret—most schools offer summer camp programs as well!
For more classes and enrichment opportunities, check out our Classes and Enrichment Programs for New Jersey Kids.
Tuition varies based on child's age, length of class, location, and number of sessions per week. Please refer to individual websites for more information.
Acting-A-Part Theatre Company and Movie Studio – Ridgewood, Sparta
Acting-A-Part tailors plays to meet the dramatic wishes of its students. Plays are re-written to allow every little aspiring princess to play that part; for the younger crowd, lines are fed to performers during the show. Acting-A-Part also offers social skills classes and mommy & me classes for the younger set.
Actors Playground School of Theatre – Freehold
This conservatory-style studio offers professional acting training for ages 7 through adult. Classes take place after school and on Saturdays.
All Children's Theatre – Parsippany
​"Every Child Is a Star" is the motto of All Children's Theatre, a program in which kids of all experience levels can rehearse for and perform in a show. Programs are geared toward ages 4-5 and 6-14. No auditions or prior experience necessary to register.
Bergen PAC – Englewood
BergenPAC offers weekly classes in the dramatic arts and musical theater for kids ages 4–18. Classes include Creative Drama Tots, Musical Theater for Kids, Musical Theater Dance, and more.
Brightest Star School of Performing Arts – Cedar Knolls
This year-round school provides instruction in acting, voice, dance, cabaret, and more. Kids' classes are held on Saturdays in the spring and fall, and one-week camp sessions are offered in the summer.
Class Act Performing Arts Studio – South Orange
This South Orange studio offers classes in acting/improv (ages 7–15) and acting for the camera/commercials (ages 7–18). All classes take place on Tuesday afternoons and evenings.
Cresskill Performing Arts – Cresskill
​Cresskill focuses on triple-threat training in dancing, singing, and acting. Theater-specific classes include Broadway Beginnings, Broadway Stars, and Musical Theater Workshop.
​Elefante Music & School for the Performing Arts – New Providence
Broadway babies can start as young as age 3 in Elefante's Broadway Beginners class. Other offerings include musical theater, improv & sketch comedy, and monologue/audition prep for teens.
Essex Youth Theater – Upper Montclair
This program uses custom-written scripts to guarantee equal roles for a specific number of students. Class sizes are kept small to ensure individual attention, and each semester culminates in a full-scale musical production.
Garden Street School of the Performing Arts – Hoboken
Kids can dive right into a production and learn about theater as an ensemble in Garden Street School's programs. Depending on their interest, kids ages 8–13 can register for the Garden Street Children's Musical Theater Company or the Garden Street Acting Initiative. Younger performers (4–7) can take part in the junior musical theater series. ​
Haddonfield Theater Arts Center – Haddonfield
​Haddonfield caters to aspiring professionals as well as kids who just want to have fun. Acting classes start at age 4 with Broadway Babies and then progress from beginner to advanced; musical theater vocal performance classes are also part of the curriculum. Students looking for performance opportunities can participate in the Company Program.
Hoboken Children's Theater – Hoboken
HCT offers year-round musical theater and acting programs for young people ages 4 through adult. Songs and Scenes and Acting classes culminate in a presentation for family and friends, while production classes put on full performances. Fall 2017 productions include Winnie the Pooh, Into the Woods, and The Best Christmas Pageant Ever.
​Luna Stage – West Orange
Kids ages 4–13 of all experience levels can discover the joy of drama and musical theater with classes ranging from Song and Dance to Improv. Fall 2017 classes are held on Saturday and run for nine weeks.
Mayo Performing Arts Center – Morristown
More than 250 children annually participate in this performance-based theatrical training program. Classes are taught in musical theater, acting, and voice, and each 12-week class leads to a grand end-of-season performance. For ages 5 and up.
Musical Theater Conservatory – West Orange
Passing on a love of theater in a supportive, nurturing environment is the mission of West Orange's Musical Theater Conservatory. The 10-week fall session includes classes in acting/scene study, theater dance, and voice.
The New Jersey School of Dramatic Arts – Bloomfield
This school uses interviews and auditions to match its students to acting, musical theater, improvisation, and TV/film training programs courses based on skill level and experience. The multi-level program builds stage knowledge step-by-step, leading to comprehensive stage training. Also, the school fields frequent casting requests from commercial, film and theater companies. For kids in first grade and up.
New Jersey Youth Theatre – Roselle Park
This critically acclaimed company offers professional-caliber training to kids ages 8 and up. Classes include drama, musical theater, acting for the camera, voice, and stage & character makeup.
Next Step Broadway – Jersey City
Start 'em young with First Step Broadway, a drop-off class for kids ages 18 months to 3 years that fosters learning through movement, music, and artistic expression. Other classes include acting, musical theater, and voice, and kids ages 5 and up can audition for a role in the annual musical theater production.
Paper Mill Playhouse – Millburn
The world-famous New Jersey theater has more than great productions up its sleeve—it also has a wonderful selection of acting classes for kids ages 2 to 12 (Broadway Babies, Theater Tots, and Junior Players) and 13 to 17 (Youth Theater). Classes include improvisation, musical theater, introduction to acting, and tap/jazz.
Peachcraft Studios – Summit
Kate Kennedy, owner of Peachcraft, has experience as a casting director in the film and television industry, and her students have gone on to book roles on Broadway and Off-Broadway; in major and independent feature films, episodics, pilots, national commercials, and, of course, school plays! Actors work on-camera and are guided through their process by viewing in order to measure and evaluate their work. For ages 6 and up.
Performers Theatre Workshop – Maplewood
Founded by Juilliard graduates Esther and Howard Kravitz, the Performers Theatre Workshop (PTW) is acclaimed as one of the foremost performing arts schools in New Jersey. PTW offers a relaxed, noncompetitive environment and a sense of family. For ages 3 and up.
Porch Light Studio, Stage & Schools – Glen Rock
Porch Light's program includes technique-based training for beginner through advanced students ages 6 and up. Class offerings include acting, musical theater, playwriting, and technical theater.
Professional Arts Academy – Edgewater
The ProArts Musical Theater program includes training in dance, music theory, voice, acting, and stage direction. For students ages 4–18 from beginner to pre-professional.
Originally published 2014; updated for 2017.
Top photo courtesy the Musical Theater Conservatory.