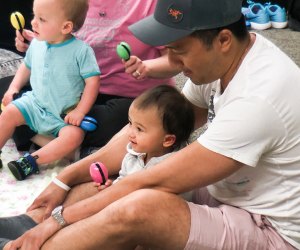 Top Mommy-and-Me Classes for NJ Babies and Toddlers
Parent-and-child classes can be some of the most wonderful bonding activities during those early years (and months)—plus it's a great excuse to get out of the house! These interactive mommy-and-me classes in New Jersey help babies, toddlers, and preschoolers forge new friendships with others, sample a host of playthings, and test out new skills.
The choices seem to multiply every year: in music, gymnastics, dance, languages, swimming, and more. And don't expect these sessions to be filled with just moms—dads, nannies, grandparents, and all types of caregivers can join in the fun. Some classes offer independent play for toddlers, or even options where siblings can attend.
Read on for a sampling of the best baby classes around New Jersey. Find even more options in our NJ Classes Guide and Directory of Listings.