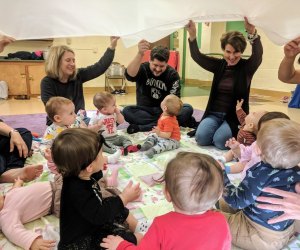 Musical Munchkins of New Jersey
Musical Munchkins has been introducing children to the joys of music for over 30 years. The unique program offers age-appropriate classes for babies, 1 year olds, 2 year olds, and 3-4 year olds. A curriculum has been specifically designed for each age group. A Music and Play Class with caregiver is also offered for children just shy of school age. In the summer, Musical Munchkins offers combined-age classes for siblings and friends.
The Musical Munchkins program encourages individual creativity while also inviting children to participate with their caregiver and peers in group activities. When children leave the program, they are well prepared for the school years ahead. They will have strength in music as well as academics, and they will be comfortable in social environments. As parents and caregivers, you will have many proud moments in Musical Munchkins with memories that will last a lifetime.
Sign up for the Mommy Poppins Newsletter today!