Rock 'N Air Adventure Park Brings High-Flying Trampoline Park Fun to New Brunswick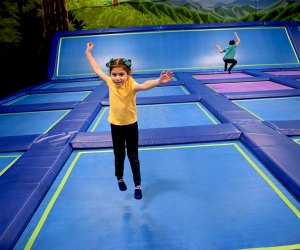 2/7/23
- By
Kaylynn Chiarello Ebner
Subscribe to our newsletters to get stories like this delivered directly to your inbox.
Highlights of Rock 'N Air Adventure Park
Rock 'N Air is an enormous high-tech trampoline park that has it all. We loved it for its variety, the spacious, mountain-themed layout—with fun photo-ops—and, most of all, its uniqueness among other play spaces in New Jersey. There are a ton of things to do for all ages and, as a mom, I truly felt like safety was paramount here, too, whether you're bringing a thrill-seeking teen or an energetic toddler. There are staff members everywhere you look, with dedicated folks stationed at most of the trampoline park's attractions.
RELATED: Indoor Activities for NJ Kids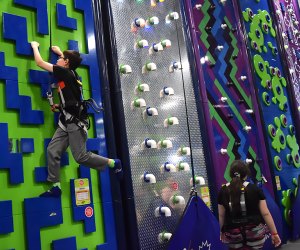 Rock 'N Air has 10 climbing walls to explore.
Best Rock 'N Air Attractions for Toddlers and Preschoolers
I can't say enough about Rock 'N Air's 4,000-square-foot toddler area, dubbed Rock N Tots, which is intended for kids 5 and under. You can buy discounted tickets to just this section, too. This area has its very own play maze and series of trampolines for little bouncers, so you don't have to worry about bigger kids playing rough near your little one. There's a fun sandbox with cute props projected onto it, a target game, an interactive floor, some little ride-ons, and more. Little crawlers have a separate padded play area here, too.
RELATED: Best New Jersey Arcades To Visit with Kids

Kids will love the video-game trampolines.
Fun All-Ages Things To Do at Rock 'N Air
Rock 'N Air has 3,300 square feet of trampoline courts, making up the main attraction at this trampoline park. There's plenty of room to jump, flip, and defy gravity, and with this much space to jump, the trampolines are far from basic.
Challenge a friend on the bouncy dodgeball and basketball courts or hurdle over the padded bar that swings in a 360-circle. My kids got a kick out of the video game trampolines, where jumpers are projected into a video game and must jump to beat a series of stunts to advance to the next level. We could have stayed there all day!
Kids also love Chaos Canyon, a three-story collection of slides, climbers, and obstacles. There are also a dozen foam ball blasters to try. In short, it's 4,500 square feet of play maze heaven; good luck tearing your little one away!
RELATED: Indoor Water Parks Near New Jersey

There are freestanding structures to climb at Rock 'N Air.
Rock Climbing and Bouldering at Rock 'N Air
Kids who love to climb the walls are in heaven at the bank of 10 climbing walls with fun decor. My kids also loved the freestanding structures to climb, including one that resembles stacked balls and another that's pillar-like. But if you're looking for an even bigger challenge, look no further than Pags Peak, a 26-foot wall with 360 degrees of climbing.
If harness-free climbing is your jam, Rock 'N Air has you covered. There's a nice bouldering section. Near the play maze, kids can engage in augmented reality rock climbing at a wall with video games projected on it. Try to beat your highest score as you race to climb the wall to tag the moving targets.
RELATED: Indoor Obstacle Courses in New Jersey

Kids can have fun with VR games at Rock 'N Air.
Virtual Reality Attractions at Rock 'N Air
In addition to the video game-inspired trampoline and climbing experiences, Rock 'N Air offers a separate virtual reality section. For an extra fee, don VR goggles to experience the thrill of race car driving or explore the bank of virtual reality shooting games. My crew loved the virtual snowball fight.

Little ones can have a duel on the balance beam.
Thrill-Seeking Attractions at Rock 'N Air
If you're not scared of heights, don't miss the thrilling zipline that carries harnessed travelers from one side of the building to the other. Then, try the 15-obstacle ropes course. You'll be harnessed, but it's about 10 feet up in the air, so don't look down! Trust me....it's not for the faint of heart.
Wanna-be stunt performers get a kick out of Rock 'N Air's collection of not-to-be-missed stunts and obstacles. Try soaring on the trapeze, jumping into the stunt bag, challenging a friend on the balance beam, and more.
Food at Rock 'N Air
There's really nice seating throughout this venue, and we loved that the snack shop had lots of great options on the menu and tons of tables. Try the enormous sharable pretzel, snack on a flatbread, slurp an Icee, and relax. Next door is a little candy shop with fun sweets at all price ranges. No outdoor food and beverages are allowed, so plan to refuel here or grab a bite when you leave.
Know Before You Go to Rock 'N Air New Brunswick
We recommend booking your timed-entry tickets in advance. Tickets are sold at the door if space is available.
Some attractions, like harnessed climbs, the ropes course, and zip line require the more expensive Adventure Pass, so keep this in mind when you're booking.
Expedite your check-in process by filling out your waiver before arriving.
Rock 'N Air isn't just for kids: Purchase a ticket for yourself if you want to get in on the action; if you don't, no admission is required.
Rock 'N Air has some adorable themed party rooms, and you can also rent out a space on the top floor where you can look out over the venue. Party packages start at $429.
Photos by the author