Free and Cheap Summer Camps in Los Angeles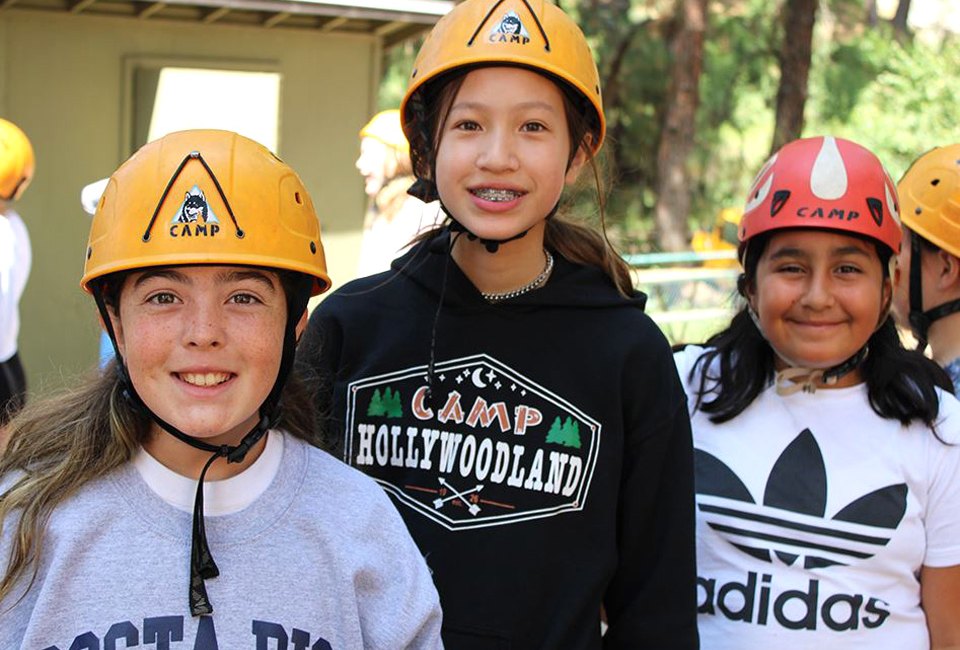 2/19/23
- By
Li Starr
Summer camp can be a great way to keep Los Angeles-area kids busy and even intellectually and creatively stimulated through those long summer months—but rarely is it cheap. Amazingly, we came up with a list of summer camps in Los Angeles that won't destroy your budget. Some are even (gasp) free. Check out these summer camps with your kids, tweens, and teens now, as spots will fill up before you know it.
You may want to browse great STEM camps and musical theater camps too! Find even more options in our Los Angeles Summer Camp Guide, or browse our Camp Directory of listings by interest, age, and area.
Decisions about where and when to hold a few of the free and inexpensive camps this year are being made extremely late, as funding and resources are more scarce than ever. We'll continue to update this post as new information becomes available, but be sure to call a camp's office for the latest information.
Free Summer Camps in Los Angeles
Ages 5-12
Pre-registration required
Free Summer Fun Days take place at most Long Beach public parks and include hours of structured fun. This recreation program is a free non-custodial care drop-in program. To take advantage of this resource, you'll have to call the specific local park for the schedule, but a family could piece together a whole lot of camp (and a nice tour of Long Beach) for free. Kids will engage in arts and crafts, field trips, sports activities, and much more.
Ages vary
Pre-registration may be required
Recreation centers and outdoor parks throughout Los Angeles offer summer day camps through Los Angeles County Parks & Recreation. And while not all of the camps run by a local recreation center will be free, those that charge are still significantly cheaper than commercial camps. In addition to day camps, endless summer programs at LA County Parks are available to fill days with fun activities and allow kids to explore, engage, and connect at little to no cost.
Many LA recreation centers provide free programs for communities year-round. For example, Virginia Park in Santa Monica offers local families free after-school and summer enrichment for kids ages 6-18 (registration required).
9th-12th grade girls
Applications due Friday, March 24, 2023
Girls Who Code offers two summer programs for high school girls—trans, cis, and non-binary students, and both require an online application. 9th-11th graders are eligible for a virtual Summer Immersion Program (SIP), a live two-week program. The Self-Paced Program is another option with flexibility over six-weeks and extends eligibility to 12th graders.
Participants will learn beginner to intermediate computer science concepts such as UX design basics, game design, and much more. Keep in mind that you can register for both programs but will only get to participate in one. No prior computer science experience is required.
6th graders
Applications due Friday, March 15, 2023
6th-grade math-loving students and problem solvers will enjoy this day camp to hone advanced math skills. Students enrolled in a Koreatown, Pico-Union, Westlake, or South LA middle school are eligible to apply. The BEAM Discovery program focuses on math fundamentals, team strategies, applied math, and logic. But it's not all about training the brain here, as campers will also engage in recreational activities such as sports, dance, arts and crafts, karaoke, origami, and field trips. The five-week day camp runs from June 26 to July 28, 2023, and is completely free. It includes all activities, meals, field trips, and transportation.
All ages
No registration required
Parents can drop off the kids on Wednesday afternoons for summer craft activities at the posh Poppy Store in Brentwood Country Mart. Lemonade, snacks, and activity supplies are provided. The best part is that it's completely free! Enjoy a shopping spree or relax with an iced latte while the little ones immerse themselves in a new activity each week.
6. Apple Camp – Various Locations
Ages 8-12
Pre-registration required
If your kid can't let go of their screen for outdoor excitement, why fight it? This camp is a two-hour session at your local Apple store where kids learn how to create a comic book on an iPad. This isn't a drop-off opportunity, however: Apple makes it very clear that all campers must have a parent or legal guardian on-site for the duration of Apple Camp. With free WiFi and often a Starbucks within eyeshot, of course, that's not much of a sacrifice.
Ages vary
Pre-registration may be required
This countrywide organization offers various free summer camps for children whose families are experiencing lower income so they can indulge in a summer filled with entertainment. Enjoying the great outdoors is only the beginning! Campers will meet new friends and engage in popular activities like sports, swimming, arts and crafts, and music creation.
RELATED: Online STEM Camps With Early-Bird Discounts and Special Offers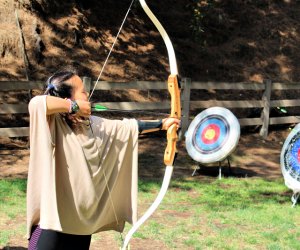 Camp Hollywoodland is a great first summer sleepaway camp for girls. Photo courtesy of Camp Hollywoodland
Inexpensive Summer Camps in Los Angeles
Ages vary
Pre-registration required
We talked about LA County, now let's talk about the City of Los Angeles Parks and Recreation. Day camps are available at 120 parks and recreation centers across LA. It's a fabulous program, and camp runs about $200 a week (or less) for a full day of camp five days a week, complete with lunch and snacks. The camp staff we've come across have been amazing. Indoor and outdoor activities combine with sports, arts and crafts, games, and outings. Older kids can even return as a CIT (counselor in training).
Select parks throughout Los Angeles offer day camp options for a wide age range. Take the Palms Recreation Center, for example, which offers day camp programs for ages 4-13, preschool to 8th grade. It's best to browse the details on the specific page of your local park since program offerings vary, and important dates, like online day camp registration, are indicated. These programs fill up fast, so keep an eye on your local park and recreation center to see when registration begins.
Ages 5-17
Pre-registration required
The Boys and Girls Club is a popular program with many locations across the United States. Your neighborhood likely has a few nearby, so check their website to find one near you. The Boys and Girls Club in East Los Angeles, for example, offers an activity-filled drop-in full-day summer camp for kids ages 5-17. Summer camp prices are on a sliding scale—depending on your family's income, prices can range from $45 to $200 per week.
Kids can enjoy computers, dance instruction, ceramics, STEM classes, and field trips. Campers can bring their meals or enjoy free meals at the club, which include breakfast, lunch, and an afternoon snack. Extended care options are available too. You will also need to release your kids' school records, so keep them handy.
Ages 6-17, girls
Pre-registration required and begins March 1, 2023
It's the best-kept secret in Los Angeles! This girls' residential sleepaway camp, essentially under the Hollywood sign, has swimming, a climbing wall, outdoor living skills, nature awareness, and themed programs that include meals, lodging, snacks, equipment, and supervision.
Camp Hollywoodland is available to girls ages 6-14. An additional Camper Leadership Development (CLD) program is open to girls ages 15-17. While it's a little pricier than the day camp options, the field trips are next level. For example, the "Little Wizards" Harry Potter-inspired week goes to Universal Studios. One price covers everything for camp.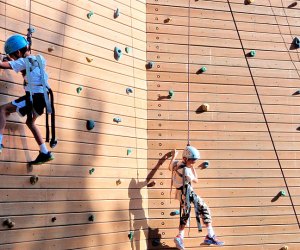 Check with Griffith Park Boys' Camp all year for special weekend camps, too. Photo courtesy of the camp
Ages 7-17, boys
Pre-registration required and begins March 1, 2023
In operation since 1924, this boys' residential sleepaway camp is a 10-acre facility you probably didn't know existed. The grounds have 16 bungalow-style cabins that sleep up to 10, and (to your son's great relief) are air-conditioned and heated. The four-bathroom/shower bungalows have hot and cold running water year-round, and the main lodge/dining hall has a wood-burning fireplace and a full-service kitchen. But your kid will be more excited by the 30 ft. rock climbing wall, a high ropes challenge course, an archery range, and hiking trails.
While boys ages 7-14 can sign up for camp, there's a CLT program for older boys, ages 15-17. Camp runs in weekly themed sessions tied to exciting field trips. For example, "Color Wars" week goes to Disneyland.
12. YMCA – Various Locations
Ages vary
Pre-registration required
While the Y has overnight camps, its day camps can offer almost all of the benefits of traditional camp—new experiences, skill-building, a sense of community, and lasting friendships—while allowing campers to return home each afternoon. There are more than 20 camps in the LA area alone! Local YMCAs offer day camps for elementary school children, but some have offerings for preschoolers and teens, too.
This summer marks the return of off-site bus field trips at no extra cost, with field trips that include the LA Zoo, the Long Beach Aquarium, and more. Not all programs will attend trips, so check with your local Y to confirm. Prices vary, but members usually receive discounts.
Ages vary
Pre-registration required
With day camp locations in Long Beach, Claremont, and Altadena, and overnight programs in Big Bear Lake and the Los Padres National Forest, the Girl Scouts camps offer classic camp activities, including crafts, games, and campfires that provide opportunities for girls to discover, connect, and take action in ways that build their courage, confidence, and character. Depending on location, girls can swim, try their hand at archery, challenge themselves on a ropes course or climbing towers, learn marine science, and more.
Financial aid "Camperships" are available for campers whose family financial circumstances might otherwise prevent them from attending camp. Specialty Summer Camps are also available, with STEAM-based day camps at several locations around Los Angeles, including Catalina Island.
K-6th grade
Pre-registration required
The next generation of engineers, inventors, and scientists will love this camp. This year little innovators and entrepreneurs will launch their own mini pop-up business, build a skate park, become event planners, and transform a robot into an animatronic stuffie! How cool is that? The camp lasts five days, and although it's intended for kindergarten-aged kids through 6th graders, a leader-in-training program for 7th-9th graders may also be available, but space is limited.
15. Vacation Bible School – Various Locations
Ages vary
Pre-registration may be required
If your family is comfortable with a little religious curriculum in your summer camp experience, VBS is a very affordable solution. Many local churches across the county offer Vacation Bible School programs, which vary in religious content and price. Camp is available for preschoolers up to high school-aged children. Any given church may only do a week or two of VBS, but that week may cost as little as $20. A typical day at VBS includes working on arts and crafts, listening to bible stories, sports, and character-building activities, among others. Check with your local church to see if they offer a summer camp.
Other Free Summer Programs
Ages vary
Pre-registration may be required
While not a day camp, the Be S.A.F.E. program occurs in several parks throughout Long Beach. Free on-site supervision in the participating parks is available on summer weekday evenings from 5pm-8pm for ten weeks. Activities include arts and crafts, games, science, computer labs, sports, and more. There are even outdoor movie showings as part of the program, and parents are welcome to join in on the summer outdoor fun.
Ages 5-17
Pre-registration may be required
LA Kids offers free programs and activities that focus on arts and culture. Over 200 free classes are offered each week throughout Los Angeles. Skilled instructors run the classes, which range from performing arts, textiles, music, visual arts, and more.
Originally published February 2019, updated annually.
Sign up for the Mommy Poppins Newsletter today!
i