Recreation Park, Long Beach's Newest Playground, is Jurassic and Fantastic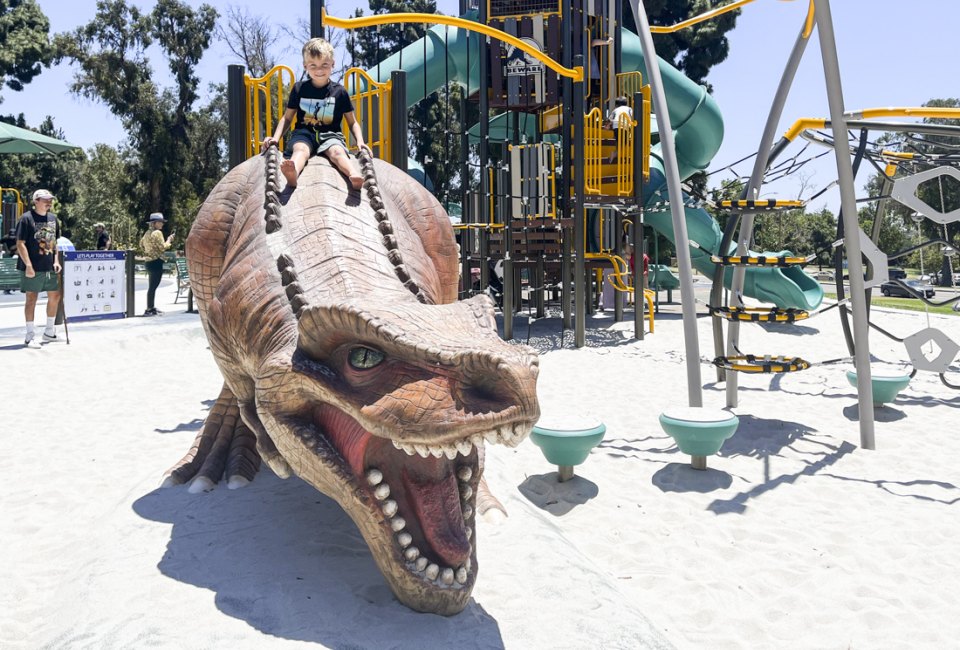 7/17/22
- By
Kylie Williams
"Mom! That must be why they built this dinosaur park! Because they found these bones here!" My six-year-old cried as he unearthed the bones of a T-Rex at the Dino Excavation Zone at Recreation Park in East Long Beach.
His eyes grew wide with wonder as he dug out a massive skull sunk into the ground. In his mind, he had just made a historical discovery, and who was I to burst his bubble? The Dino Excavation Zone worked its magic and my kids felt like true paleontologists at Long Beach's newest playground.
Recreation Park in East Long Beach got a major upgrade with a Jurassic-themed playground perfect for kids of all ages. The new space just opened in June and is the perfect reason to take a trip to Long Beach! Looking for more awesome playgrounds for kids in Los Angeles or even the best splash pads in town? We've got all that and more in our Summer Activities Guide for Los Angeles Kids.

Climb on the back of a baby dinosaur!
T-Rex, Massive Slides, and More
When we arrived at Recreation Park, located at 4900 E. Seventh Street, my little paleontologists stood in awe of the giant, roaring T-rex. Soon they discovered the giant, swirly tube slides at the top of the play structure. Both agreed that these massive slides were their favorite part of the park. They must have gone up and down 50 times.
Other highlights of the new playground include a unique pulley swing set, a smaller play structure for 2 5-year-olds, a teeter-totter that had my 18-month-old belly laughing, several sets of traditional swings, an ASL sign board with various signs to encourage communication for children with disabilities or language barriers, and a web of unique climbing structures set in the sand.
RELATED: The Best Playgrounds in Los Angeles That Are Worth Crossing the 405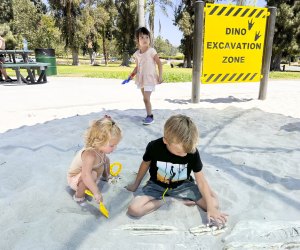 Find dino bones, like a real paleontologist!
Tips To Know Before You Go
This park is half spongy turf and half sand. My boys came home with sandy toes and hair and were sent straight to the bathtub. I made the mistake of letting them wear Natives and next time I will make sure our crew wears sneakers. Everyone was begging to take off their shoes due to sand shrapnel, but the turf was too hot for bare feet.
There is little to no shade, depending on what time of day you go. Make sure to bring sunscreen and hats.
My Apple Maps guided me to the opposite end of the park, so we ended up leaving our car in a spot next to Woodrow Wilson High School. If you are heading west on 7th Street, take a quick right at Federation Drive to park much closer than we did. The parking lot borders the playground and a small skate park.
RELATED: Top Playgrounds with Shade in Los Angeles
The pulley swings are a huge hit with little ones.
Recreation Park has one public bathroom, but I would make every effort to avoid it. The women's room was not clean, and there was no soap dispenser. It's also a bit of a walk from the playground.
Tall trees between the parking lot and playground provide sporadic shade. A lot of moms set up blankets in this area and supervised from there. There are only a few stone tables (without any shade) dispersed throughout the park. I suggest bringing a blanket or camping chair and making a small area on the grass a base for your family.
RELATED: Adventure Playground in Orange County is Perfect for Free Range Kids
It's not just for dinosaur lovers; there are plenty of climbing and swinging and sliding options for all kids.
The playground is not enclosed. It is set on a hill, but borders 7th Street on one side. There's a significant stretch of grass before the busy road, but it is something to be aware of when keeping an eye on your kiddos, especially if you've got little runners or are keeping an eye on multiple kids.
All in all, we had a ROARtastic time, and armed with these few tips, you will, too. Happy adventuring!
All photos are courtesy of the author.
Places featured in this article:
Sign up for the Mommy Poppins Newsletter today!
i