Best Children's Libraries in LA: 10 Special Libraries in LA & OC Worth a Drive Beyond Your Branch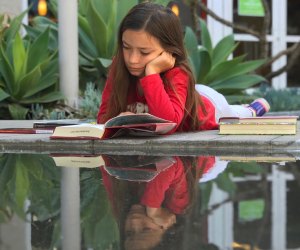 5/7/18
- By
Audrey M
Local libraries are a key part of the parenting experience, and most of us are aware of the goings-on at our nearest branch—from toddler storytimes, to homework help, to family movie nights. Some savvy parents are even on top of the many extra perks that come with a library card. But what about venturing beyond the local branch? With so many libraries in the greater Los Angeles area, some are really exceptional and merit a visit even if they're not your local. The 10 SoCal libraries below all boast something extra that makes them worth a drive, from giant dinosaurs to water features to a crawl through the Berlin Wall.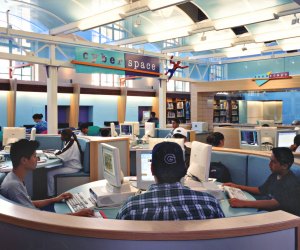 The teen cyber room at the Los Angeles Public Library
Best Libraries in Los Angeles County
630 W. 5th Street
Los Angeles, CA 90071
Los Angeles City Library System
The Goodhue Building is the original 1926 library building and a famous Los Angeles landmark, both outside and in. The Tom Bradley Wing is a 1990s addition, and the complex is now called the Richard Riordan Central Library. This is a large complex, with lots to see and do. There is public art in the form of murals, mosaics, and sculpture, and be sure to visit the Maguire Gardens outside on the Flower Street side if your little one needs some time to run. The Children's Literature Department is on the second floor of the Goodhue Building, as is the Young Adult (YA) department, TeenScape. There are docent-led walk-in Art and Architecture tours daily, or you can do a self-guided tour. Don't want to drive downtown? Take the Metro to 7th St/Metro station, and walk two blocks up Flower Street to the Maguire Gardens entrance just before 5th Street.
444 N Rexford Dr
Beverly Hills CA 90210
Independent System
The lovely (and updated) Children's Library has its own very clean space, with murals and blocks, toys, and a toy kitchen to play with, plus a theater for programs. The Teen Zone is fully separated from the children's section, so big kids don't have to worry about little ones underfoot. The outdoor spaces are lushly landscaped, and there is a Coffee and Fudge shop right next to the Friends Book Store, so you may not want to head home too quickly. Parking is free for two hours.
601 Santa Monica Blvd
Santa Monica CA 90401
Independent System
The most exciting thing about the Santa Monica Main Library is the courtyard in the center, with a faux creek running through for paddling and a cafe for ice cream and smoothies. The glassed-off children's and YA section on the first floor has frequent family programs, as does the Martin Luther King Jr. Auditorium. Student study rooms are available for students under the age of 18. Outside the main entrance there are often rolling carts with free books (children's books may be included), and there is a Friends of the Library bookstore. Secure underground parking is free for the first 30 minutes. Tired of being inside? Take a quick walk west down Santa Monica Boulevard to the 3rd Street Promenade.
4975 Overland Ave
Culver City CA 90230
Los Angeles County Library System
The recently renovated Julian Dixon Library children's area includes a Family Place for families with young children, offering toys in addition to the usual books, videos, and music. Baby and Toddler Storytime Kits are available, plus there are weekly interactive Kids Club events and movie screenings. Don't miss the beautiful Kaizuka Meditation Garden outside, celebrating Culver City's relationship with sister city Kaizuka, Japan. The homework center, sponsored by Sony, is great for tweens and teens. Parking in the lot can be tricky if there is a big event scheduled, but street parking is also available.
285 East Walnut St
Pasadena CA 91101
Independent System
Pasadena's library has expanded several times to keep pace with the community's needs—still, you and your kids might recognize it from several movies, including Matilda and Legally Blonde. There is now an entire Children's Wing on the second (main) floor, with a story room, computers with educational games, a Peek-A-Book station, and kids' restrooms. Pre-registration is required for some story times, so plan ahead. A coffee bar on the east patio has breakfast and lunch items as well as coffee, so it's possible to make a day of it. There is a 3-hour time limit in the parking lot, so keep that in mind if you're staying late.
RELATED: Got Library Fines? New Programs Let Kids Read Them Away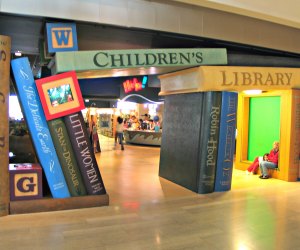 Entrance to the Children's section at the Cerritos Library. Photo by Chris Jepsen/CC BY 2.0
Best Orange County Libraries
18025 Bloomfield Ave
Cerritos CA 90703
Independent System
The Cerritos Library was renovated 15 years ago, and it is still an amazing space. There is a 15,000 gallon saltwater aquarium—that's 10 feet by 21 feet by 6 feet wide, so prepare to be impressed. There is also Stan, a replica of a complete Tyrannosaurus Rex statue. A "rainforest" featuring rain and animal sounds (you'll have to listen carefully—this is a library after all) is on display, as is the "Spirit of Cerritos" space shuttle, a space mural, a lighthouse, and the children's library ceiling lit with constellations. You can also do the Art Walk, which takes you past the 11 artworks in the library (audio tours are at the registration desk, but you will need your own earbuds or headphones). There is a permanent display of portraits of all of the US's first ladies, too. The local history room has exhibits and a mural on the history of Cerritos, as well as books and other documentation. Need a break? If it's hot, bring towels for the splash pad outside.
7111 Talbert Ave
Huntington Beach CA 92648
Independent System
The Children's Library has play spaces including a school bus and a ship, plus there is a saltwater aquarium at the entrance to the children's section—and that's before you encounter all the great books inside. Kids will also enjoy the indoor fountains, which are right outside the children's area. Relax at the gift shop and cafe in the library, but don't be afraid to explore outside, either. This library is located at Huntington Central Park, which means the it has great views, and a walk outside is worth the visit alone. Shipley Nature Center is directly across Goldenwest Street from the library and Central Park—you can easily make a full day of your trip to Huntington Beach.
1000 Avocado Ave
Newport Beach CA 92660
Independent System
This library is popular with students who want to get some studying done, as there are many desks and cubbies, but daydreaming while staring at the amazing views of the ocean isn't a bad idea, either. The children's room is downstairs and has access to an outdoor seating area and kid-friendly maze. Inside, there is a large play space with toys and games and a nice view, and comfortable seating for accompanying adults. There is also a special performance area and storytime room. The children's collections are adjacent to the play and performance spaces, with plenty of tables and chairs. There is also an adjacent park and wetland featuring sculptures—kids will love it.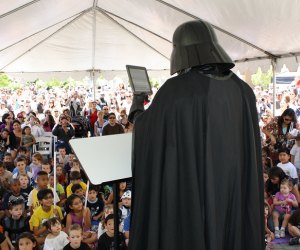 Darth Vader does storytime at the Rancho Cucamonga Public Library.
Special Mention in San Bernardino County
12505 Cultural Center Dr
Rancho Cucamonga CA 91739
Independent System
Rancho Cucamonga might seem like a long way to drive to go to the library, but maybe not if you're a Star Wars fan; the Star Wars Reads day hosted by this branch each May is the largest event of its kind in the state and frequently includes celebrity appearances. In addition to the children's collection, fun programming, storytime theater, and Friends bookstore, the branch has a Local History Room. Books, documents, photos, and artifacts are on display, telling the story of Rancho Cucamonga. The room also has an I-Cell, an interactive digital touchscreen display that explores Rancho Cucamonga history through video, photos, and writings. This branch library is in the Victoria Gardens Cultural Center, which is adjacent to Victoria Gardens, an open-air shopping center that includes a Hello Kitty Cafe and, Friday through Sunday, has a free trolley.
Walk through a chunk of the Berlin Wall at the Reagan Library. Photo courtesy of The Ronald Reagan Presidential Foundation
10. Presidential Libraries
Los Angeles is the only metro area in the country that can boast two presidential libraries. Granted, presidential libraries are not public lending libraries, but they're still pretty darn cool. Visitors pay admission fees, and no books can be checked out, but kids can have a great time exploring and learning at these wonderful resources.
Ronald Reagan Presidential Foundation and Institute
40 Presidential Drive
Simi Valley CA 93065
For most kids (and adults), the highlight of the Ronald Reagan Library is Air Force One. Step aboard this retro Air Force One that served seven Presidents, from Nixon to George W Bush. An exhibition on Presidential motorcades includes a presidential limo and a secret service Suburban. But that is not all there is—there is a full-size replica of the Oval Office, a section of the Berlin Wall (outdoors), artifacts and interactive displays, a Secret Service exhibit, and the grounds themselves. There is also a gallery for a traveling exhibit, currently featuring Genghis Khan: The Exhibition.
Richard Nixon Presidential Library and Museum
18001 Yorba Linda Blvd
Yorba Linda CA 92886
The Nixon Museum features Army One—the helicopter used by the four Presidents from Kennedy to Ford. This is the helicopter that Nixon famously left the White House in after resigning—and yes, you can step aboard. Permanent indoor exhibits include a replica of his Oval Office and a room dedicated to the moon landings (all of which were on Nixon's watch). The newly updated museum includes multi-media exhibits, films, original artifacts, photographs, and murals. Nixon's birthplace is also on site and can be visited with a docent.
Photos courtesy of the libraries unless otherwise noted