What's Great About the New Bob Baker Marionette Theater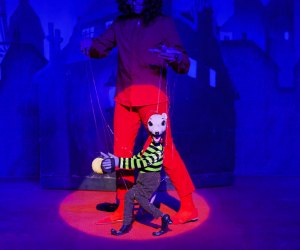 It was a sad day for Angelenos when the Bob Baker Marionette Theater recently closed its doors after 55 years in its Downtown LA location. But the show must go on, and the puppet troupe has now found a new home in Highland Park that is even better than the original. The theater is planning an official grand opening in November, but this summer you can catch a show during Bob Baker's 'preview season.' Here is why now is a great time to experience this local treasure—and what's new and different at the new venue.
Location, location, location
Don't get me wrong, Bob Baker's DTLA home did have its charm but the Highland Park theater is just...nicer. For one thing, it is located on York Boulevard, a bustling area full of families, hipsters, and hipster families. The theater is directly across the street from York Park, a gem of a gated neighborhood playground with a fun snake slide, places to climb, and a musical instrument corner. Parents could easily spend most of the day in the area, hitting the playground before catching an afternoon puppet show. Hungry? Get your coffee and breakfast treats at Cafe de Leche, a local coffee roaster and restaurant across from the theater. In the afternoon, a taco food truck is usually stationed in front of York Park.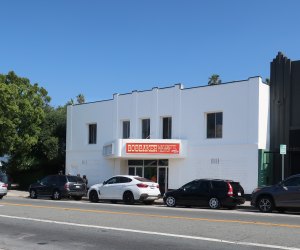 There is street parking directly in front of the theater.
More Seating
While the theater is still making changes to its seating arrangement ahead of the November grand opening, it is clear there is simply more of it than at the previous location. The Highland Park theater feels more spacious in every way, from its lobby to the showroom, to the bathrooms (yes, more than one stall!) Kids are still encouraged to sit on the red carpet in front to get as close to the puppet action as possible. The marionettes are known to reach out and hug or pat little audience members (puppeteers graciously ask children to stay seated during the show).
Better Parking
When visiting the DTLA location, parents would most often have to park in the lot adjacent to the theater. It cost $5, change had to be exact, and the process involved writing down your license plate number and putting it in the lot's pay box. Like many other parent-patrons, I never seemed to have exactly $5 or a pen. At the new location, all you have to worry about is finding street parking, which is either free or metered. It is still a great idea to go early (you may have to walk a block or two), but this parking system so much easier. Something to note: theater doors open 30 minutes before the show. There is no late entry.

Ice cream after the show is free!
The Good Stuff Remains the Same
The puppets are still quirky; the puppeteers are still pros, and the shows still feature many retro elements such as old songs and original marionettes. Now playing is the Bob Baker Sketchbook Revue, a kind of puppet variety show from 1963. Kids of all ages will be delighted to know that the audience is still invited to have free ice cream post-show, as well as lemonade and coffee. Right now, this all happens out in the lobby, though I am told by Bob Baker associates that the company is working on building out a party space (birthday party packages will be available soon). Interested in going backstage? You can get a tour after the show—just ask.
Bob Baker Marionette shows at the new theater are currently happening Fridays at 10:30am and Saturdays and Sundays at 2:30pm. Shows run about an hour. Tickets cost $15 per person, but kids 2 and under get in free. If you can't make it out to the York Boulevard theater this summer but still want to see the puppets, there are a few other options. Families can catch a 30-minute version of classic Bob Baker Marionette shows once a month at the Miracle Mile Toy Hall. Also, Occidental College hosts free puppet shows and workshops on Tuesdays throughout the summer. Reservations are not required, but attendees are encouraged to arrive early. Keep your eyes open for Bob Baker appearances at various mall Kids Clubs, too, like Kids Club at The Grove.
One thing that doesn't change about Bob Baker's Marionettes no matter where they play: kids are always dazzled by "the greatest puppet show on Earth!"
Photos by Jackie Jones, unless otherwise noted