SPONSORED
A Holiday Hoedown: Gilchrist Farm Brings Christmas Fun and Santa Breakfast to Santa Clarita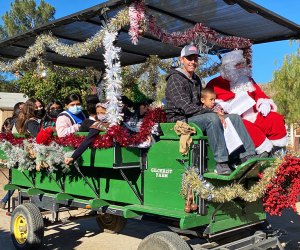 Gilchrist Farm is well-known for its picturesque pumpkin patch and fun-filled Halloween celebration, but many families don't know that the excitement continues well into the Christmas season! Over the first three weekends of December, an action-packed Holiday Hoedown is in full swing at the Santa Clarita destination with free general admission and free parking, no less.
On Saturdays and Sundays beginning December 3rd, families can meet Santa (he's photo-ready from 10am to 3pm), watch a pony-filled holiday parade featuring a real fire truck, antique tractors and delivering Santa to the event (the hullabaloo starts at 10am), cheer on the Jingle Pigs during regular hog races (catch 'em at noon and 3pm), and so much more. You can even reserve a seat at a private pancake breakfast with Father Christmas himself for an additional fee.
Whether you're hanging with the Big Guy or exploring the farm festivities, Gilchrist has all the nostalgia you're probably craving at this time of year, plus it makes for some darling photos for the memory book, too. Here's the scoop on what to know before you go.

Holiday Attractions and Events at Gilchrist Farm
During Gilchrist's Holiday Hoedown, free general admission covers loads of seasonal activities, including wool-spinning lessons, a Santa letter writing station, goat milking demos, live music, an artisan marketplace filled with unique gifts, and all of the fun mentioned above. As always, the charming farm also remains packed with lovable animals and classic climbable tractors that young vehicle-enthusiasts like my own will love to play around on.
If you're ready to open your wallet, there are a bunch of very worthwhile paid attractions too, including the Reindeer Pony Carousel for ages 1 and up (talk about a heart-melting photo op) and hand-led horseback rides for 4 and up. Archery and axe-throwing are available for older kiddos and adults, with all equipment provided. There's a Caroling Wagon Ride that tours the premises, and a Festive Farm Train that's perfect for the toddler crowd. Kids can try their hand at the Chanukah-inspired Coin Maze Hunt, or slide down the Giant Jingle Slide. Crafty kiddos are welcome in Santa's Workshop, where they can take part in projects like horseshoe decorating, sand art, leather stamping, candle making, and wood crafting.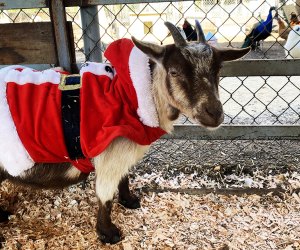 If you ask me, the Festive Farm Animal Visit is the can't-miss event, where you can catch bunnies, chickens, ducks, pigs, and other animals decked out in their holiday best. I mean, have you ever seen a goat in a Santa hat? Talk to my 6-year-old, and he'll tell you the Gilchrist Farm Mining Company is the best attraction. Purchase a bag and your kid will get to sift through it for gems, arrowheads, and fossils. We always head home with a handful of new treasures to add to our collection.

Santa Breakfast at Gilchrist Farm
For even more Christmas magic, Gilchrist Farm offers one of the most affordable Santa breakfasts in LA County--and it comes stuffed like a stocking with special treats. At only $20 per child and $25 per adult, this is truly a steal of a meal with the Big Man (I would know, I wrote our 2022 Santa Breakfast article!). In addition to the delicious pancake gathering–where Mr. Claus mingles with the kids and the coffee keeps flowing for the parents–diners receive early access to all the holiday activities at the farm, reserved seating for the parade, private entry to the festive petting zoo, and an opportunity to write a special letter to Santa. Pancake breakfasts have very limited seating, so make your reservations early.

Planning Your Visit and Gilchrist Farm Tickets
If you're headed to Gilchrist, make sure to dress for a fun day in the dirt and hay. This isn't the best place to wear those brand new, trendy, white boots that you (ahem, I) just bought. But, it is the perfect place to snap some timeless photos in Christmas flannels and denim. There are picnic tables set up in case you want to bring a snack or picnic lunch. Most of the property is stroller-friendly, though you may track a little dust into your car on the way home.
Keep in mind that a visit to Gilchrist can last a couple hours or all day, depending on what's on your to-do list. Again, general admission is free (and so is parking!), but if you're planning to make a day of your visit, I suggest the VIP wristband for $50. It covers one child and up to two adults, and lets you enjoy a handful of paid attractions, plus three special activities of your choice. Without a wristband, you can simply purchase tickets for paid attractions as you go, but with each one costing around $5-$10, the wristband pays for itself pretty quickly.
See a full list of Gilchrist Farm Holiday Hoedown atttractions here, and start planning your visit by booking tickets for special events!
All photos provided by Gilchrist Farm