The Playground at Cross Creek: Malibu Gets a Touch of Shane's Inspiration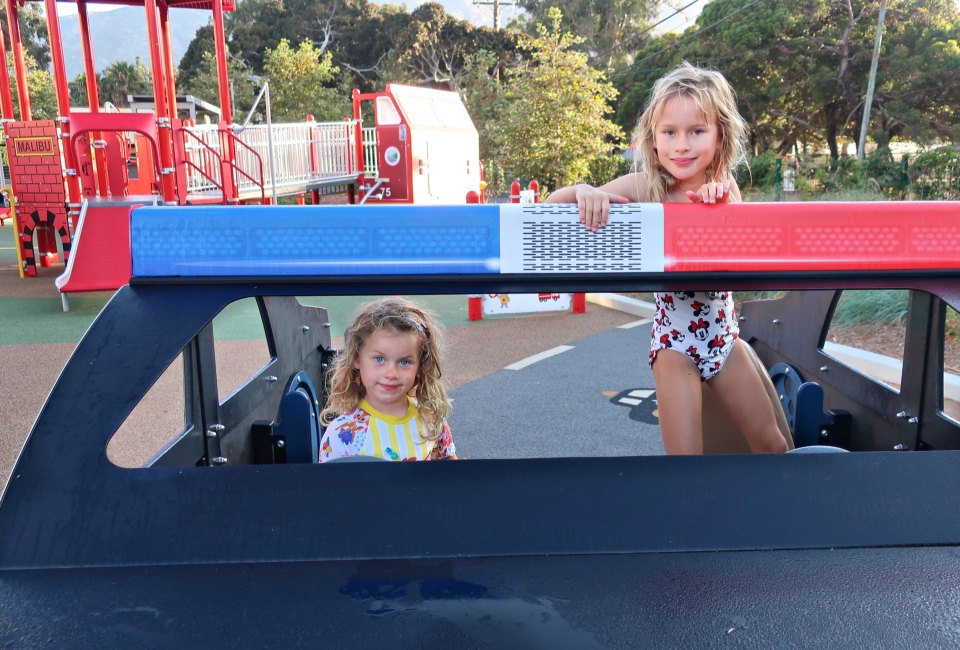 1/9/20
- By
Jackie Jones
As if you needed another reason to love Malibu, the swanky beachside community just got a new inclusive playground that is utterly awesome. A focal point for the Park at Cross Creek strip mall, across from Malibu Country Mart, this play space is super clean and has all of the amenities a parent on-the-go could want. Kids love its first responders' theme, which includes a main structure that looks like a fire truck. The park was designed by Shane's Inspiration, the company behind LA's original all-access playground in Griffith Park. Here's why this new hot spot for tots can't be missed.

First Responder and Universal Access Equipment
"Let's play rescue!" my 4 year-old shouted when we first arrived at the park. It's the perfect place to do so. Along with the large fire truck, the play space features a police car and a classic Malibu lifeguard stand. If you have Paw Patrol fans in your house, they are sure to go crazy for this park. There are plenty of places to climb, a spinner, a fire pole, and a bumpy slide, as well as lots of sensory elements like color wheels, mazes, and musical chimes. There are first responder themed touches throughout, from images of fire dogs to play periscopes. Like the original Shane's Inspiration playground in LA, this park is universally accessible and designed for kids of all ages and abilities, from toddlers to tweens.
Heart of Malibu Location
The playground is located within the Park at Cross Creek, a scenic, outdoor mall that recently opened just off Civic Center Way in Malibu, across from the already popular Malibu Country Mart. The play space is right next door to a brand new Whole Foods, so it is very easy to pick up a bite to eat either before or after playing. Need a pick-me-up? Walk over to Blue Bottle, a gourmet coffee shop that also sells breakfast treats. Other restaurants and stores have plans to open at the Park at Cross Creek soon, including a D'Amore's pizza place. The mall is within walking distance of the Malibu Library and a very short drive from the world-famous waves of Malibu's beaches.
The Park at Cross Creek
I don't usually use the word sleek to describe a strip mall, but the Park at Cross Creek deserves it. It is impeccably clean (seriously, I dare you to find any loose garbage floating around). Modern amenities abound here. There are several filtered water stations throughout the mall and plenty of places to sit, including brightly colored rocking chairs that line the periphery of the playground. The public bathrooms are spotless, and there are touches of nature everywhere, such as a community garden and a wall of succulent plants just crying out to be the background of your next family selfie. Parking is plentiful, and the playground is nicely hidden from the view of the parking lot, so it feels especially secure.
Could this be the future of all shopping centers? I sure hope so! Having a playground on a shopping campus gives parents a great bargaining chip when they need their kids to come along for the ride.
Photos by Jackie Jones
Places featured in this article:
---
The Park at Cross Creek
---
Malibu Library
Sign up for the Mommy Poppins Newsletter today!
i