Chicago Restaurants Where Kids Can Play
2/14/20
- By
Bonnie Broeren
Whether you're looking for a special occasion spot or just don't feel like cooking, going out to a restaurant where someone else prepares your food and cleans up afterwards sounds heavenly to hard-working parents. The idea of taking your kids to a restaurant, however, can be stressful. We have the perfect compromise: a place where your kids can play while you (and hopefully they) eat! Yes, these places really exist. In fact, we found 15 of them in Chicago and the nearby suburbs. Whether you have a tot, a tween, or a teen, there's something for everyone.

Go on a covert operation at SafeHouse.
Kid-Friendly Restaurants in Downtown Chicago
SafeHouse - Mag Mile
Kids can pretend to be spies as they explore secret passageways at SafeHouse. Special themed dinner packages are available for purchase and include a kid's meal, activity page, bottomless sides, and beverage of choice in a souvenir cup. Caregivers can enjoy a "spytini" or other adult beverage of choice.
American Girl Cafe - Mag Mile
Kids can enjoy lunch or brunch with their favorite doll and their favorite grown-up at the American Girl Cafe. Be sure to check out the calendar for special events and holiday themed teas and brunches.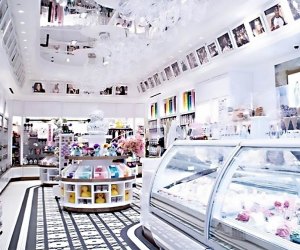 Marvel at the beautiful concoctions and candy at The Sugar Factory.
Sugar Factory - Mag Mile
Tweens, teens, and even celebrities love Sugar Factory, where you and your kids can browse every candy known to man, or enjoy an over-the-top sugary beverage or dessert, as well as some American classics. Littler kids are probably not quite ready for the amount of sugar available here, so this is really a treat for your oldest kiddo.
Pinstripes - Streeterville, Northbrook, Oak Brook
Pinstripes has a kids' club for bowlers ages 12 and under every weekday from 11 a.m.-1 p.m., including $3 shoe rentals, $3 hourly bowling, and a kids' menu. Parents or caregivers bowl for FREE and can enjoy items from the regular menu, as well as adult beverages.
Rainforest Cafe - River North
Undeniably kid-friendly, with recurring storm shows and an animatronic safari, Rain Forest Cafe is consistently a favorite of kids. While admittedly a bit pricey, parents love that they can let their kids be loud and active and not worry about a thing in this downtown standby.
Eataly - Mag Mile
Kids will love the pizza and gelato, while parents can enjoy homemade pasta and a glass of wine in Eataly's casual atmosphere. Look out for dedicated kids' events, such Kids' Kitchen for aspiring young chefs, and story times hosted by Broadway and Me.
Restaurants in Chicago Neighborhoods
Kings Dining and Entertainment - Lincoln Park
Kings has bowling, billiards, foosball, air hockey, and shuffleboard to meet all your family fun needs, as well as an expansive menu and full bar. Pro tip: come during the day or early in the evening, because it does turn into more of an adults-only place at night.
Antique Taco - Bridgeport
Antique Taco's Bridgeport location has a large patio with games and sidewalk chalk to occupy restless little diners, while parents can enjoy delicious tacos and margaritas. This location also hosts food truck nights and other themed evenings during the summer.
Punch Bowl Social - West Loop
While more of an adults-only place in the late evening, Punch Bowl Social has everything to keep you and your kids entertained during the day, including shuffleboard, ping-pong, bacci, bowling, and more. There is also a kids' menu in addition to an extensive regular menu and full bar for those who are of age.
Tuco and Blondie - Southport
Tuco and Blondie hosts kids' movie night every Monday, where kids can enjoy a movie and kid-friendly items from the buffet, as well as popcorn and dessert. Parents can enjoy delicious Mexican food and margaritas. Look out for special kid-friendly events as well, such as cookie and cupcake decorating parties, and Easter and Christmas brunch.
Lucky Strike Social - Lakeview
Kids get a special deal on bowling, billiards, ping-pong, and games, as well as a dedicated kids' menu. Grown-ups can play along, or watch from the sidelines while munching on pizza or burgers and sipping on a handcrafted cocktail.
Restaurants in Chicago Suburbs
All Aboard Diner - Downers Grove
Parents and kids alike love All Aboard Diner, where the food is delicious, reasonably priced, and arrives via miniature train. Kids can check out the interactive model train table, rides, or games while they wait.
Pilot Pete's - Schaumburg
Located above the Schaumburg airport, Pilot Pete's is the perfect place for aviation enthusiasts young and old. Kids can check out airplane memorabilia while they wait for their food, including old airline seats and model planes, as well as a view of planes taking off from the regional airport.
2Toots Train Whistle Grill - Naperville
Parents rave about the milkshakes and malts at 2Toots, while kids love the miniature train tracks that run throughout the restaurant delivering food. There's not a bad seat in the house at 2Toots, where the train tracks run past each table.
Gameworks - Schaumburg
Let your kids go crazy in the arcade or join them for a game of bowling while you enjoy an over-the-top milkshake from the bar. There is a dedicated kids' menu, as well as appetizers, pizza, salads, and sandwiches for grown-ups. If you still have energy after all that, there's always laser tag.
Photos courtesy of the restaurants/shops