Best Tot Lots and Toddler Playgrounds in Chicago
4/22/22
- By
Lauren LaRoche
There are many amazing parks and toddler playgrounds in Chicago for kids. If you have a little one, however, a visit to a park with 15-foot slides and climbing walls can be stressful. Watching your toddler try to follow a 10-year old up a rock wall is anything but a walk in the park for parents and caregivers. This is why we've rounded up our favorite tot lots and toddler playgrounds in Chicago that are made just for little fun-seekers.
For more playground fun, check out our list for the top destination playgrounds in Chicago that are worth the trip.
Adams Park is an adorable neighborhood park that's perfect for tiny toddlers. The play structures are well suited for children under six. There are no scary drops or large climbing structures which is great, stress-free, fun for parents and caregivers as well. In the summer months, your littles can also cool off in the splash pad or the giant sandbox area.
Bixler Park in Hyde Park has a great section for smaller kids to enjoy. This Chicago park sits on an acre, making it great for kids to run around and burn off some energy. There's a great play train and a splash pad for kids to help littles beat the heat.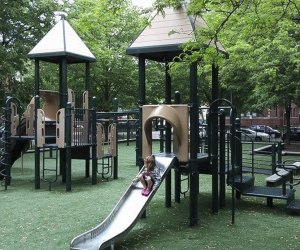 Cochran Park is great for smaller kids. Photo courtesy of the Cochran Playlot Advisory Council, Facebook
Cochran Park in Edgewater is the perfect size for kids under six. With slides, climbing walls, and bridges that are just their size, your littles can enjoy safe and fun play. This adorable neighborhood park is also known to host regular storytimes for little book lovers.
Eckhart (Bernard) Park in West Town is a massive compound with tons to do for the whole family. Between the indoor pool, sports fields, and playground, this park is always filled with neighborhood locals and summer camps. The playground and splash pad are perfect for little ones looking for a separate smaller play area.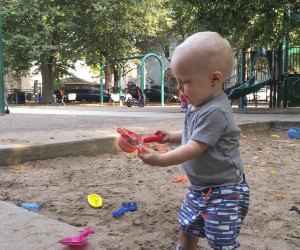 Juniper Playlot has sand and water features that make it a popular toddler park. Photo courtesy of the Juniper Park Advisory Council
Juniper Playlot Park has some great slides, climbing structures, and a giant spinning wheel for tots. There is also a great sandbox and water features. This neighborhood gem has different zones that are great for toddlers and big brothers or sisters.
Lazarus Playlot Park – Rogers Park
Lazarus Playlot Park in Rogers Park packs a lot into a little space. While the park may be small in size, there's a great section for the little ones. Pretend you're sailing a ship or looking through a telescope into outer space.
Lucy Flower Park is located in Logan Square. This adorable neighborhood park is well taken care of and looked after by the residents. While there is one taller structure for older kids, the rest of the park is made for toddlers. There's even a section where kids can play restaurant or house. During the summer, little ones are always splashing in the giant, spraying flower or under the massive, covered sandbox.

The Play Garden at Maggie Daley Park, photo courtesy of the park
While Maggie Daley Park may seem overwhelming, don't get discouraged by the size. The great thing about Maggie Daley Park is that it's divided up into sections according to age. You'll find clearly marked signs designating which areas are for small park-goers.

Maplewood Park in Bucktown is perfect for little kids. Photo courtesy of the author
Maplewood Park in Bucktown is made entirely for little ones. The park is designed for kids under six. You'll find two great play structures, bridges, slides, steppingstones, and plenty of swings. This newly renovated park also has a ton of space for kids to run around. There's also a field house for park district events that you can rent out for pre-school or daycare parties.
Park No. 535 in Lincoln Park is designed for kids under five. This little lot features baby swings, pint-sized slides, and climbing structures that are great for babies and tots. This playground even features softer play areas, a mini playhouse, and a soft surface bridge made for pre-schoolers.
Click Here to Sign Up!
i