Old Town with Kids: What to Do Just North of Downtown Chicago with Kids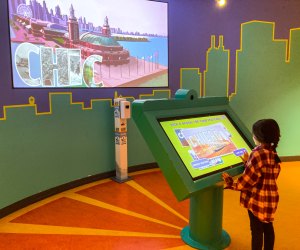 3/3/23
- By
Maureen Wilkey
Every generation seems to pick a new neighborhood that will be trendy in Chicago, but for many decades, Old Town has been an interesting mix of old school Chicago and fun, new places. Bordered by Division Street on the south, Armitage on the north, Lake Michigan to the East, and Clybourn Avenue and Halsted to the West, Old Town was originally know as The Cabbage Patch during its early development by German settlers in the 1800s. Today, its proximity to both downtown and interesting north side neighborhoods like Lincoln Park and Wicker Park make it a favorite for city dwellers and tourists alike. And, there's plenty of things to do with kids within this single square mile of the city.
Old Town has a history of great art and architecture, which is being built on today with the growing popularity of Lighthouse Art Space. It's also home to classic Chicago locales like the Chicago History Museum and The Second City, the birthplace of sketch comedy. To find out more about what's going on in Old Town, check out our handy Chicago family calendar.
If you're visiting Chicago and feel like exploring other great neighborhoods, check out our 3 Days in Chicago itinerary.
How to Get to Old Town and Where to Stay
Old Town is easily accessible via L train or bus. Take the Brown Line to Sedgwick or the Red Line to North and Clybourn. If you're not familiar with the Chicago L, be aware that the Red Line is actually underground and not elevated in this part of the city. You can also take many buses from downtown, the most popular being the #22, #36, #156. If you're visiting the Chicago History Museum, have your parking validated and pay just $10 for the day at the museum lot near LaSalle and Stockton.
If you want to stay in Old Town to enjoy both downtown and neighborhood attractions, try the Claridge House on the border of Old Town and the Gold Coast or the Hotel Lincoln on the north end of Old Town near Lincoln Park. The newer Level Hotel is in the heart of Old Town.

Chicago History Museum is located in Old Town. Photo courtesy of the author
Things To Do in Old Town
Proud Chicagoans will love this museum that shows off unique parts of local history and culture. It's small enough to go through most of the exhibits with kids in 3-4 hours, and interactive enough to keep their attention. We recommend starting with The Great Chicago Adventure film, which gives the kids an overview of what they'll see in the museum. The Sensing Chicago Exhibit is best for little kids, who can become a Chicago-style hot dog with all the toppings, ride an old timey bike, and experience Chicago events on a green screen. Our five- and seven-year-olds liked the City on Fire exhibit, which shows life in 1871, how residents fought the Great Chicago Fire, and what they took with them. The Chicago: Crossroads of America exhibit is great for train-loving kids, and my daughter loved seeing what shops were like at the turn of the last century.
This newly popular space has been home to the Immersive Van Gogh exhibit for most of the pandemic and post-pandemic era and has hosted additional immersive art experiences as well. The next will be Immersive Mozart, featuring music set to moving pictures throughout a series of rooms. This is a great way for kids who won't stay still or quiet enough to enjoy an art gallery to learn more about art and music.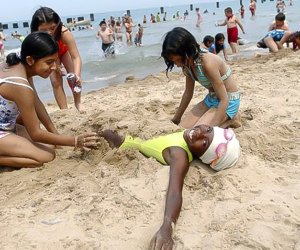 On warm days, stop at North Avenue Beach in Old Town. Photo courtesy of the Chicago Park District
The Third Coast is in its full glory at this long stretch of sand along Lake Michigan. North Avenue terminates into the Lake Shore Path at Castaways, a restaurant shaped like a boat on the beach. In the summer, it's a great place to lounge or swim, in the other seasons, it can be a great place for a walk or a bike ride. Vendors will rent you a paddleboard, jet ski, bike, lounge chair, or umbrella depending on the season.
The birthplace of sketch comedy is right here on Wells Street just north of North Avenue. The Second City offers classes and camps for kids who want to learn how to be funny. Bigger kids may also be able to enjoy almost-daily sketch comedy shows with a variety of themes that rotate each season. Be aware, since some of this is improv, we can't guarantee all content will be kid-friendly, so call ahead to see what the theme of your selected show is if you're unsure if your kid is old enough to enjoy it.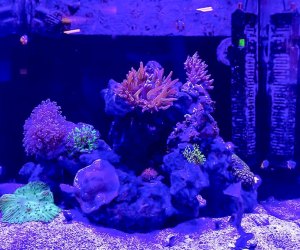 Old Town Aquarium is a shop for home aquariums. Photo courtesy of the Old Town Aquarium
Don't have time to make it to the Shedd Aquarium? Check out this shop filled with unique saltwater and freshwater fish for home aquariums. Buy fish, coral, or plants for your home aquarium, or just explore the options in this fun neighborhood shop.
6. See the architecture of neighborhood religious buildings
The Moody Church, St. Michael's Catholic Church and The Midwest Buddhist Temple all make their homes in Old Town, and they all boast fantastic artchitecture. Visit one or all three for a taste of the history of religious buildings in the city.
Annual Events in Old Town
The second weekend in June brings artists from all over the Midwest to the Menomonee and Orleans area to show off their wares. The Kid's Corner at this event includes demonstrations and performers that help kids bring out their artistic sides. Plus, kids love the street fair food and outdoor atmosphere.
Get to North Avenue Beach, or almost any outdoor space in Old Town during the third weekend in August to see the Blue Angels and other high-flying stunt airplane acts take to the sky. Or, if you know someone with a boat, view it from the water. This is a great treat for kids who love transportation-themed events or even space travel, but it may be too loud for kids who are sound-sensitive.
If you want to watch the Chicago Marathon with kids, this is one of the only places you can see runners twice. One of the epicenters of running in Chicago is at Fleet Feet at North and Wells, so there's plenty of hype surrounding the race in this area. If you start out standing near North and Clark, you'll see the runners pass by Mile 4. Turn around and walk west two blocks to see runners make the turn into Mile 10. This is great for watching the elites, or watching a family member race.
Kid-Friendly Places to Eat in Old Town
This classy Mexican joint seems like it should be too fancy for kids, but guess what? They have a kids' menu, and the prices are in line with what you would expect at any casual restaurant. Guacamole made tableside is the highlight of the menu, but tacos and entrees are all a fun treat for dinner after a long day of museums or beach-going.
What, more tacos? This one we like for the art, which covers the building inside and out, including the ceiling, and also because of the tray of 12 tacos for $50, which we couldn't finish as a family of four. Ask for toppings on the side if your kids can't handle spice, but the fish and chicken tacos were both palatable for our kids.
If burgers are your jam, these are among the most popular in Chicago. The menu is basic—just a few kinds of burgers, fries, milkshakes, and beer for the grown-ups. But, if you've got non-meat eaters, you can also get a cheese bun—literally a piece of cheese between the two sides of a bun—and reduce complaints while you enjoy a grown-up burger.

Twin Anchors is a kid-friendly restaurant in Old Town. Photo courtesy of Twin Anchors
This old-school grill has been in business for more than 90 years, and the ribs are absolutely amazing. Kids can get order a tiny portion of them from the kids menu, but can also partake in a solid burger, grilled cheese, or chicken tenders. Twin Anchors is a cozy, wood-paneled place that will remind parents of dining out during their childhoods.
Sometimes a warm cookie is about as good as it gets, whether you're a kid or a grown-up. You can get a variety of them here, with or without ice cream. Seasonal cookies and brownies round out the treat line-up, which is availabe during afternoon as well as in the post-bar hours implied in the bakery's name.
Satisfy your sweet tooth at this traditional confectioner. With a dozen or more kinds of fudge and 40 different kinds of truffles and chocolates, everyone in the family is sure to find something they like.