It's Time To "Gogh" Out Again: Enjoying Immersive Van Gogh in Chicago with Kids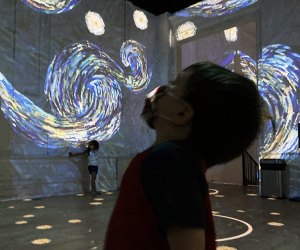 It's been a long time since I've gotten to go to a museum or enjoy an art exhibit. Part of that is due to the pandemic, but the other part is, well, kids. But now museums are opening and art experiences like Immersive Van Gogh Chicago, are popping up across the city and suburbs (check them out on our calendar), giving parents the perfect opportunity to enjoy something for themselves while also giving kids a unique artistic experience. My family decided to "Gogh" check it out, and I've got all the tips for making sure the whole family has a great time.
The Super Secret Location of Van Gogh is Revealed
Immersive Van Gogh Chicago is in the Lighthouse ArtSpace at the Germania Club in Old Town, taking up two large and two small galleries on the third floor of the building. Families have to reserve tickets in advance to attend the exhibit, with tickets ranging from $39.99 for off-peak times to $49.99 for prime time. Kids under six years old are free. The organizers ask you to arrive within 20 minutes of your assigned ticketing time, but I'd advise you to get there at least a few minutes before your time if you don't want to wait in line—we had 2 p.m. tickets and waited for about 10 minutes after arriving at 1:58.
Once tickets are scanned, visitors ascend the stairs into the gallery. Elevators are available—you'll have to fold your double stroller to get it through a couple of tight spots, but single strollers get through just fine. The staff explains before you enter the exhibit that you can move around however you wish, but if you're going to stop to sit or stand, you must do so within a socially distanced circle projected onto the floor. Also, visitors are still required to wear masks whether they are vaccinated or not.

Mirrors put kids right in the middle of the art.
Ready, Set, Gogh
Pushing back the curtains to enter the Immersive Van Gogh exhibit feels like entering a painting. Projectors on the ceiling display moving art onto the walls, floor, and triangular mirror structures in the center of the gallery. Accompanied by music ranging from Beethoven to Edith Piaf, the artwork sometimes fades in or out of view or seems as if it's actually being drawn onto the walls. We walked in just as "Starry Night" appeared, drawing a huge "Whoa!" from my four-year-old son.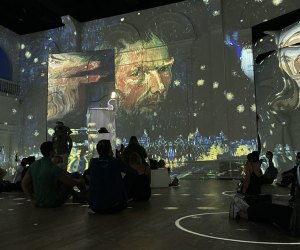 Circles on the floor help everyone stay socially distant.
We spent several minutes settling into one of the projected circles in the first mid-sized gallery and watching as the night sky filled with stars, followed by one of Van Gogh's self-portraits. It was interesting to see my kids absorbing the art in different ways, each trying to figure out what they were looking at and how to react. The show plays on a 30-minute loop, and as the first loop ended, we moved into a second smaller gallery to see what it looked like from a different perspective.
The experience families have at the exhibit could vary depending on who else is in the audience. We came in at a time where mostly adults were present, enjoying the exhibit silently or while having soft conversations within their own group. My kids, of course, brought the party as soon as the second loop of the show started and we had relocated to a less busy space. My son provided constant color commentary (including preschool gems like "Why are the stars semi-circles?" and "Is that Papa?") while my almost-six-year-old daughter performed an unbroken series of interpretive dances to go along with the art and music. At 2 pm on a Sunday, we didn't seem to be interrupting any date nights, and I'd definitely recommend going early in the day.

A little something for everyone in the family.
The Art You Are Gogh-ing To See
The paintings displayed at the exhibit show a broad range of Van Gogh's work, and it appeals to different members of the family in different ways. I liked the active smoke rising above the images of "The Potato Eaters." My daughter was totally absorbed in "Sunflowers" and how the entire room looked, sounded, and felt sunny through both the song choice and the visuals. My son was interested in how the lines of "The Bedroom" seemed to draw themselves onto the wall and made a game of guessing what the image would be. My husband liked the contrast of "Skull of a Skeleton with Burning Cigarette," which I thought would scare my kids, but they seemed to enjoy its almost 3D quality. The music added depth to art and also gave us the chance to view something without feeling a constant need to explain the artwork to our kids.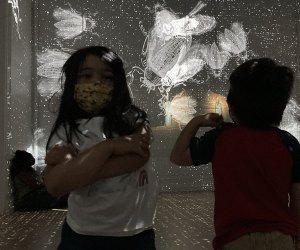 A way to experience art like never before.
We proceeded to the last and largest gallery to start a third loop of the show, but by the time the kids had seen everything twice, they were ready to go. We were thrilled they lasted through an hour of art, and seeing my daughter come home and start drawing sunflowers just for fun let me know that they had gotten something more out of it than going to a movie or watching a YouTube video about an artist. Getting to experience art on a larger scale and in a community setting was fulfilling for both the kids and adults involved.
So, should you Gogh with your kids? Definitely.

Watch (or take part) as the art is drawn.
Know Before You Gogh
I promise I'm done with that joke. But here are a few things families may want to keep in mind when visiting the Immersive Van Gogh exhibit:
The show is in fact immersive, so it can get loud and very bright or very dark. If you have a child with sensory sensitivities, sit near the exits so you can get out into the lounge area if your kiddo needs a break.
There are a limited number of benches in the galleries, so if you're not into sitting on the floor, bring a cushion.
The nearest L stop is about half a mile away. Your best bet if you have kids that won't make that long a walk is to reserve a Spot Hero at James Place or The Chicago History Museum parking lot. Our spot was $15, which is about the same price as a round trip for four on the L, anyway.
You can scan your phone on a placard outside the door to hear some background on Van Gogh, but as you may remember, his life and death may not be something you would talk about bluntly to a five-year-old. However, I enjoyed listening to the information later.
Beer and wine are available to consume in the gallery, and you can get dessert or visit the gift shop afterward. If you're planning for lunch or dinner, peruse options in the Old Town area before you go. There are a few family-friendly choices within walking distance of the show.
Restrooms are easily accessible on the north side of the galleries.
If you want to go without little ones, date night experiences and yoga hours are also available.
Immersive Van Gogh runs through September 6 in Chicago. It is also traveling to 20 other North American cities in 2021. Tickets are available online.
Photos by the author