40 Things To Do with Chicago Kids over Spring Break 2022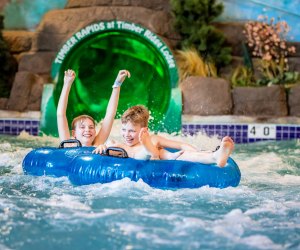 The week of April 11-April 15 is spring break for Chicago public schools that follow the CPS calendar. There's plenty to do around town for Chicago families, even if they're not ready to take a day trip out of town yet—though if you are, we've got some great suggestions! Our list of the best things to do with kids over spring break includes special events and exhibitions, over a dozen ideas for ways to get outside and explore the (slowly warming) outdoors, and a whole bunch of favorite indoor spots.
Best of all: Most of these activities are FREE or very low-cost! So go out there and enjoy spring break. We're always here if you need even more ideas for things to do each day...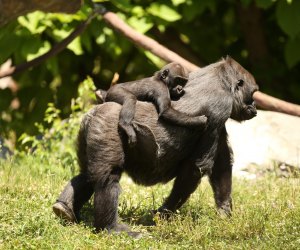 RELATED: 100 Things to Do With Chicago Kids Before They Grow Up

Use spring break in Chicago to stroll the lovely grounds around the Alfred Caldwell Lily Pool. Photo courtesy of the Lincoln Park Conservancy
8. See what's blooming around the Lincoln Park Conservancy's serene hidden gem the Alfred Caldwell Lily Pool. FREE
9. Bring your gamers to the latest exhibit at Chicago GameSpace.
10. Get out for a bike ride or a scooter run on the 606 and stop to play at the climbing structures at Julia De Burgos Park. FREE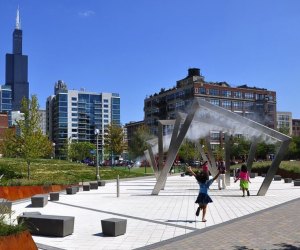 Mary Bartelme Park, photo courtesy of landscapeperformance.org
11. Play at one of Chicago's many destination playgrounds. FREE
12. Walk or bike the Lakefront Trail and stop for a picnic in the grass. FREE
13. Immerse yourself in all things LEGO! The Museum of Science and Industry is featuring some of the largest LEGO displays in the world at its latest exhibit.
14. Be surrounded by the magic of Frida Kahlo at the Immersive Frida Kahlo experience in Old Town.
15. Catch a fly ball or play in a life-size hot dog at the sensory exhibit at the Chicago History Museum.
16. Support Northwestern University's theater program and catch a show at the amazing children's theater Imagine U.
Enjoy a break from winter with a mini-vacation at Great Wolf Lodge.
17. Go on a staycation at Timber Ride Lodge or Great Wolf Lodge or just enjoy some pool time with a private afternoon rental. Guaranteed to be warmer than Lake Michigan in March!
18. Explore ancient Egypt or the new Cezanne exhibits at the Art Institute of Chicago.
19. Treat the kids to a show at the Chicago Theater's Presentation of Rapunzel.
20. Book a private movie showing just for family and friends at AMC Theaters, Marcus Theatres, or Hollywood Boulevard.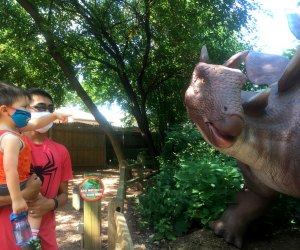 Visit the Brookfield Zoo this spring break. Photo by Maureen Wilkey
21. Head to Brookfield Zoo to see the dolphins back in action and more.
22. Tuesdays are free days at the Museum of Contemporary Art. (And here's when kids get in free to other Chicago museums, zoos, and cultural institutions.)
23. Visit Water Tower Place to check out what's new at the LEGO store and American Girl. (Maybe stock up on a few goodies for those Easter baskets when they're not looking...)
24. Don't forget the library... The children's room at the Harold Washington Library downtown is always worth a visit on a rainy spring afternoon.
25. Spend the day at one of the top-notch children's museums in Chicago: Children's Museum of Oak Lawn, KidsWork Children's Museum, Kohl Children's Museum in Glenview, DuPage Children's Museum.
26. Explore a slightly off-the-beaten-path museum like the Lizzadro Museum of Lapidary Art in Elmhurst, full of unusual treasures—and FREE on Wednesdays.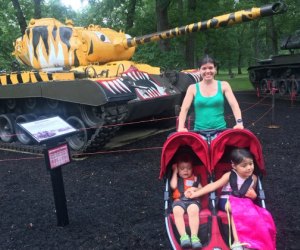 Cantigny Park has paved or gravel trails that are easy on strollers. Photo by Maureen Wilkey
27. Take a hike! We've recommended more than a dozen routes in and around the city.
28. Settle in for a good read at one of Chicago's independent bookstores. FREE
29. Play tourist in your hometown with a visit to the Willis Tower Skydeck or the Chicago 360 observation deck in the John Hancock Center.
30. If you've managed to live in Chicago without doing an architecture river cruise, you're missing out!

31. Try for a turkey at Pinstripes bowling locations in the city, Oak Brook, South Barrington, or Northbrook.
32. Stay out after dark to catch Art at the Mart, a dazzling display on the front of the Merchandise Mart building that plays for two hours after sundown Wednesday through Sunday. FREE
33. Snap some Instagram-worthy shots in front of the Pilsen murals. FREE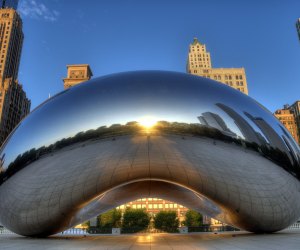 Check out Chicago's public art this spring break. Photo by rmlowe/CC by 2.0
34. Do a public art walk downtown: Within a few city blocks, you can see the iconic Cloud Gate at Millennium Park, the Daley Plaza Picasso and Miró's Chicago sculpture, Agora in Grant Park, the Sounding Sculpture at the Aon Center, the Flamingo at the Federal Center Plaza, and Chagall's Four Seasons mural at Chase Tower. FREE
35. Visit an underground art gallery in the Chicago Pedway, Space p11.

36. Climb, slide, dress up, make-believe, or play at one of the city's best indoor play spaces.
37. Break out of a family-friendly escape room at Fox in a Box, Escape Factor Chicago, or Noggin Builders Kid Escape Room.
38. Overcome obstacles together at Funtopia family night on Friday in Naperville.
39. Pick up a free craft kit for kids to make a spring-themed craft at the libraries in Portage-Cragin, Humboldt Park, South Chicago, or Sherman Park.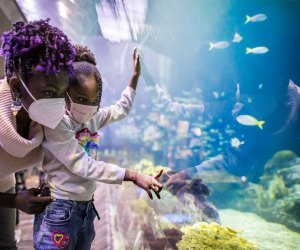 The Shedd Aquarium is a great place to spend spring break in Chicago. Photo courtesy of the aquarium
40. Enjoy a shark feeding or must-see tour at the Shedd Aquarium, or visit the sea life museum.