The Best Amusement Parks in the Chicago Area for Families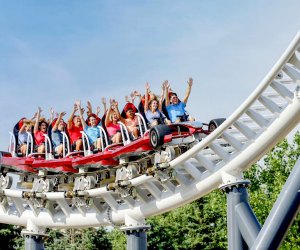 5/9/21
- By
Maureen Wilkey
Not ready to book a trip to Orlando or LA for theme park fun this summer? There are plenty of places to get a day of rides, games, and greasy foods right near Chicago. Whether your kids are thrill-seekers looking for big roller coaster drops or beginners just learning about going on rides, the Chicago area has the perfect amusement park for everyone in the family.
If your family is looking for more thrills and rides in the great outdoors, try zipping through the trees at one of Chicago's aerial adventure parks or riding down the Chicago River on a power or paddle boat. And be sure to keep an eye on our event calendar, which is rapidly filling up with more events every day.
Most of these destinations require families to buy their tickets in advance, so be sure to plan ahead for your next theme park adventure. Remember to still wear a mask and practice social distancing whenever possible. Also, if you travel out of state, remember to abide by any COVID restrictions in the state you visit and quarantine (if necessary) when returning to Illinois.
The Biggest Amusement Parks near Chicago
Gurnee, Illinois—50 minutes from the Loop
This is the biggest and most adventurous of the amusement parks for Chicago area families. It features 45 rides and attractions, including 17 thrilling roller coasters. Grown-ups remember the classics (American Eagle was featured on the opening credits of Step by Step) and there are also newer coasters like Maxx Force or The Joker. Several water rides like Logger's Run provide relief from the heat on hot summer days, while rides like spinning teacups, miniature airplanes, bumper cars, and a carousel are fun for the under 42-inch crowd. Midway games and traditional fairground foods like funnel cakes, turkey legs, pizza, cotton candy, and Dippin' Dots round out a fun day. Some parts of the park feature live shows, but no shows are listed (yet) for this summer. Six Flags is open on weekends in May and every day in June and July. It's open daily for the first half of August, before going back to weekends only once school starts (which is around August 22 for local suburban schools).
East Dundee, Illinois—55 minutes from the Loop
It's Christmas in July at this theme park in the Northwest Suburbs. In summer 2021, the park debuts The Blizzard, its second roller coaster (after the Super Cyclone). Thrill-seeking families may also enjoy the Tri-Nado, which spins and lifts, or Xtreme Elevation, a fast free fall ride. Younger kids enjoy the balloon ride, carousel, bumper cars, or riding in Kringle's Convoy in individual miniature semi-trucks. A new water park called Santa's Springs opens this summer, featuring water slides, a zero-depth pool, and an interactive water playground. Animal attractions include a petting zoo and koi pond, or kids can play carnival games like Duck Pond or Water Racers. Several dining options include Mrs. Claus' Kitchen, which serves up pizza and sandwiches, the Route 66 Grill, and the Gingerbread Ice Cream Shop. Shows have been suspended for the 2021 season in accordance with state COVID guidelines. The park is open on weekends only in May and from August 22 through Halloween. It's open daily from June 5 through August 22.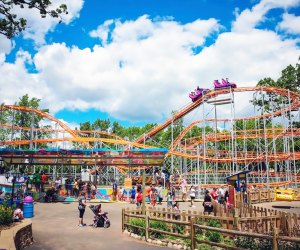 Santa's Village Azoosment & Water Park is a theme park, water park & zoo all rolled into one!
Monticello, Indiana—2 hours from the Loop
This lakeside amusement park has more than 40 rides, including six roller coasters like the Steel Hawg, Cornball Express, and Hoosier Hurricane. (A seventh one is coming in 2021!) Families can slow down with a soothing boat ride or enjoy family-friendly rides such as Cap 'n' Crow's Bumper Boats, Rocky's Round Up Carousel, and the giant Gondola Wheel. Indiana Beach also has its own water park with water slides, a lazy river, and a splash pad. Heartland favorite foods that are available include corn dogs, pork sandwiches, polish sausages, pizza, ice cream, elephant ears, and more. Live entertainment and fireworks are taking place this summer as it is not restricted by Indiana COVID guidelines. Indiana Beach also has lodging—cabins, tent campgrounds, and RV camping sites are available. The park opens May 22 and operates weekends only through the start of June. The park is open only on weekends again from mid-August through Halloween.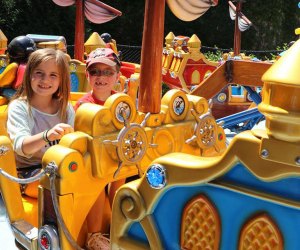 Little swashbucklers will find plenty of fun at Pirates Cove Children's Theme Park.
Smaller (But Mighty) Amusement Parks near Chicago
Elk Grove Village, Illinois—30 minutes from the Loop
If you have preschoolers and/or are looking for Theme Parks 101, Elk Grove Village's Pirates' Cove is the place for you. Closer to the city than many of the places on our list, this nautical-themed park has miniature boats for kids to pedal at Pebble Pond, a Captain's Carousel, Soaring Schooners pirate ship ride, a safari train, Pirate's Plunge giant slide, and a climbing wall. Kids less interested in rides enjoy playing on the Camelot's Castle Playground or seeing a show at the Swashbuckler Wharf Fun Stage. (Note: Pirates' Cove's bounce house is closed for the season.) Bring a picnic lunch or buy lunch from the Buccaneer Bites concession stand. Pirates' Cove is open daily from May 29 through August 8, and on weekends only through Labor Day.
Burbank, Illinois—40 minutes from the Loop
Go-karts galore make this Southwest Suburban theme park worth the trip. There's a go-kart raceway for kids over 54 inches and a junior speedway for those 42-53 inches. Miner Mike's Coaster also makes a good first thrill ride experience for kids three and up. Laser tag, miniature golf, a game room, and crazy cabs round out the fun. After working up an appetite, families can grab pizza, burgers, sandwiches, wraps, or salads at Charmin' Charley's. Outdoor attractions are open daily, weather permitting, from May to September.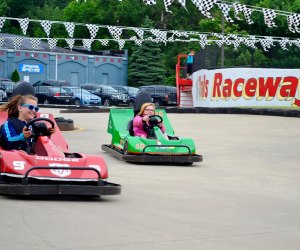 Go-karts, mini golf, and batting cages are all part of the fun at Haunted Trails Joliet.
Joliet, Illinois—55 minutes from The Loop
There aren't any roller coasters here, but little thrill-seekers will love the Monster Hop free-fall ride, Tornado Ride, and Bone Shaker spinning tea cup attraction. Three go-kart tracks appeal to kids of different sizes and ages, while mini golf, laser tag, and a game room provide fun for the whole family. Like its sister park, it is home to a Charmin' Charley's restaurant where kids can find family-friendly fare. Outdoor attractions are open, weather permitting, from May to September. The center is currently closed on Monday and Tuesday.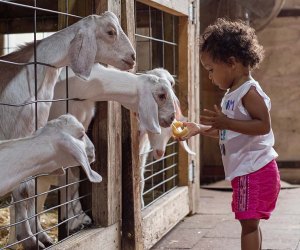 Meet goats, bunnies, cows, pigs, sheep, and more at the petting zoo at Nelis' Dutch Village.
Holland, Michigan—2 hours and 15 minutes from the Loop
This Dutch-themed park offers a mix of culture, history, and fun with an Old World twist. If you're looking for rides, the Zweefmolen (Dutch swing chair ride), Draaimolen (carousel), Kinder Baan (plasma cars), and windmill ride are fun—and not too scary for little kids. A petting farm gives kids the chance to meet goats, bunnies, cows, pigs, sheep, llamas, and alpaca. Old-timey fun and games include a giant wooden shoe slide, water pump races, Het Klim Kasteel (the climbing castle), and Sjoelen (a Dutch shuffleboard game). The park is still deciding if it will hold its Dutch cultural demonstrations this season. If it does, kids will be able to watch shoe carving, stroopwafel making, cheese making, and dance demos. The Hungry Dutchman offers traditional Dutch dishes like Saucijzebroodjes (pork sausage in pastry), Erwtensoep (pea soup), and Banket (almond pastry). The park is open daily from April 17 through Labor Day and weekends only in September.
Bloomington, Illinois—2 hours and 30 minutes from the Loop
Favorite local carnival not taking place? Head down to Bloomington for classic carnival rides any weekend this summer. Rides are $2.50-$4 each, or you can buy an unlimited package for $20-$25 for four hours. Big kids and adults like the Tilt-a-Whirl, Round Up, Sizzler, Tornado Wheel, or Swinger, while smaller kids have fun on the Dragon Wagon, Junior Ferris Wheel, Super Slide, or Bumper Cars. Mini golf, go-karts, and batting cages add to the fun. Ice cream and carnival foods are available at a concession stand or visit nearby Grady's Pizza for a full lunch. The park is only open on the weekend until further notice.
And One Indoor Amusement Park
Villa Park, Illinois—30 minute from the Loop
This 62,000 square foot indoor fun center appeals to kids 10 and under on summer rainy days (or when it's too hot to bake in the sun at an outdoor amusement center). For $20, kids can get a 10-ride package to enjoy the Merry Go Round, Monkey Jump, Tilt-a-Whirl, Tiger Terror roller coaster, or Snake Pit bumper cars. A Maxflight simulator and bowling alley appeal to bigger kids, while little ones like the Lion's Den soft play area. Atlantis Restaurant offers pizza, pasta, burgers, and chicken parm for kids who are extra hungry after a day of play.
Some photos in this post were taken prior to the pandemic. Photos courtesy of the parks