The Chicago History Museum with Kids: Top Things to See and Do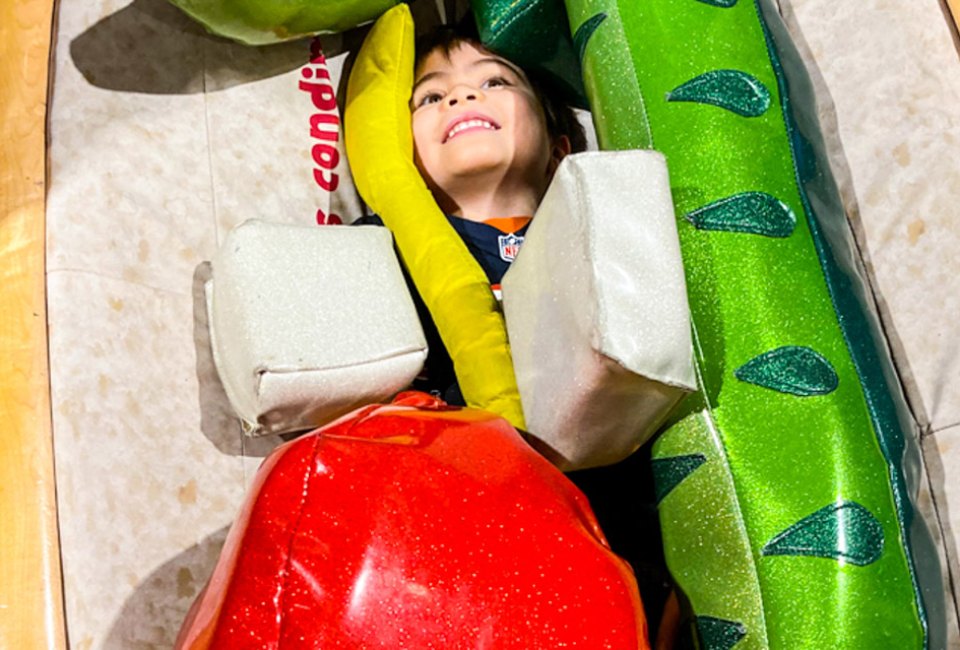 3/14/23
- By
Maureen Wilkey
The Chicago History Museum is off the beaten path of Chicago's Museum Campus and downtown area in historic Old Town, and gives kids an idea of how this great metropolis got here and why its people are so interesting. It's the only museum in Chicago that focuses on how the Windy City got to be what it is today. Just like the city itself, the museum is a little eclectic and a lot of fun. It's great for kids because most of its exhibits have interactive elements, and you can get through most of the exhibits in about three hours.
The Chicago History Museum is open Tuesdays through Sunday and is always free for kids 12 and under. It's also relatively affordable to adults at $19, with a $2 discount for students and seniors. It's easily accessible via the Brown Line and several buses, or you can park nearby for $10 a day with validation. And if your kids like this museum, check out more in our Museum Guide for Kids and Families in Chicago.
What makes Chicago such an awesome city? Here are our favorite parts of the Chicago History Museum for kids:
The Best Exhibits for Kids in the Chicago History Museum
Sensing Chicago
This is definitely the headliner for little kids. The exhibit focuses on learning about Chicago through your five senses, and the most popular activity for both our kids was the giant hot dog bun where kids lie down while someone else covers them with enormous pickles, tomatoes, onions, sport peppers relish bits, and a big drizzle of mustard. A mirror on the ceiling lets kids see what they look like as a hot dog. This may even inspire them to eat a hot dog with something other than ketchup on it!
Playing with the green screen at Chicago History Museum.
Another great part of this gallery is the green screen, which kids stand in front of to experience the wind on an L platform (we've all been there), the thrill of running in the Chicago Marathon, and a flying view of Chicago architecture. Remember Comiskey Park? Kids can pretend to hit a home run there, or sit in the stands. From a more historical perspective, ride a high-wheel bike over brick roads or experience the sounds and smells of the stockyard.
Sensing Chicago is a very interactive experience, so preliterate kids or those who aren't into walking slowly through an exhibit will still have a good time here.
The Great Chicago Adventure Film
Looking for a kid-friendly overview of Chicago history and what you will see in the museum? Sit through this 25-minute mini-movie about a babysitter who teaches a boy about different periods in history by actually travelling through them. The nonchronological film covers The Great Chicago Fire, women's sufferage, retail in the early 1900s, trains and other transportation, food, and significant sports championships throughout history. The majority of the things kids see in the film actually appear in the museum, so observant kids will be excited to make the connections to the film.
Playing firefighter at the Chicago History Museum.
City on Fire: Chicago 1871
This was my 7-year-old daughter's second favorite part of the museum, after being a hot dog. She liked seeing actual objects owned by kids who escaped the fire, specifically letters to their relatives about what happened and how they got away. While parts of this may be scary for little kids, the exhibit is well-thought-out for elementary-aged kids, starting out with what life was like in Chicago in 1871. Describing how the fire started in a barn (though it's not for sure the cow's fault), the exhibit has illustrations that capture kids' imaginations. They proceed through a gallery with a nineteenth century fire truck that they can pretend to operate to see how hard it was to get water to the site of the fire.
Each panel of the exhibit describes a different family and what happened to them during and after the fire, then kids proceed into a gallery with a cyclorama, a giant mural of the Chicago Fire, with a central console that kids can interact with to see different parts of the mural up close. Kids can see how pets were rescued, how people took care of parents with young children during the escape, and how the fire impacted residential and warehouse districts differently. Dozens of objects that were carried out or recovered later give an idea of the devastation without being overly graphic. Seeing a barrel of nails that had been melted together, dolls that were salvaged, or dishes that were warped by the heat gave a real human connection when thinking about what the fire might have been like.
The final rooms of the exhibit describe how people rebuilt their lives after the fire. Showing how rebuilding was unequal for different families gives an honest perspective and hopefully teaches kids about fairness and how we might do better in the future. A replica of a modern-day house and its fire prevention technologies helps ease any fears kids might habe about a similar situation happening now, 150+ years later.
Chicago: Crossroads of America
If you have a kid who likes Thomas the Tank Engine, this exhibit will appeal to them. My five-year-old son loved seeing the old-fashioned freight engine and pretending to work the coal tank inside it. I have always been a fan of elevated train car #1 which is on display, although you can no longer walk through it. It's fun to imagine what riding these trains would have been like 100 years ago (and many Chicagoans probably wonder if they smelled the same). Chicago is at the center of several nationwide railroads, so the industry surrounding the rails is also a big part of this exhibit—from meat processing to beer brewing, kids can see how manufacturing and distribution have changed over the past century.
Chicago shopping and sports are also featured in this exhibit. See what the storefronts of Marshall Field's or Crate & Barrel may have looked like back in the day, and learn about shopping from a catalog, which is a Chicago tradition. Many parents also remember the Chicago Bulls of the 1990s—you can see lots of memorabilia related to their epic run in this gallery. Get a taste of music, like jazz and the blues, and theater for little performers. I wanted to learn more about skyscrapers and how their structure and materials changed throughout the years, but I was swiftly rushed through that gallery to the next by my kids—hopefully you'll get a chance to read more!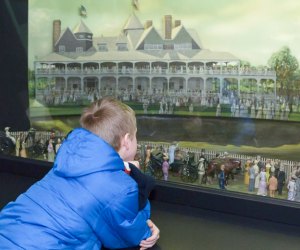 The Dioramas exhibit at the Chicago History Museum. Photo courtesy of the Chicago History Museum
Imagining Chicago: The Dioramas
This exhibit is reminiscent of those you see at classic Chicago museums like The Field Museum. Miniature people and buildings are built out at kid eye-level, and kids can push a button to light up different parts of the scene, play music, or see the little people move or dance. Seven different dioramas show how Chicago changed from a pioneer trading outpost to world-class city that hosted the World's Columbian Exposition in 1893. My husband, who grew up on the northwest side, loved seeing the depiction of the Sauganash Tavern, and the images of the drawbridges, fire, and world's fair at the perfect height and size for kids make this a perfect long-term exhibit. These dioramas have been on display longer than anything else in the museum!
The Fifth Star Challenge
The four stars on the Chicago flag represent four different things in history: Fort Dearborn, the Chicago Fire, and the two world's fairs Chicago hosted. But if the city were to add a fifth star to its flag, what should it be? Scroll through a variety of options while standing on a room-sized floor map of Chicago in this interactive exhibit. None of the four of us could pick the same thing—should it be Wrigley Field, Chicago-style hot dogs, Millennium Park, or deep dish pizza? Maybe your kids will come to an agreement.
Abraham Lincoln and Lincoln's Chicago
Learn more about the president whose name is on nearly everything in the state of Illinois in this exhibit featuring many artifacts from his life. Kids can read or listen to more about how Lincoln was elected, how he led the nation through the Civil War and the beginning of reconstruction, and how his life tragically ended early. The bed in which Lincoln died is actually on display, along with artwork and documents that were significant in his life.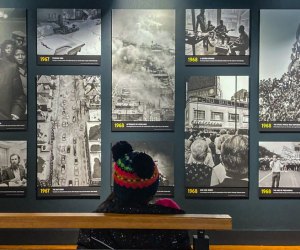 Remember Doctor King is a photo exhibit at the Chicago History Museum.
Remember Doctor King: 1929-1968
Featuring more than 25 large photos of Dr. Martin Luther King, Jr., this gallery transports visitors back in time to the Civil Rights Movement. My daughter is very interested in justice and fairness, and after learning about Dr. King in school, she was fascinated to see the life-sized pictures. For kids in mid-elementary and older, this seems to give perspective about a period in history that they can still ask their grandparents about.
Millions of Monuments: The Chicago Sun-Times Photo Collection
More than 150 images from the Chicago Sun-Times are printed in various sizes and displayed on the walls in chronological order leading into the cafe and gift shop. From World War II to the Blizzard of '67 to the Chicago Bulls championships of the 1990s, these pictures will have your kids asking you what you remember. The combination of art and history certainly creates some big emotions for lifelong Chicagoans.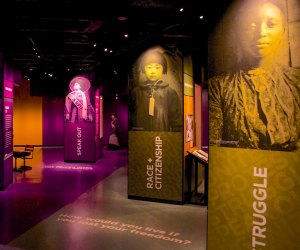 Facing Freedom in America, an exhibit at the Chicago History Museum. Photo courtesy of the Chicago History Museum
Facing Freedom in America
What does freedom mean? Who should be free in America? Why and how have people fought for their freedom? This are questions asked and answered in this permanent exhibition on the Chicago History Museum's first floor. Learn more about labor unions, women's suffrage, and a local school boycott in the interactive exhibit.
Logistics at the Chicago History Museum: Bathrooms, Food, Gift Shop
-You can buy tickets on the Chicago History Museum website.
-There's a family restroom on the second floor, and because the museum isn't huge, you can easily get to restrooms on either floor
- You can check your coat and purse for free! If you're toting snacks, they don't mind if you stash them in your purse or reasonably sized diaper bag to check.
-The Chicago History Museum's North & Clark Cafe has coffee, sandwiches, tacos, and (of course) Chicago style hot dogs. You can also bring in your own food, but you can't eat outside of the cafe area. You can also check out neighborhood restaurants from our Old Town neighborhood guide.
-There's a small gift shop with post cards, books, and a handful of Chicago-themed toys.
All photo by the author unless otherwise indicated.
Places featured in this article:
Click Here to Sign Up!
i