Sugar-Hi: A New Sweet Spot for Westchester Families that's Simply to Die for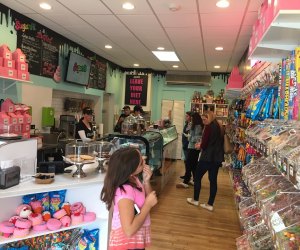 A new sweet shop has arrived in Westchester, and it's so good that it's worth a drive from wherever you live. Introducing: Sugar Hi.
At first glance, the sugar shack may resemble other similar spots—and with respect to the selection of candy and ice cream, a comparison can fairly be made. But make no mistake: The baked goods and frozen beverages are to die for. And while the ice cream and candy are provided by other suppliers, the baked goods are made by the Sugar Hi team for a one-of-a-kind tastebud experience.
Read on to learn more about our recent visit and sign up for our newsletters to have news like this delivered straight to your inbox.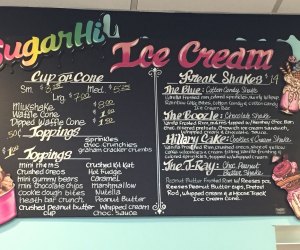 The ice cream menu includes "Freak Shakes."
Sugar Hi, which opened its doors in Armonk in October, comprises two rooms: the boutique, where rows of candy, an ice-cream freezer, shelves of party supplies and a display of bakery items are sold, and a pink-walled room for seating and, ultimately, parties. Handily, there's a sink for cleaning those gooey hands.
Ice cream flavors include eyebrow-raisers like "Trash Can," but the real attractions are the "Freak Shakes." At a steep $14, these blend multiple desserts into one extravagant beverage. The "Hillary Cake" is a cookies-and-cream shake with a vanilla-frosted rim, crushed Oreos, a slice of yellow cake with cookies-and-cream filing, vanilla frosting, colored sprinkles and whipped cream. "The Boozle" is a chocolate variation on that, with a Chipwich ice-cream sandwich in lieu of cake and assorted chocolate confections like Hershey bars and chocolate-covered pretzels.
During my family's visit, my kids dove after a double-layer confection—half brownie, half blondie—with a bonus filling of an Oreo layer in between. This was large and rich enough for two tweens to share and still take half home as leftovers.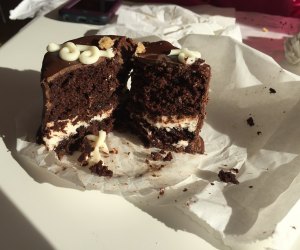 A "Ring Ding" superior to the ones we grew up with!
For my part, I couldn't resist the Ring Ding, partly because its nostalgia took me back to my Drake's days, but also because of its visual appeal and my gut instinct that this would be a million times better. Indeed, move over Drake's! Other throwback treats include Sugar Hi's take on Pop Tarts and push pops made with cake layers. Cake scraps make for an unusual confection.
Candy selections include both by-the-pound varieties, as well as packaged candy items like gummy pizza. Custom cakes can also be ordered.
For the grown-ups who are trying to behave themselves, a low-cal cup of coffee can be had.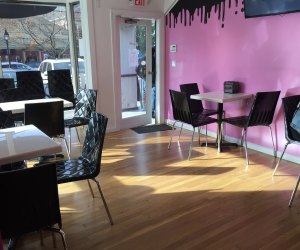 Have a seat to savor Sugar Hi's sweet sensations.
In time for the holidays, the shop is ready to take Thanksgiving orders. In addition to turkey-themed cakes, other items on the holiday menu include banana pudding, apple caramel crumb pie, pumpkin cookies with cream-cheese filing, apple-cheesecake bars and a chocolate basket.
We can't wait to see what it comes up with for the holidays ...
All photos by the author.