Top 25 Things to Do in Geneva with Kids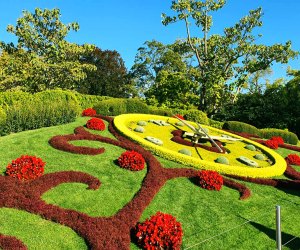 Geneva, home to the United Nations and the Red Cross, is an elegant French-speaking Swiss city known for its global diplomacy and international relations. But that doesn't mean you can't have a little family fun there!
We've rounded up 25 fun things to do in Geneva, Switzerland, with kids. Every suggestion on our best of Geneva list has been kid-tested, from playgrounds and beaches to boat rides and even ice cream served up in a gorgeous restaurant inside the art history museum. There are plenty of swimming spots and mountain views on the list, as well as some delicious places to stop and eat.
Find more European family vacation ideas in our Europe Family Travel Guide.

The Jet d'Eau peaks at 140 meters in height. Photo courtesy of Geneva Jet d'Eau
Best Things to Do in Geneva with Kids
1. Marvel at more than 132 gallons of water shooting out at 125 mph at Geneva's Jet d'Eau fountain in Lac Léman.
2. Channel your inner chevalier, wandering cobblestones and getting lost in Geneva's Medieval Old Town.
3. Play chess with giant pieces in Bastions Park and then learn about the Reformation by wandering along the towering Reformation Wall.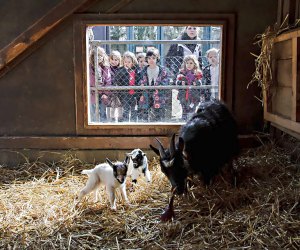 Meet baby animals at the animal park, initially intended to familiarize city dwellers with the animals. Photo courtesy of Le Bois de la Bâtie
4. Let kids meet the peacocks, sheep, pigs, rabbits, and more at Le Bois de la Bâtie.
5. Enjoy lakefront views of Mont Blanc, run in the grass, and enjoy multiple playgrounds at Parc de La Perle du Lac, named by Rolex founder Hans Wilsdorf's wife, Florence Frances May Crotty.
RELATED: 25 Fun Things to Do in Barcelona with Kids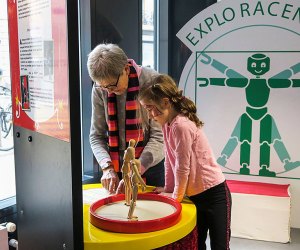 Check out Exploracentre, the interactive museum dedicated to science, tech, and sustainability. Photo courtesy of Exploracentre
Geneva Museums to Visit with Kids
6. Perform science experiments at the Exploracentre, Geneva's first interactive science center for kids.
7. Explore Switzerland's largest Natural History Museum to see dinosaur bones and taxidermy of giraffes and elephants.
8. Cultivate a sense of social responsibility at the International Museum of the Red Cross and Red Crescent.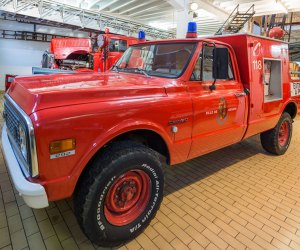 What kid could resist the trucks at the Fire Brigade Museum? Photo courtesy of the museum
9. Channel your inner firefighter while checking out the history of fire trucks at the Fire Brigade Museum.
10. Take your aspiring scientists on a free tour of Europe's largest particle accelerator CERN (booking ahead required; best for older kids).
Favorite Geneva Restaurants
11. Eat an organic local feast or simply grab an ice cream inside the Art and History Museum at Le Barocco.
12. Savor delicious vegetarian food at Café du Grutli, which sits inside a cinema multiplex near Plan Palais.
13. Try fondue or stick to the classic kids' menu in the garden at Café de la Tour.
14. Spend a summer weekend drinking wine at La Cabuche, while the kids run around the vineyards.
15. Grab a fresh, healthy, kid-friendly lunch at self-service Manora near the train station.
RELATED: 50 Fun Things to Do in London with Kids

The Bains des Pâquis is a popular swimming spot. Photo courtesy of Bans des Pâquis
Great Parks, Playgrounds, and Outdoor Fun in Geneva
16. Feed the swans, eat some snacks, and splash in the lake at the Bains des Pâquis.
17. Play volleyball, lounge on inflatables in the lake, or splash in the pools at the Genève-Plage.
18. Go for the statue of Frankenstein, stay for the playground and skate park in Plan Palais.
19. Frolic in the English Gardens and view the Flower Clock and a great view of Jet d'Eau.
20. See where the Rhône and Arve rivers meet at Jonction; jump in a kayak and have an adventure.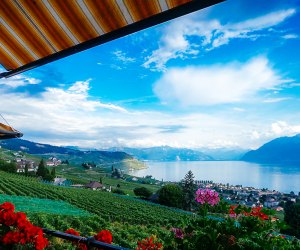 Hike the trails through the vineyards of Lavaux for an incredible view of the mountains and lake Geneva. Photo by Hatoriz Kwansiripat via Flickr
Great Places to Day Trip Around Geneva
21. Take a steamboat across the lake to France and enjoy the views of Lavaux UNESCO vineyards.
22. Dip in the crystal blue waters of Hermance Beach, which has a playground and is a short walk from a quaint Medieval village.

Don't miss the gondola ride over the Glacier du Géant to the Pointe Helbronner in Italy. (Open June to September.) ​Photo courtesy of Chamonix
23. Conquer the Swiss Alps face-to-face by hopping an hourlong bus to Chamonix, France and riding a cable car above Mont Blanc.
24. Little music fans can ride the train along the lake to Montreux to check out the Freddie Mercury statue and the historic Montreux Jazz Festival. (There are plenty of playgrounds along the lake for bored siblings.)
25. Follow the yellow signs to take a hike on Mont Mourex. Bring a picnic and enjoy the views!